'Wonder Woman 2' Will Have A "Great Love Story," But At What Cost?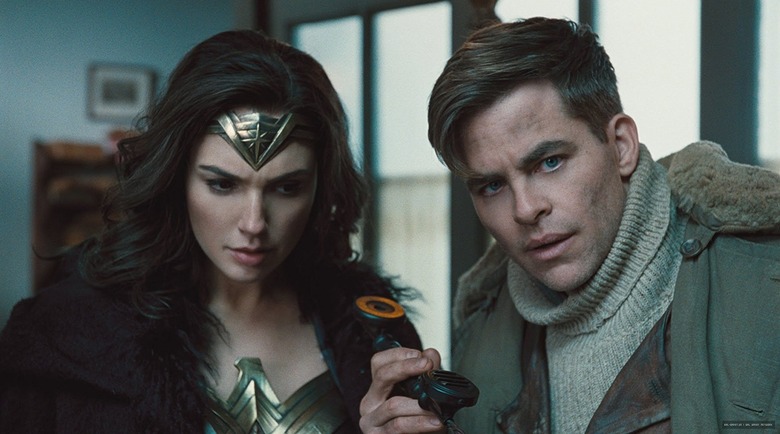 Wonder Woman remains the shining beacon upon which Warner Bros. lays the future of the DC Extended Universe, so needless to say, director Patty Jenkins is facing super-sized expectations to replicate the success of the hugely successful female-led superhero movie.
So what was it that made Wonder Woman work so well? Was it the film's earnest, optimistic approach to Warner Bros.' dour superhero universe? Was it the flawed and complex female character at its center? The equally complex male lead played by Chris Pine? Or their endearing love story, the echoes of which resound even in Gal Gadot's appearance as Diana in this year's Justice League? It's natural that Jenkins would revisit all of these elements in Wonder Woman 2, which is planned to be set in the U.S. in the 1980s — except for that part about the love story.
Wonder Woman 2 won't be released in theaters until 2019, but plenty of details about the film's plot have already made their way around the interwebs — the Cold War-influenced setting in the U.S. and Moscow in the late 1980s, the rumored return of Pine. But Jenkins revealed more of her plans for Wonder Woman 2 on Variety's Playback podcast, teasing the introduction of "a couple new unbelievable characters" and  "great love story."
"It's really still going to other values of hers, and a similar formula insofar as making a great, enjoyable fun movie but that ultimately in its third act turns some very big issues, and a very big experience that will aim to have slightly more weight and profundity than it has to have. Because that's a formula that I really like, and I like the idea of taking somebody on a very solid, great journey but that arrives at a bigger question being answered. So it's like that but because she is Wonder Woman and she's here now and she's fully developed, it's got great fun from the start and great big superhero presence from the start, and is funny and a great love story again and a couple new unbelievable characters who I'm so excited about, who are very different than were in the last movie."
Jenkins just gets into the broad strokes of the plot for Wonder Woman 2, exploring the next step in Diana's arc as she deals with the loss of the love of her life and her entrance into the world of humans. But I'm going to fixate on one particular plot point that she mentions: "a great love story."
Listen, I will be the first to defend the first movie's love story as crucial to the film — yes, Diana may fall in love with the first man she meets, but her romance with Steve is what teaches her about the potential for both good and evil innate in humans. Vice versa, Steve learns from Diana how to hope for and see the best in humanity — he leaves her to sacrifice himself in the name of a greater cause, and she finally is able to see the potential in humankind that she believed was there all along. The loss of Steve Trevor reverberated for the rest of Diana's life up until we met her in the modern day in Batman v. Superman: Dawn of Justice — we're led to believe that Diana has withdrawn from helping humanity because of heartbreak. It could totally be a different case when we see her again in Wonder Woman 2 in the 1980s, but that same reasoning is implied again when Bruce insults her by mentioning Steve Trevor in Justice League — which is still a sore spot to Diana, judging by her violent reaction. And who can blame her, I would take 100 years to get over Chris Pine, too.
But giving her a new "love story" could undercut everything Steve Trevor and his sacrifice stood for, and relegate Diana to being a lovelorn female heroine in each of her movies. Yes, love is what drives Diana, but if we revisit the same romantic subplots in Wonder Woman 2, it'll only feel tired and cliched. Plus, I don't believe Jenkins could cast anyone who would rival the effortless charm of Pine.
Unless we're dealing with the love story between Diana and an undead Steve Trevor (Pine is theoretically coming back after all, and Diana is no stranger to the mythological Underworld!), I may get mad at this revelation. While I trust Jenkins to have a grasp on Diana's character and approach her sensitively, this may be the first stumbling block for Jenkins. Just give me resurrected Chris Pine, and we'd be square.