'The Shape Of Water' Was Originally Pitched As A Black And White Movie; Could We See That Version On Home Video?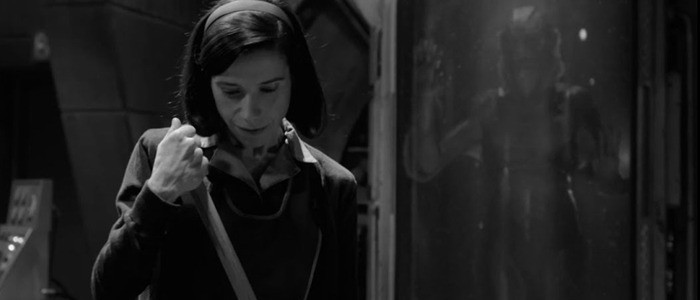 Guillermo del Toro's fantasy romance The Shape of Water opens in limited release this weekend, and this story of a mute woman falling in love with a fish man is full of lush, vibrant colors, gorgeous aquatic hues, and the level of visual splendor for which del Toro is best known. But we nearly saw an entirely different version of the movie: according to the film's production designer, del Toro originally pitched The Shape of Water as a black and white film.Entertainment Weekly sat down with the film's production designer Paul Austerberry, who explained how the movie shifted to its current color palette:
"When it was in black and white, the budget was $12 million," Austerberry said. (Del Toro put the hypothetical black-and-white budget at $16.5.) "And then Fox Searchlight said, 'You know, if you make it color, we'll make it $19.6 million.' We were struggling at even $19.6 million to get it all down, so thankfully it went that way...
"I was a bit nervous about the black and white, because color is such a strong element that you can play with in a story or movie to help shape the mood. When people see the movie, they comment a lot on the color, so I'm glad we went that way."
Though I think the colors in The Shape of Water give the movie its soul, part of me was still curious: might we see a The Shape of Water black and white cut on home video, in the vein of recent movies like Mad Mad: Fury Road or Logan? But later in the EW piece, del Toro seems to reject that notion by revealing that his black and white pitch was purely a strategic move on his part and never something he legitimately intended to do:
"To be disarmingly and horribly honest, it was a pawn sacrifice. It was one of those things that I knew I was not really interested in, but I knew I needed to appear reasonable. 'Oh, Guillermo. He's such a nice guy. He gave up black and white.'"
That's hilarious. Rarely do we hear about this level of finagling that has to happen to get a movie made, but del Toro – a prolific talker who loves to peel back the curtain on the filmmaking process – just came right out and explained the truth of the matter. I wonder if anyone at Fox Searchlight feels burned by this...but if they do, I imagine that burn will fade considerably once Oscar nominations start coming out, because del Toro's film is considered a contender in multiple categories.
For more about The Shape of Water, be sure to read Chris Evangelista's review from the Toronto International Film Festival, find out how the creature was made, and check out my transcription of a recent Q&A in which del Toro, Sally Hawkins, Doug Jones, Richard Jenkins, and more revealed some intriguing highlights about making the movie.
The Shape of Water arrives in theaters in New York on December 1, 2017 and expands wider in subsequent weeks.