'Star Wars': Denis Villeneuve Interested In Directing A Standalone Film; New Look At Benicio Del Toro's DJ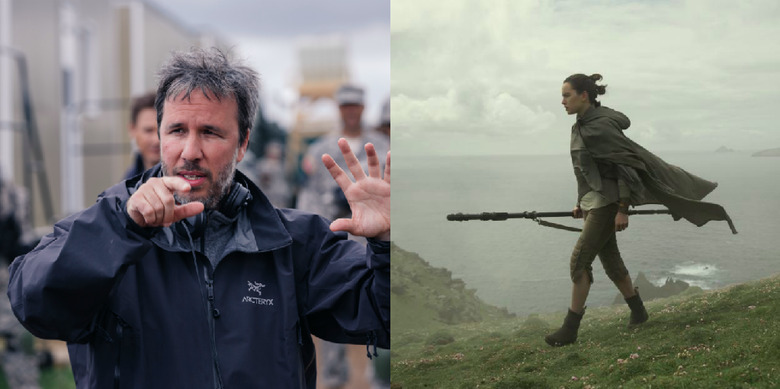 The Star Wars franchise is rife with possibilities. With a new trilogy helmed by Rian Johnson on the way, the door is open for even more enterprising directors to play in the cosmic sandbox in the form of standalone anthology or prequel films. And the latest visionary sci-fi director to impact Hollywood may be eyeing the galaxy far, far away. Denis Villeneuve received rave reviews for his genre-transcending films like Arrival and Blade Runner 2049, but he's "intrigued" at the idea of directing a Star Wars standalone film.
Meanwhile, in the more concrete near-future: We have a new look at Benicio del Toro's character in the upcoming Star Wars: The Last Jedi.
Denis Villeneuve May Want to Direct a Star Wars Film
Lucasfilm has had a spotty track record with poaching promising independent directors to helm their Star Wars blockbusters. While they've had their successes like with Johnson, it's been hit-or-miss with Rogue One's Gareth Edwards and Han Solo's Phil Lord and Chris Miller. But what if one of those promising independent directors came to them?
Denis Villeneuve chatted with the Happy Sad Confused podcast about the possibility of directing a Star Wars standalone movie after he had his taste of blockbuster directing with Blade Runner 2049 (via ScreenRant):
"It's something that, again it's like, I would be intrigued. I don't know, it's very difficult. What is dangerous with Star Wars right now is it's become its own vocabulary. I would love to see them, I think Rogue One was a very interesting attempt to get out of the mold... I think it would be a great idea to get out of there and to go on a new part of the galaxy, that I would be open to."
While Villeneuve isn't wrong that Rogue One was an attempt to "get out of the mold," it didn't quite escape. Edwards directed Rogue One with the promise that it would be a dark, gritty departure from the Star Wars franchise — a war movie to the main films' fantasy epic. But the film was plagued by reshoots and studio interception, and was certainly not the film that Edwards initially set out to make. That's not to say it was a failure — Rogue One is a solid, impressive movie that may in fact have been improved by Lucasfilm President Kathleen Kennedy stepping in. But it means that a Star Wars standalone movie wouldn't necessarily provide the creative freedom that Villeneuve obviously craves.
While Villeneuve is used to making some concessions for the sake of the franchise like in the anticipated Blade Runner sequel, he was still able to make the film wholly his own — Blade Runner director Ridley Scott was in fact booted off the 2049 set. While I'm eager to see what Villenueve's meditative, cerebral take on the Star Wars franchise would be, I fear that Lucasfilm and Disney's iron hand wouldn't let him take the creative license he deserves. The term "visionary director" is thrown around a bit haphazardly in Hollywood these days, but I believe Villeneuve actually lives up the label. He's unafraid to take science-fiction and genre films into new and thrilling territory. I'm not sure of Star Wars would allow him to do that. He may be better off focusing on that Dune remake.
New Look at Benicio del Toro's DJ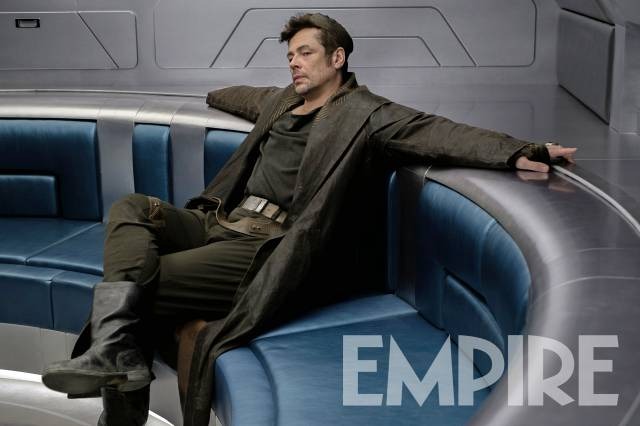 Not much is known about Benicio del Toro's mysterious character "DJ" — which may not be his real name — except for the fact that he looks super cool. He's apparently a morally ambiguous character who acts as a "splicer," a sort of hacker in the Star Wars universe.
Del Toro didn't really help untangle the mystery surrounding DJ, describing him with some effusive imagery in his interview with Empire, which debuted the new image:
"This character could come straight out of a Bob Dylan or Tom Waites song, or even a Dostoyevsky novel. He's like something out of Dickens; there have been characters like him in all kinds of literature. He's like a knife: if you grab him by the blade, he'll cut you. If you grab him by the handle, he can be very, very useful."
Dickens, Dostoyevsky! I'm not sure if del Toro is trolling a bit with his high-minded literary references, but it does paint an intriguing portrait of DJ. We'll have to find out more when Star Wars: The Last Jedi hits theaters on December 15, 2017.