'Black Mirror' Season 4 Trailer: Enter The 'Black Museum'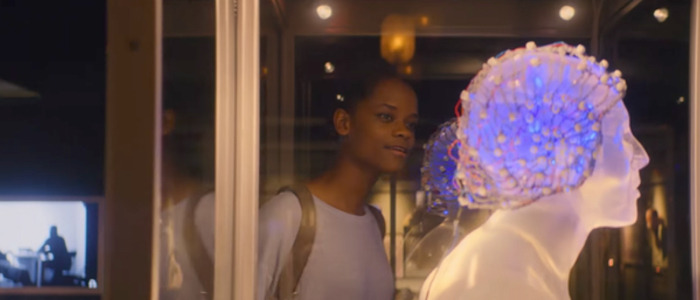 Black Mirror, the Twilight Zone-like anthology series that turns technology into more of a nightmare than a dream, is about to return to Netflix with a whole new series of anxiety-inducing episodes. Netflix has been slowly rolling out individual trailers for each episode, and the latest, for the segment Black Museum, has just arrived. Watch the latest Black Mirror season 4 trailer below.
Netflix has yet to reveal the release date for the new season of Black Mirror, but we know it's coming soon. As if to underline the fact, a new trailer for each episode of the new season has been appearing every other day. The latest, Black Museum, teases the episode directed by The Girl with All the Gifts filmmaker Colm McCarthy, and starring Douglas Hodge (The Night Manager, Catastrophe), Letitia Wright (Black Panther, Ready Player One), and Babs Olusanmokun (Roots, The Defenders).
Black Mirror season 4 trailer
In the trailer, Wright's character finds herself at a roadside museum run by Hodge. He proceeds to give her a tour, and, in the best Black Mirror tradition, bad things appear to happen. What makes this episode of Black Mirror unique is that it appears to be telling not just one twisted story, but multiple tales, using the Black Museum as a framing device. It's an anthology episode within an anthology show. Now that's meta. Black Mirror did something similar with their Christmas episode, Black Mirror: White Christmas.
The new season of Black Mirror has attached a high caliber of talent both behind and in front of the camera. In addition to McCarthy, other directors include Jodie Foster, Hannibal's David Slade, Sherlock's Toby Haynes, The Road's John Hillcoat, and Game of Thrones' Tim Van Patten. Cast members include Jesse Plemons (Black Mass, Fargo), Andrea Riseborough (Birdman, Bloodline), and Rosemarie Dewitt (La La Land, Mad Men). Black Mirror creator Charlie Brooker wrote all of the episodes.
As for what to expect from the new season as a whole, Brooker told Deadline, "The one thing I can say is that it's the same, in that it's completely different, again," and added: "I can't really say much else, except I think there's quite a lot of stuff that's quite out there. I don't know if I've lost touch with reality, or what. But then what often tends to happen is I think, Oh my God, this is completely and utterly farfetched, and then reality catches up. So I was consciously trying to cast further afield, I think, in terms of what stories we're doing. And partly also because I think I was so terrified about the state of the world, I thought, I'm going to entertain myself by having some kooky thoughts."
While there's still no release date, you can likely expect the new season of Black Mirror to arrive on Netflix some time in December.