New 'Paddington 2' Trailer: The Adorable Talking Bear Is Back For Seconds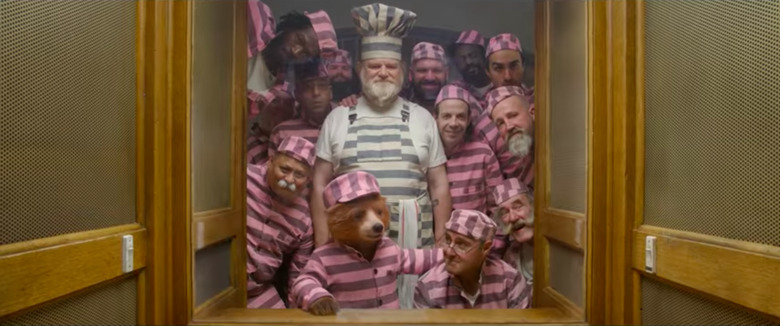 Thanksgiving is over, the leftovers are spilling out of your fridge, and the U.K. has already been blessed with the release of Paddington 2. But fear not, U.S. audiences, because you'll get your second helping of the Paddington franchise soon. Well, relatively soon, anyway. Two months from now.
In the meantime, why don't you watch the new Paddington 2 trailer to soothe your cravings for the sticky sweetness that is the Paddington series?
Paddington 2 Trailer
The new U.S. trailer for Paddington 2 follows the gist of the last few trailers, offering charming scenes of Paddington (the voice of Ben Whishaw) attempting to hold down odd jobs so that he can buy his beloved aunt an antique pop-up book for her birthday. But he is foiled by a master of disguise (Hugh Grant, looking both perplexed and like he's having the time of his life), who steals the book and frames our favorite marmalade-loving bear.
Scattered throughout this trailer are a few new domestic scenes between Paddington and his adopted family, the Browns, and the cache of colorful characters and friends he's made along the way. A few new scenes of Paddington at the Wes Anderson-inspired prison can also be glimpsed throughout the trailer.
This is the first new Paddington 2 trailer we've seen after the sequel was picked up by Warner Bros. following the Weinstein Company fallout from Harvey Weinstein's sexual assault allegations. So now you can watch this trailer without the guilt associated with the Weinstein Company, but with the full range of joy that a Paddington movie can bestow upon you.
Here's the official synopsis for Paddington 2:
Settled in with the Brown family, Paddington the bear is a popular member of the community who spreads joy and marmalade wherever he goes. One fine day, he spots a pop-up book in an antique shop — the perfect present for his beloved aunt's 100th birthday. When a thief steals the prized book, Paddington embarks on an epic quest to unmask the culprit before Aunt Lucy's big celebration.
Paddington 2 is directed by Paul King, and has a cast that includes Hugh Bonneville, Sally Hawkins, Brendan Gleeson, Julie Walters,  Jim Broadbent, and Peter Capaldi. It was released in the U.K. on November 10, 2017, but U.S. audiences will have to wait a bit longer for that second helping of joy: Paddington 2 opens stateside on January 12, 2018.