Tom Hardy And 'Locke' Director Reunite For BBC Adaptations Of Charles Dickens Novels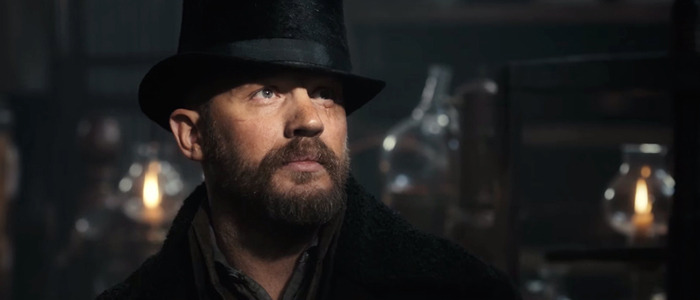 Are we in the middle of a Charles Dickens renaissance? (A Dickenssance?) The Man Who Invented Christmas – a movie about the creation of Dickens' classic novel A Christmas Carol – is in theaters now, a David Copperfield movie adaptation is in the works, and now a new batch of Dickens adaptations is coming to the small screen courtesy of actor/producer Tom Hardy and his frequent collaborator Steven Knight, the writer/director of the Hardy vehicle Locke and creator of shows like Peaky Blinders.
Are you ready for a new version of A Christmas Carol?
The Hollywood Reporter says the BBC has commissioned Knight to adapt "a new series" of Dickens adaptations, including A Christmas Carol, over the next few years, with Hardy on board as a producer. There's no word yet about whether the actor will be able to star in any of these in addition to his producing work, though his busy movie schedule (he's currently filming a Venom solo movie for Sony) makes that seem unlikely. Then again, Hardy has made time to star in the FX series Taboo (which he co-created with Knight), and to appear in the third season of Peaky Blinders, so maybe he'll be able to slot in another small screen appearance if he's passionate about the material. (How amazing would a mumbling, grumbling Hardy be as Ebenezer Scrooge?)
This new version of A Christmas Carol will air in three hour-long broadcasts on BBC One, with Ridley Scott's Scott Free London serving as a co-producer for the adaptations.
"Any question about narrative storytelling is answered by Dickens," Knight said in a statement. "To have the chance to revisit the text and interpret in a new way is the greatest privilege. We need luck and wisdom to do this justice."
While I don't think The Man Who Invented Christmas is going to do much to bolster Dickens' reputation as a storyteller, seeing his work interpreted by a creative team like Hardy and Knight could very well bring his works to a whole new generation who only know Dickens through novels they were forced to read in high school English classes. This has the potential to do similar things as Steven Moffat and Mark Gatiss's updating of Sherlock Holmes for the BBC (though, to be clear, we don't know that Knight plans to set these Dickens adaptations in the modern era.)
Either way, I'm excited to see new interpretations of these classic stories from a talented group of Brits, and we'll keep you posted as soon as we hear more about what they have in store.