The New Blu-Ray Releases You Should Check Out This Week: Killer Santa, Some Broken Ankles, And More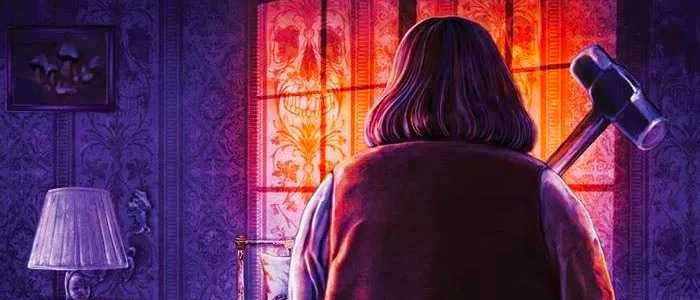 (Welcome to Not Dead Yet, a feature dedicated to what's new on Blu-ray and what special features you should be excited about. Because yes, some of us still like to own physical copies of our movies.)
Before we kick November to the curb, there's a slew of great Blu-rays you might want to snap up for your viewing pleasure. As always, we encourage you to remember that while there's plenty of digital media out there, physical media is still an essential part of a balanced entertainment diet. You can't beat something tangible, folks. Or maybe you can. But I'm going to hold onto this stubborn belief as long as humanly possible!
This week's Blu-ray roundup features Kathy Bates breaking a leg (or two), a killer Santa Claus, Kirsten Dunst getting high, a goofy yet inventive space adventure, the best performance of Robert Pattinson's career, and Jeff Goldblum doing his Jeff Goldblum thing. Here are the new Blu-ray releases you should check out this week.
Misery
One of the very best Stephen King adaptations doesn't deal with the supernatural, but rather with real-life horrors. Rob Reiner's take on King's Misery stars James Caan as a romance novelist who is held captive by his number one fan, played to perfection by Kathy Bates. Bates won a much-deserved Best Actress Oscar for her twisted, hilarious, and terrifying portrayal of the fan from hell, and she and Caan play off each other wonderfully. William Goldman, one of the best screenwriters in the biz, turns King's pulpy novel into an incredibly tight screenplay, where every scene, every nuance, every bit of dialogue coalesces into something remarkable. Scream! Factory has brought this gem to Blu-ray in a special Collector's Edition, which comes pre-packaged with previous special features as well as a handful of new features created especially for this release.
Special Features To Note: In a new interview with Misery director Rob Reiner, the This Is Spinal Tap filmmaker talks about how Misery was a very personal book for Stephen King, and how King was reluctant to sell the film rights unless he knew for certain it was in good hands. King was a big fan of Reiner's Stand By Me, an adaptation of the King novella The Body, and said that he'd only sell the rights to Misery if Reiner was producing or directing. Reiner goes on to say that since Misery was his first thriller, he had to learn the "grammar" of a thriller genre, and he did so by watching Alfred Hitchcock films and film noir in general. "I learned there's a certain grammar to them; a certain shape to them," the director says. "There's a lot of inserts; a lot of wacky angles."  
In another feature, Misery makeup artist Greg Nicotero, who now handles make-up effects for The Walking Dead, discusses the creation of the sometimes gory makeup for Misery, including the famous leg-smashing scene, where Kathy Bates breaks both of James Caan's ankles. In the book, Bates' character cuts off Caan's character's legs, but Nicotero says that Reiner felt like the audience wouldn't "recover" from such an action. So instead they came up with the hobbling scene. In other words, Reiner thought dismemberment was too brutal, but deliberately smashing ankles was a-okay. This is slightly ironic, since the hobbling sequence is particularly graphic and became one of the most memorable scenes in the film.
In addition to the rest of the bonus material, there are some vintage feature videos about stalking, with interviews with psychologists and other experts. They're done very seriously, and seem like the type of things you'd see pop up in reruns on the ID Investigation Discovery channel. These features seem a bit out of place here, but they'll be interesting for true crime fans.
Special Features Include:
NEW 4K Restoration From The Original Film Elements
NEW Interview With Director Rob Reiner
NEW Interview With Special Makeup Effects Artist Greg Nicotero
Audio Commentary With Rob Reiner
Audio Commentary With Screenwriter William Goldman
"Misery Loves Company" Featurette
"Marc Shaiman's Musical MiseryTour" Featurette
"Diagnosing Annie Wilkes" Featurette
"Advice For The Stalked" Featurette
"Profile Of A Stalker" Featurette
"Celebrity Stalkers" Featurette
"Anti-Stalking Laws" Featurette
Silent Night, Deadly Night
(Available on Blu-ray December 5, 2017)
Silent Night, Deadly Night isn't the only "Killer Santa" movie, but it's certainly one of the most memorable. Primarily because the film feels so sleazy. There's a thin layer of grime over this 1984 flick that had parents protesting. Young Billy watches helplessly as a maniac dressed as Santa Claus murders his parents, an event that lands the poor kid in a cold orphanage. Billy grows up to be a strapping young man with a horde of repressed memories – memories that violently return when Christmas season rolls around. Soon, Billy is donning a Santa suit of his own, partaking in a killing spree and shouting "PUNISH!" as he cuts off the heads of kids sledding, or impales women on deer antlers. Make no mistake: this movie is bad, but it's the good kind of bad, where you can't help but appreciate how ridiculous this all is. Silent Night, Deadly Night inspired a horde of sequels, as most slasher films do, but please, ignore all of them. None have the gross charm of the original. Scream! Factory has a sleigh full of features for their new Blu-ray release, including both rated and unrated versions.
Special Features to Note: In the documentary feature Slay Bells Ring: The Story Of Silent Night, Deadly Night, co-executive producers Scott J. Schneid and Dennis Whitehead discuss the origins of the film. They reveal that they came up with the concept, then hired writer Michael Hickey (who is also interviewed here) to write the script. Hickey was paid a whopping $500 to write what would become Silent Night, Deadly Night. The documentary feature goes on to reveal that film studio TriStar Pictures were jonesing to get in on the still-lucrative slasher film business, made popular by Halloween, Friday the 13th, and more, and they jumped at the chance to buy the rights to Silent Night, Deadly Night. The documentary later goes into the controversy surrounding the film, most of it centered around the marketing which featured images of Santa grasping an axe as he came down the chimney. Parents groups were outraged at all of this, and the film both suffered and profited from this. Nervous executives pulled it from theaters, but by the time Silent Night, Deadly Night hit home video, it already had a cult following built around the controversy. This is a great feature, and tells you pretty much everything you need to know about the film. There's another feature that interviews co-star and scream queen Linnea Quigley, but I'd advise skipping it. The quality of the interview is terrible, with the audio almost impossible to hear. Not sure what happened there.
Special Features Include:
DISC ONE: Theatrical Version
NEW 4K Scan Of The Original Camera Negative
R-Rated Theatrical Trailer & VHS Trailer
DISC TWO: Extended Unrated Version
NEW 4K Scan Of The Original Camera Negative With Standard Definition Inserts
NEW Slay Bells Ring: The Story Of Silent Night, Deadly Night – Featuring Interviews With Writer Michael Hickey, Co-Executive Producers Scott J. Schneid And Dennis Whitehead, Editor/Second Unit Director Michael Spence, Composer Perry Botkin, And Actor Robert Brian Wilson
NEW Oh Deer! – An Interview With Linnea Quigley
NEW Christmas In July – Silent Night, Deadly Night Locations – Then And Now
NEW Audio Commentary With Actor Robert Brian Wilson And Co-Executive Producer Scott J. Schneid
Audio Commentary With Michael Hickey, Perry Boykin, Scott J. Schneid, and Michael Spence
Audio Interview With Director Charles E. Sellier, Jr. From Deadpit Radio (Extended Version)
Santa's Stocking Of Outrage
Woodshock
Despite being a release from mega-indie-studio A24, and featuring Kirsten Dunst in the lead, Woodshock made very little impression when it arrived in a few theaters earlier this year. The buzz about it was mostly negative, and the film slipped away. Now this curiosity arrives on Blu-ray, and you know what? It's not half-bad. It's easy to see why Woodshock didn't set the world on fire: it's not really about anything, per se. Rather, it's a moody tone poem of a film, featuring Dunst as a grieving young woman who flits from scene to scene in a kind of stupor, likely a result of the copious amount of marijuana she inhales. This might sound unbearable to some, but directors Laura Mulleavy and Kate Mulleavy bring enough style and grace to Woodshock to make it rather hypnotic. "Our goal was to break down the film layers into frequencies," Laura Mulleavy told W magazine. "Sound, touch, image, dialogue—all those things come together and create the narrative of the film." What really makes the film inherently watchable is Dunst, giving a frequently silent performance. The actress commands the screen as she both figuratively and literally floats through it. Your milage may vary on Woodshock, but those in tune with its otherworldly frequency will find something special here.
Special Features to Note: Sadly, there's not a lot here. We only get one feature: Making Woodshock: A Mental Landscape. The feature is as airy and ethereal as the film itself, with relaxing music playing as directors Laura Mulleavy and Kate Mulleavy talk about their vision for the film. The Mulleavys say that "the idea of Woodshock came about because we wanted to create an emotional experience about what it could feel like to feel so small," and that the film deals with "psychology of humanity."  They discuss details on how Dunst delved into dreams and used "not only her body but her soul and spirit" to inhabit her character. The woods represent the character's deep subconscious. The filmmakers want you to become so absorbed in the world that the film almost enters a "dream state." It's a quick featurette, and it would've been nice if a few more features had been added to the release. Alas, it was not to be.
Special Features Include:
"Making Woodshock: A Mental Landscape" Featurette  
Valerian and the City of a Thousand Planets
Valerian and the City of a Thousand Planets is a failure, but it's an interesting failure. Luc Besson creates a colorful, mind-blowing futuristic world, but then proceeds to stock it with a painfully dull story and two unengaging leads. Dane DeHaan and Cara Delevingne lack the charisma to carry this weird, wild story, which is kind of a shame. Because once you look past them, you'll find a lot of exciting stuff here. The first few minutes of the film alone, spanning hundreds of years to show how the titular City of a Thousand Planets is formed, is worth the price of admission alone. Set to David Bowie's "Space Oddity," we watch as one alien species after another arrives over a period of years, and the city grows. It's incredibly cool, and the film struggles to live up to such a show-stopping opener. There's still fun to be had here, though, especially when Rihanna shows up as a shape-shifting alien. Yet don't expect too much of her – Besson tragically wastes her, to the point that it's almost offensive. The audacity to cast Rihanna and give her such a nothing part! A lot of Valerian doesn't work, yet you have to (sort of) appreciate how gutsy and committed the film is to selling its out-of-this-world concepts. More sci-fi films should dare to be so inventive. But it would also help if the script were a little better, too.
Special Features to Note: The making-of documentary Citizens of Imagination: Creating the Universe of Valerian covers several elements of the film's production, including the French comic book series that inspired it, the casting, the special effects, and more. It's a bit dry, but there's some interesting trivia. For instance: Besson reveals that he first discovered the comic when he was 10 years old, and wanted to turn it into a film ever since. He had to wait to make it, however, because he thought the technology just wasn't quite where it needed to be to recreate the comic book world. To illustrate this point, Besson says that while his earlier sci-fi extravaganza The Fifth Element had about 188 special effects shots, Valerian has 2,734. See if you can count them all! (No, I'm kidding, please don't do that).
Special Features Include:
Citizens of Imagination: Creating the Universe of Valerian (multi-part documentary)
The Art of Valerian Photo Gallery
Good Time
The Safdie Brothers helm this dirty, grungy, all-nighter of a film that features Robert Pattinson giving the best performance of his career. Pattinson is a small-time-crook who gets in way over his head during a bank robbery. During the course of the robbery, Pattinson's developmentally disabled brother (Ben Safdie) gets arrested, and Pattinson has to scrounge together a hefty chunk of change to spring his kid brother from jail. What follows is a hectic, nerve racking journey through one night as Pattinson finds himself in one uncomfortable situation after another. The Safdie Brothers direct it all with a furious intensity that never lets up, to the point where you may find yourself wanting to hit pause and take a breather. There's a darkly humorous tone to it all, but the filmmakers take great pains to de-glamorize the criminal lifestyle of Pattinson's character. Pattinson, in turn, goes all-in on his performance, crafting an unlikable yet somehow sympathetic character that we can't exactly root for, yet we can't entirely condemn either. It's a tricky, morally gray character, and not a lot of actors could handle such a performance, but Pattinson does it exceedingly well.
Special Features to Note: In the documentary feature The Pure and the Damned, the Safdie Brothers reveal that the main reason they made the film was because Pattinson approached them. The actor had seen the filmmakers' previous gritty flick Heaven Knows What, and told them he wanted them to craft a part for him that he could disappear into. What followed was Good Time, which the Safdie's fully confess is a "piece of pulp" and a film "almost without moral." The brothers also discuss how they strove for authenticity, going so far as to use a real bail bondsman in the part of a bail bondsman. Originally, they had cast an actor in the role, yet at the last minute decided to use the real bail bondsman whose office they were using for the scene. It works surprisingly well.
Special Features Include:
"The Pure and the Damned: Good Time" Featurette
Audio Commentary with directors Josh and Benny Safdie, producer Sebastian Bear-McClard, and actors Taliah Lennice Webster and Buddy Duress
Into the Night
This weird, mostly forgotten dark comedy from American Werewolf in London director John Landis features Jeff Goldblum as an insomniac who gets mixed-up with a smuggler, played by Michelle Pfeiffer. The pair are pursued through one long, crazy night by murderers and a hitman (David Bowie, in a scene-stealing extended cameo). Into the Night is a mishmash of tones, with occasional bursts of graphic, unsettling violence, but Landis has always been good at balancing that sort of thing (as American Werewolf proves). This may not be the best film Landis made in his eclectic career, but it's certainly one of the more interesting. Much of the film's charm comes from the pairing of Goldblum and Pfeiffer, who work really well together, to the point where you wish they had made a string of films. The Shout! Factory off-shot Shout Select brings Into the Night to Blu-ray with new interviews with Goldblum and Landis.
Special Features to Note: If you ever had a suspicion that Jeff Goldblum might be a little...eccentric, the special feature Requiem for An Insomniac pretty much confirms this. In this new interview, Goldblum can't sit still for one second, and seems utterly unhinged as he recounts his approach to the character and the making of the film. It's a treat for sure, especially for Goldblum fans, but it's also a little exhausting trying to follow the thread of Goldblum's narrative. There's also an interview with director John Landis, in which he recounts an amusing story about casting the film: he originally wanted Jack Nicholson for the lead. To convince Nicholson to play the part, Landis flew out to Nicholson's secluded house in Aspen. This trip came right after Landis had seen The Shining, and when he got to Aspen he found himself driving through a blizzard to get to Nicholson's home. The snowy conditions plaguing Landis as he tried to get to Nicholson made for some uncomfortable comparisons with The Shining. There's no real point to this anecdote, per se, but it's still fun to hear Landis tell it.
Special Features Include:
NEW John Landis: "Back Into The Night"
NEW Jeff Goldblum: "Requiem For An Insomniac"
Award-Winning Documentary B.B. King Into The Night
Original Theatrical Trailer