You Probably Missed This 'Coco' Detail Foreshadowing A Major Plot Point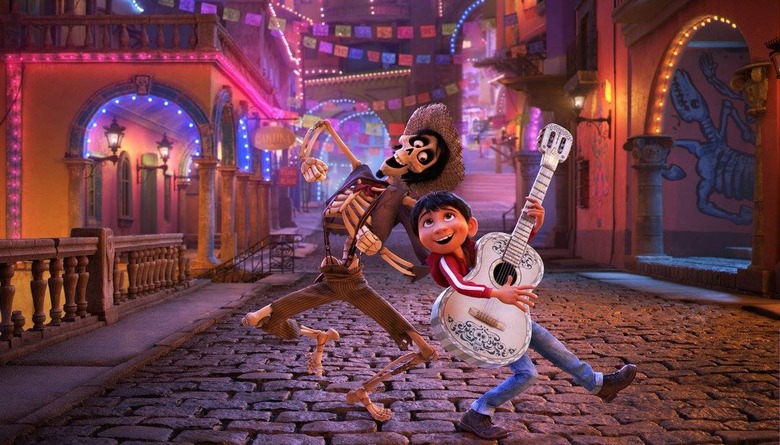 Coco is Pixar's most visually sumptuous movie to date, bathed in vibrant and warm colors that recall the festive decorations of Mexico's Day of the Dead, and the otherworldly luminescence of Hayao Miyazaki's Spirited Away.
But amid all the visual splendor are a few plot details that you may have missed upon first, or even second, viewing of this delightful film. No, they're not just your run-of-the-mill Pixar easter eggs — these pertain to a major plot point that is revealed toward the end of the movie in an eleventh-hour twist. I heard plenty of gasps in my theater when this twist was revealed, so needless to say, spoilers for Coco follow.
Coco follows an aspiring young musician named Miguel (Anthony Gonzalez) who accidentally gets stuck in the Land of the Dead, and must get the blessing of a family member to return to the Land of the Living. But that blessing comes at a price — his family has banned music after his great-great-grandfather abandoned his wife and daughter to pursue a career as a musician, and his deceased Mama Imelda (Alanna Ubach) refuses to let up on this ban, ordering Miguel to give up his music once he returns to the Land of the Living. Desperate to chase his dreams, Miguel sets off to find his great-great-grandfather, who he believes to be his idol, the famous star Ernesto de la Cruz (Benjamin Bratt). Along the way, Miguel runs into a ragamuffin skeleton named Hector (Gael Garcia Bernal) who he may have more in common with than he thinks.Last chance to avoid spoilers, everyone.
Ready? Okay.
In a surprising — and somewhat melodramatic — turn of events, it's revealed that Hector is Miguel's great-great-grandfather, not Ernesto de la Cruz. Ernest and Hector were a musical duo, until Hector was unceremoniously poisoned by Ernesto who stole his music and guitar. That's why Miguel thinks Ernesto is his ancestor — because Ernesto is never seen without that eerie skeleton-shaped guitar from then on.
I had an inkling that Hector had a connection to Miguel as soon as he was introduced with the claim that he "knew Ernesto de la Cruz," but the twist still took me for a ride. But this reveal may have been hinted at much earlier than we expected: in Hector's guitar.
Insider has an eagle-eyed breakdown of this plot detail that foreshadowed the twist at the end of Coco. A closer look at the guitar's design reveals a golden tooth in the skeleton on the guitar's neck. Miguel can even be seen coloring in the yellow tooth before he plays his duet with Ernesto de la Cruz's tape. (Pictures courtesy of Insider.)
Do you see the tooth? Well, it's not just inserted there to provide the guitar with a pop of color. When we're introduced to Hector in the Land of the Dead, we can see that he has a gold tooth.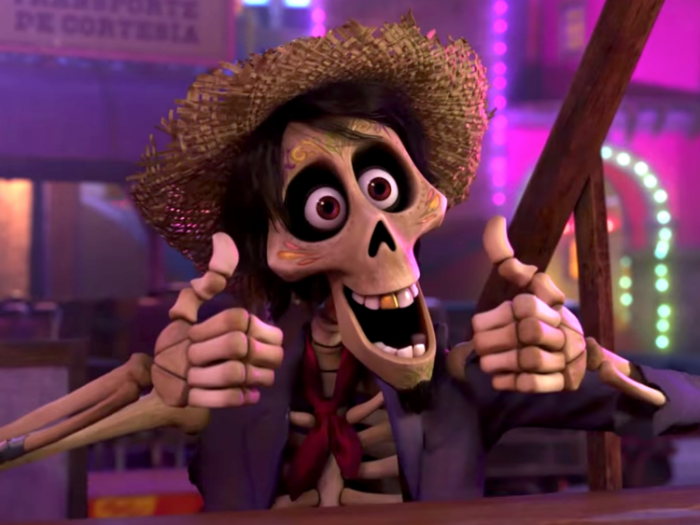 Well, there you have it. It was foreshadowed from the beginning that the guitar belonged to Hector, making him Miguel's great-great-grandfather. It's just another added layer of care given to Coco by directors Lee Unkrich and Adrian Molina, who have made sure to make the film as accessible and touching to as wide an audience as possible — like Unkrich's announcement that Coco comes with an app that will allow you to play the movie with a Spanish language track.
If a theater near you isn't playing a subtitled or dubbed version of Coco, you can download an app and audio track before heading to the theater, which allows you to play the Spanish language track in sync with the film on your own headphones or earbuds. https://t.co/dCRTjlvMAe

— Lee Unkrich (@leeunkrich) November 18, 2017
Insider also points out the small foreshadowing that Dante, who later becomes a full-fledged alebrijes spirit guide, was introduced in a trash can next to a table of alebrijes figures. But Dante's breed was always a hint at his spirit guide tendencies — Dante is a xoloitzcuintli dog, an ancient breed native to Central America that are believed to have healing powers and insight into the afterlife.
Pixar's Coco is in theaters right now.