'Pitch Perfect 3' Clip: The Bellas Get The Party Started With A Riff-Off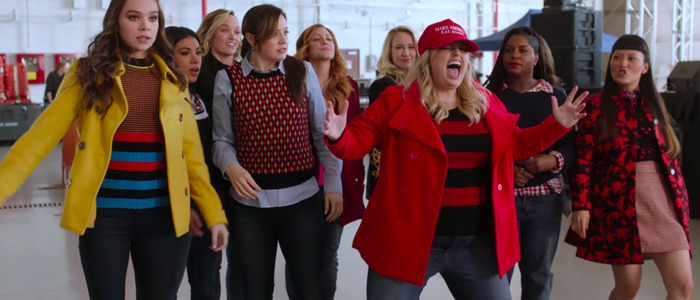 The ladies are back, pitches. In Pitch Perfect 3, Anna Kendrick, Rebel Wilson, and the rest of the acapella-singing Bellas have graduated from Barden University and are looking for work in the real world. When they're given a chance to sing together during a USO tour overseas, they jump at the chance, but the Bellas are going to have to face off against competition they've never faced before: musicians who use instruments other than their mouths.
In this new clip from the film, the Bellas meet their fellow performers and launch into a classic riff-off...which leads to a lot of confusion (and some pretty catchy tunes).
Pitch Perfect 3 Clip
That's pretty much what we expect from the Bellas after watching them do their thing in two movies already. Sure, some of the novelty may have worn off a little, but they still sound great.
Note: You'll be hard-pressed to find someone who has appeared in as wide-ranging a line-up of movies this year as Ruby Rose, who brawled on screen in xXx: The Return of Xander Cage and John Wick: Chapter 2 but appears to be keeping her battles contained to the musical variety in this movie.
Universal has enjoyed solid financial returns on the Pitch Perfect franchise. And the studio has opened these movies all over the calendar: the first film debuted the fall (September), the second one dropped in summer (May), and the new one is coming out right in the middle of the holiday season (December). The first film made $115 million; the second jumped up to $287 million. We'll have to see if the audience will show up for this one next month or if Pitch Perfect 3 will end up as yet another movie that'll be bulldozed at the box office by Star Wars: The Last Jedi.
Now graduated from college and out in the real world where it takes more than a cappella to get by, the Bellas return in Pitch Perfect 3, the next chapter in the beloved series that has taken in more than $400 million at the global box office. After the highs of winning the World Championships, the Bellas find themselves split apart and discovering there aren't job prospects for making music with your mouth. But when they get the chance to reunite for an overseas USO tour, this group of awesome nerds will come together to make some music, and some questionable decisions, one last time.
Pitch Perfect 3 arrives in theaters on December 22, 2017.