'Jumanji: Welcome To The Jungle ' Early Buzz: Surprisingly, A Totally Fun And Funny Romp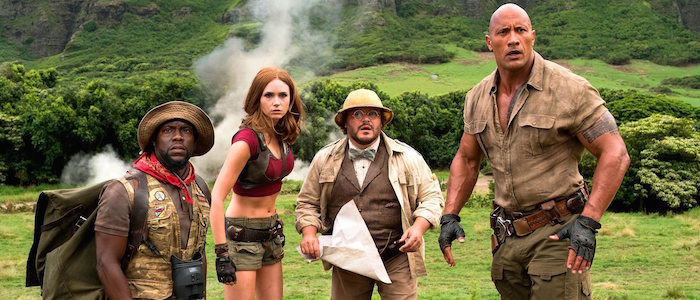 Nostalgia-infused remakes are a dime a dozen, but successful ones are another story. Surprisingly, it seems like Jumanji: Welcome to the Jungle is the latter.
It's a huge burden to live up to a Robin Williams performance, and one that is beloved by every '90s kid at that. (Yes, I hold his Jumanji performance to be up there with his heartfelt comedic turn in Mrs. Doubtfire. Fight me.) But it seems like Dwayne Johnson, Jack Black, Kevin Hart, and Karen Gillan are up to the task, delivering the laughs and the love toward Williams' character in Jake Kasdan's sorta-sequel to the 1995 Jumanji movie.
Below, check out some of the Jumanji Welcome to the Jungle early buzz.
The social media embargo has lifted for Jumanji: Welcome to the Jungle, which means that critics and a few lucky others who were able to see early screenings of the action-comedy can tweet about the film until their hearts are content. And most everyone had something glowing to say about the film.
Was expecting the worst but have to admit the new #JUMANJI movie is a lot of fun. I'd even say it is one of the best "video game movies" ever made, maybe under only King of Kong, Scott Pilgrim, Edge of Tomorrow & Wreck It Ralph (none of which are adaptations).

— /Film (@slashfilm) November 27, 2017
Happy to say that I was pleasantly surprised by Jumanji: Welcome To The Jungle. It's fun and funny in equal measure, and makes smart use of its great stars. Not much of a universe-builder for a fantasy sequel, but definitely a reinvention that works. pic.twitter.com/2I0vPg4zt3

— Eric Eisenberg (@eeisenberg) November 27, 2017
Now that the social embargo for Jumanji: Welcome to the Jungle is up, I will say that Jack Black's performance is perfection personified and deserves 12 Oscars. pic.twitter.com/4wu3Q4wYIB

— Rebecca Pahle (@RebeccaPahle) November 27, 2017
#Jumanji was a ton of fun. Great nods to the original. Jack Black steals it. @TheRock and @KevinHart4real need to keep working together.

And YO I love @karengillan!

— BD (@BrandonDavisBD) November 27, 2017
Guys!! Jumanji Welcome to the Jungle is awesome!!

It's funny, Smart, full of adventure and a family movie! I am... https://t.co/OZs7N2MfS5

— Parenting (@Parentng) November 27, 2017
I can now say that the biggest surprise of the holiday season is #Jumanji. It's super entertaining & very funny w/ terrific cast chemistry (especially b/t @TheRock & @KevinHart4real). Video game fans will dig it even more. See it w/ the whole family pic.twitter.com/e6FOPwjsB5

— Erik Davis (@ErikDavis) November 27, 2017
got to see #Jumanji and it is fun as heck! @TheRock totally steals the show, but everyone gets a chance to shine.

— Zachary Ryan (@ZachariusD) November 27, 2017
The new #Jumanji is a ton of fun and succeeds by not trying to make a film even remotely similar to the original. It's vindicated of comparisons, while also giving a nice nod or two to Robin Williams. #WelcomeToTheJunket pic.twitter.com/EsPGoTAM0Z

— Corey Chichizola (@CoreyChichizola) November 27, 2017
There's a lot of laughs and heart in #Jumanji. Cast has some pretty special chemistry and the game angle totally works. Props to @TheRock @KevinHart4real @karengillan and Jack Black for playing kids so well!

— Rob Keyes (@rob_keyes) November 27, 2017
Rather than relying on the rose-colored classes of Jumanji nostalgia, Jumanji: Welcome to the Jungle seems to have brought an entirely new spin to the story, turning the movie into a body swap story wrapped up in a video game adventure.
Jack Black and Dwayne Johnson get the most rave reviews for their performances as kids stuck in the bodies of adults — in Black's case, he's got the classic "hot girl stuck in a fat man's body" arc, which could get easily get old quickly, though that thankfully doesn't seem to be the case. And seeing Johnson make fun of himself and his own physique is always a gift — beneath those mass of muscles hides a great comedian. People also praised Johnson's chemistry with his Central Intelligence co-star Hart, as well as Karen Gillan, an underrated actress last seen in Guardians of the Galaxy Vol. 2, who finally gets to show her face unburdened by blue prosthetics in a big blockbuster.
Here's the official synopsis for Jumanji: Welcome to the Jungle:
Four high school kids discover an old video game console and are drawn into the game's jungle setting, literally becoming the adult avatars they chose. What they discover is that you don't just play Jumanji – you must survive it. To beat the game and return to the real world, they'll have to go on the most dangerous adventure of their lives, discover what Alan Parrish left 20 years ago, and change the way they think about themselves – or they'll be stuck in the game forever.
Jumanji: Welcome to the Jungle is set to hit theaters on December 20, 2017.