'Black Mirror' Season 4 Trailers: Charlie Brooker's Anthology Series Is Back And As Disturbing As Ever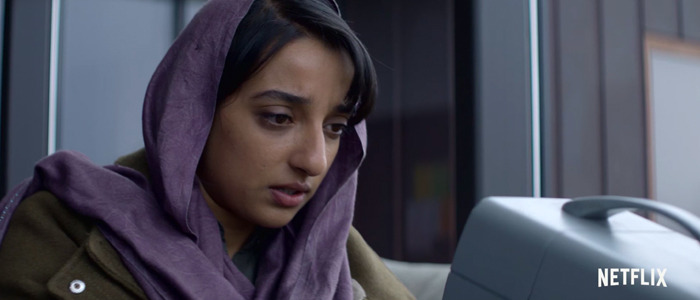 In addition to being one of the most gorgeously shot shows on television, Charlie Brooker's science fiction anthology series Black Mirror is also one of the most disturbing: its episodes are often punishingly bleak, bringing its audience to the brink of despair while offering searing commentary on our relationship with (and dependence on) technology. But while it's not exactly "feel-good" TV, it's also a really good show that manages to attract some of the world's most talented filmmakers and actors to work on it.
So while part of me sort of dreads the idea of watching more, I know it'll be worth it. It always is. And it won't be long before new episodes will be upon us. Two new Black Mirror season 4 trailers have arrived, and you can watch them below.
Black Mirror Season 4 trailers
First up is the trailer for "Arkangel," the episode being directed by Oscar-winning actress Jodie Foster, who has a history with Netflix behind the camera having already directed episodes of both House of Cards and Orange is the New Black. Foster's career as an actor has been packed with tense and disturbing moments, so stepping into the world of Black Mirror shouldn't be too much of a jump for her.
As cheery guitar music plays over the laughter of a mother and daughter playing together in the opening stages of this trailer, I was just counting the seconds until something terrible happened. And I didn't have to wait long: the mother loses her daughter in a park, and after a brief but fraught search, they're reunited. But things aren't quite the same as they were before, and soon the little girl is receiving an injection directly into her temple. As you do. Rosemarie DeWitt (Mad Men, Your Sister's Sister) stars as the mother.
You can read more about this episode in our report from this year's New York Comic-Con.
Here's a teaser for "Crocodile," the episode being helmed by The Proposition and The Road director John Hillcoat. This one appears to be about a memory recovery specialist who gets in over her head, and her final line – "private stuff is private stuff" – seems like the Black Mirror equivalent of Chekov's gun. You know that private stuff ain't remaining private for long. Not in that show's world. This episode stars Kiran Sonia Sawar (Murdered By My Father) in the lead role, and Andrea Riseborough (Birdman, Oblivion) has a supporting role.
Black Mirror season 4 still doesn't have an official release date, but it's worth noting that the show has been following a pattern over the past few days of alternating a poster release with a teaser release, so perhaps when all of those teasers have been revealed, the streaming service will unveil its official release date. Stay tuned to /Film for more Black Mirror teasers for upcoming episodes "Hang the DJ," "USS Callister," "Metalhead," and "Black Museum" in the days to come.