Hell Freezes Over As Terry Gilliam Nears Completion Of 'The Man Who Killed Don Quixote'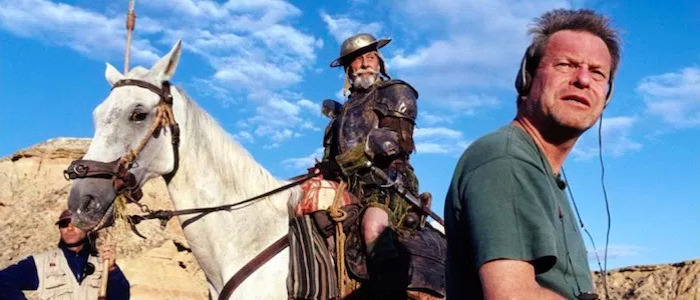 It's hard to believe, but director Terry Gilliam has been working on The Man Who Killed Don Quixote for almost 20 years. After one setback after another, with bad luck compounding bad luck, it looks as if Gilliam might buck the odds and finally release the film for the world to see. The filmmaker recently revealed that he's nearly finished cutting the film together. Hell might be about to freeze over, and we may finally be blessed with Terry Gilliam's The Man Who Killed Don Quixote.
Stop the presses: Terry Gilliam might finally deliver The Man Who Killed Don Quixote to audiences after all these years. In a New York Times interview, Gilliam says that he's almost done cutting the film, and that while there's still more work ahead with visual effects, sound, and music, everything appears to have come together nicely and resulted in a finished product the filmmaker can be happy about. Here's what Gilliam had to say:
"Well, we've almost finished the cut. We're just fiddling now, figuring out a few things here and there so it's pretty much what it is. We've got still months of work to do on visual effects, sound, music. But as far as the tale, it's pretty tight now and it's surprisingly wonderful.
I always hesitate to get too optimistic or too excited about the work I'm doing. I'd rather try to stay cynical and slightly distant from it. When you fall in love with something, it's painful when it doesn't work for everybody else. But all the people who've seen it so far — they used the words, 'We're in love with this.' So let's see if they're right."
Back in 1998, 12 Monkeys director Gilliam set out to make The Man Who Killed Don Quixote. The film was to feature Johnny Depp as a modern-day man who gets thrown back in time, where he teams up with the literary character Don Quixote, played by Jean Rochefort. Then, everything proceeded to go very wrong. As chronicled in the documentary Lost in La Mancha, the production was plagued by floods, hail, shooting location woes, and an injury that sidelined Rochefort completely. Production came to a halt, resulting in a $15 million insurance claim.
But Gilliam didn't give up. He started up production again in 2008, only to have things come crashing down yet again. Gilliam replaced Depp and Rochefort with Unbroken star Jack O'Connell and John Hurt, but Hurt was soon diagnosed with cancer. The film ended up being put on hold again, and somewhere along the way Gilliam was mistakenly reported as dead.
Still very much alive, Gilliam resurrected Don Quixote in 2016. But just days away from beginning filming, production was delayed again. Gilliam explained:
"I was supposed to be shooting it starting next Monday. It's been slightly delayed. I had this producer, a Portuguese chap, who claimed he'd get all the money together in time. And a few weeks ago, he proved that he didn't have the money. So we are still marching forward. It is not dead. I will be dead before the film is."
Production finally started up again in March of 2017. The new Don Quixote was set to star Adam Driver and Gilliam's former Monty Python teammate Michael Palin, but Palin was eventually replaced by Jonathan Pryce. The film world waited with baited breath to see what would go wrong next, but then something truly shocking happened: Gilliam actually finished filming the movie. Shooting wrapped in June of 2017, and now all that's left is for Gilliam to finish post-production work and unveil his long-gestating passion project upon the masses, with Amazon Studios handling distribution. Of course, there's always a chance something else could go wrong. The world could always end the night before the official release.