We Almost Had Cheech And Chong Vs Jason In A 'Friday The 13th' Sequel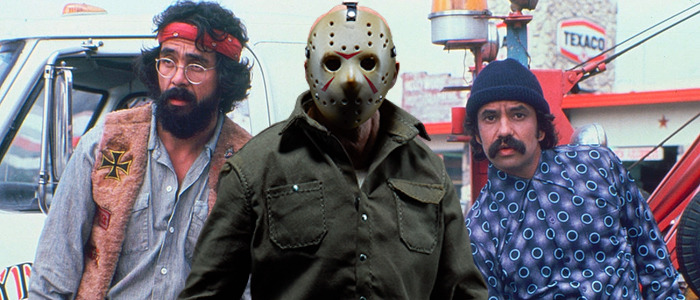 Forget about Freddy vs. Jason – how about Cheech and Chong vs. Jason instead? In a new interview, Friday the 13th Part VI: Jason Lives director Tom McLoughlin revealed that he pitched a Friday the 13th sequel that would have seen the stoner comedy duo coming up against everyone's favorite hockey mask wearing murderer. Get the details about Cheech and Chong in Friday the 13th below.
In the tradition of Abbot and Costello Meet Frankenstein or that awkward scene in Scream 3 where Jay and Silent Bob yell at Courtney Cox, we were almost blessed with a film that pitted stoner comedians Cheech and Chong against Jason Voorhees.  Richard "Cheech" Marin and Tommy Chong were riding high in the '70s and '80s with their marijuana-themed stand-up comedy routine that they parlayed into several feature films. Cheech and Chong's first movie, Up in Smoke, was distributed by Paramount Pictures – the film studio that also happened to own the rights to the Friday the 13th franchise. It was this joint IP ownership that inspired writer-director Tom McLoughlin to come up with the brilliant idea of teaming the characters up.
In an interview on horror filmmaker Mick Garris' podcast Post Mortem (via EW), McLoughlin revealed that, after he had made Jason Lives, Friday the 13th producer Frank Mancuso Jr. approached him about making another Friday film. According to McLoughlin, Mancuso's original idea was to make a film pitting Jason against A Nightmare on Elm Street's Freddy Krueger:
"[Frank Mancuso Jr.] wanted me to do another film after we did Jason [Lives]...And I said, 'What are you thinking? I don't know what it could be now.' And he said, 'Well, what do you think about Freddy (Krueger) and Jason?' And I go, 'But Freddy's at New Line and the guys at Paramount have [Jason].' And it's like, 'Well, we're going to try and see if we can work something out.' So, I started thinking about that, going, It doesn't make sense. I mean he lives in one realm and — you know, I take this stuff very seriously, what realm a monster's supposed to stay in. And he came back, he goes, 'Eh, forget it, it's not going to work anyway.'"
It would be another 17 years before the rights issues were settled and Freddy vs. Jason would hit theaters. In the meantime, however, McLoughlin came up with a Freddy vs. Jason alternative:
"I said, 'You know what? You guys own Cheech and Chong. What if we do Cheech and Chong-meets-Jason? They're like camp counselors or something. It's like, 'Hey, man, I saw Jason out there.' 'No, man, that's a myth.' But he said, 'You know what? No.'"
There you have it: Frank Mancuso Jr. was not having Cheech and Chong vs. Jason. If you want to blame someone for this great loss to cinema, blame him. It's not entirely clear here if McLoughlin envisioned an entire film based around Cheech and Chong at Camp Crystal Lake, or if he was thinking more along the lines of an extended cameo. Either way, we were denied Cheech and Chong vs. Jason. As for the Friday the 13th franchise, it went on to follow-up Jason Lives with Friday the 13th Part VII: The New Blood, with had Jason squaring off against a telekinetic teenager instead of a stoner comedy team.