Rashida Jones Clarifies Her 'Toy Story 4' Departure Amid John Lasseter Misconduct Allegations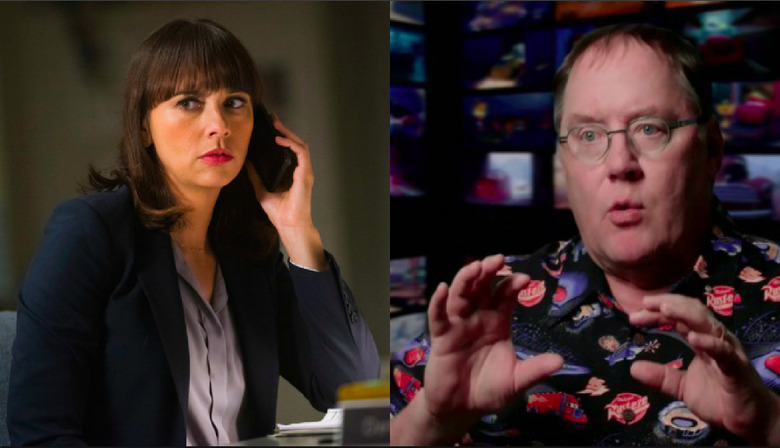 In the fallout from John Lasseter's announcement that he is stepping down from Pixar amid allegations of sexual misconduct, Rashida Jones has clarified the reason for her departure from the writing team of Toy Story 4.
The Hollywood Reporter article that initially revealed the allegations of Lasseter's alleged sexual harassment of female employees claimed that the reason that Jones and her writing partner, Will McCormack, left the project early in development because Lasseter made an "unwanted advance" towards her. Shortly after the article was published, Jones explained to a New York Times reporter that this was not the case.
In a statement given to a New York Times and obtained by Variety, Jones and McCormack clarified that the reason for their departure were not over "unwanted advances" from Lasseter, but over "philosophical differences." Jones and McCormack admonished Pixar's treatment of minority and female voices, and said the company's work culture contributed to their departure:
"The breakneck speed at which journalists have been naming the next perpetrator renders some reporting irresponsible. We did not leave Pixar because of unwanted advances. That is untrue. We parted ways because of creative and, more importantly, philosophical differences. There is so much talent at Pixar, and we remain enormous fans of their films. However, it is also a culture where women and people of color do not have an equal creative voice."
Jones and McCormack were announced as writers for Toy Story 4 in November 2014, but left early in development. Josh Cooley took over as the sole director of the Pixar film after Lasseter stepped down from his role as co-director in July this year.
In a memo to Pixar employees Tuesday, Lasseter announced that he was taking a six-month leave of absence in the wake of "missteps" as the chief creative officer of Pixar Animation, apologizing for making coworkers feel "disrespected or uncomfortable." Shortly after, The Hollywood Reporter released a scathing follow-up article that revealed allegations of sexual misconduct against Lasseter at Pixar, which consisted of him "grabbing, kissing, making comments about physical attributes" against female employees. On Tuesday evening, more allegations condemning Lasseter and Pixar's work culture have surfaced courtesy of Vanity Fair. In interviews with 10 current and former employees at Pixar, the article described both female and male employees being unsettled by Lasseter's displays of physical affection.
Lasseter often crossed boundaries with them, particularly when he had been drinking. One former male employee described traveling to a film festival with the executive and being asked to bring him to a strip club. "He'd get dances and point at me to pay for it," the employee said. "I was supposed to entertain him. It was so uncomfortable. He liked to have a good time. He liked his wine."
The articles described Pixar employees "coming to the realization that the culture has been toxic for several years." Employees also posited the possibility of Up and Inside Out director Pete Docter replacing John Lasseter as chief creative officer.
This is not the first time that Pixar's toxic work environment has made headlines. In 2015, Buzzfeed News published a piece on Pixar's exclusive "boys club" mentality that has resulted in female employees being shut out of projects or treated derisively. Over the course of Pixar's two decades producing 19 feature films, only one film has boasted a female director — Brenda Chapman, who co-directed Brave in 2012.
In their statement, Jones and McCormack encouraged Pixar to use this as a turning point in "bolstering, hiring, and promoting more diverse and female storytellers and leaders. We hope we can encourage all those who have felt like their voices could not be heard in the past to feel empowered."