John Lasseter Taking Leave Of Absence From Disney/Pixar After Sexual Harassment Allegations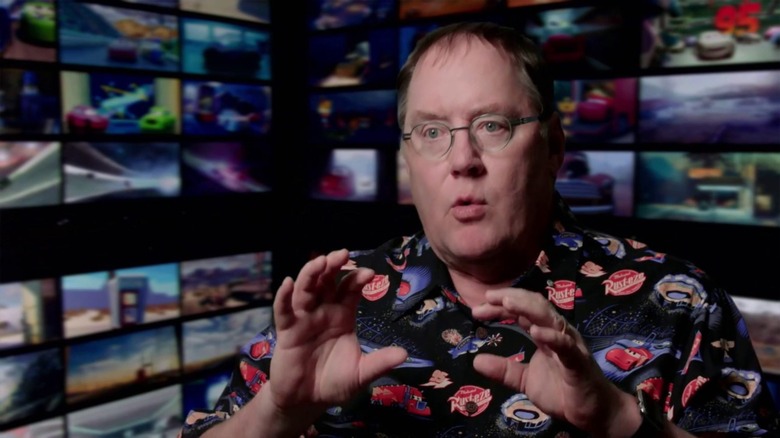 John Lasseter, current Chief Creative Officer of Pixar Animation Studios, Walt Disney Animation Studios and DisneyToon Studios, has announced a sudden leave of absence following "missteps." In a new statement, the Toy Story director acknowledged "difficult conversations" and acknowledged possibly crossing lines and making people uncomfortable. Lasseter's leave of absence news was soon followed by allegations of sexual misconduct involving the filmmaker. More details about the John Lasseter sexual harassment allegations are below.
In news that will surely send shockwaves throughout the world of Disney and Pixar fans, and beyond, Pixar Animation Studios chief creative officer John Lasseter is taking a leave of absence. The Hollywood Reporter posted a staff memo Lasseter sent to staff, in which the filmmaker and co-founder of Pixar acknowledge "missteps" and that he possibly made coworkers feel "disrespected or uncomfortable." Lasseter's full statement is below:
I have always wanted our animation studios to be places where creators can explore their vision with the support and collaboration of other gifted animators and storytellers. This kind of creative culture takes constant vigilance to maintain. It's built on trust and respect, and it becomes fragile if any members of the team don't feel valued. As a leader, it's my responsibility to ensure that doesn't happen; and I now believe I have been falling short in this regard.
I've recently had a number of difficult conversations that have been very painful for me. It's never easy to face your missteps, but it's the only way to learn from them. As a result, I've been giving a lot of thought to the leader I am today compared to the mentor, advocate and champion I want to be. It's been brought to my attention that I have made some of you feel disrespected or uncomfortable. That was never my intent. Collectively, you mean the world to me, and I deeply apologize if I have let you down. I especially want to apologize to anyone who has ever been on the receiving end of an unwanted hug or any other gesture they felt crossed the line in any way, shape, or form. No matter how benign my intent, everyone has the right to set their own boundaries and have them respected.In my conversations with Disney, we are united in our commitment to always treat any concerns you have with the seriousness they deserve, and to address them in an appropriate manner. We also share a desire to reinforce the vibrant, respectful culture that has been the foundation of our studios' success since the beginning. And we agree the first step in that direction is for me to take some time away to reflect on how to move forward from here. As hard as it is for me to step away from a job I am so passionate about and a team I hold in the highest regard, not just as artists but as people, I know it's the best thing for all of us right now. My hope is that a six-month sabbatical will give me the opportunity to start taking better care of myself, to recharge and be inspired, and ultimately return with the insight and perspective I need to be the leader you deserve.I'm immensely proud of this team, and I know you will continue to wow the world in my absence. I wish you all a wonderful holiday season and look forward to working together again in the new year.
Lasseter's letter mentions "hugs," which is something the filmmaker is apparently famous for. A Wall Street Journal piece profiling Lasseter mentioned that he hugged up to 48 different people as the WSJ writer followed shadowed him during one day. Soon after the leave of absence story broke, THR posted a follow-up article that alleges sexual misconduct on Lasseter's part, including "grabbing, kissing, making comments about physical attributes."
The THR piece also claims that while Rashida Jones is still credited as a writer on the upcoming Toy Story 4, she and her writing partner, Will McCormack, left the project early in development after Lasseter made an "unwanted advance" towards her. There is also mention of Lasseter's drinking problems, which is, of course, no excuse for this type of behavior. One particularly uncomfortable paragraph from the second THR story details how female employees at Pixar have long been aware of Lasseter's unwanted attention:
Sources say some women at Pixar knew to turn their heads quickly when encountering him to avoid his kisses. Some used a move they called "the Lasseter" to prevent their boss from putting his hands on their legs. A longtime insider says he saw a woman seated next to Lasseter in a meeting that occurred more than 15 years ago. "She was bent over and [had her arm] across her thigh," he says. "The best I can describe it is as a defensive posture. . . . John had his hand on her knee, though, moving around." After that encounter, this person asked the woman about what he had seen. "She said it was unfortunate for her to wear a skirt that day and if she didn't have her hand on her own right leg, his hand would have travelled."
Lasseter began his career as an animator with Disney – a job he was fired from. After his firing, Lasseter joined Lucasfilm, where he worked on CGI animation. After the Graphics Group of Lucasfilm where Lasseter worked was sold to Steve Jobs and transformed into Pixar in 1986, which would eventually land Lasseter back at Disney, where he oversaw all of their films. Lasseter directed Toy Story, A Bug's Life, Toy Story 2, Cars, and Cars 2.