Fork Yes: 'The Good Place' Season 3 Is Happening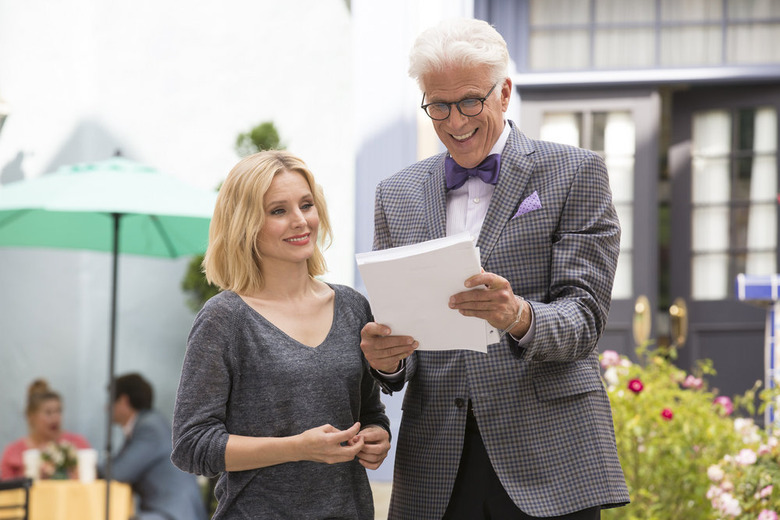 Maybe this isn't such a Bad Place after all. Because someone must be looking out for us for Mike Schur's high-concept comedy The Good Place to be renewed for season 3.
Starring Kristen Bell and Ted Danson, the wacky half-hour series is easily one of the best comedy shows on TV right now, tackling existential angst with a screwball sensibility — and it's only upped its game in season 2 after the first season presented an eleventh-hour game-changing twist. And while there's no way to know what direction this show will go, at least there will be plenty of free shrimp cocktails along the way.
NBC announced the renewal on Tuesday according to The Hollywood Reporter. Like the first and second seasons, the third season has been picked up for 13 episodes, and will feature Bell, Danson, as well as returning cast members William Jackson Harper, Jameela Jamil, Manny Jacinto, and D'Arcy Carden.
The series was created by Schur after he wrapped up critical darling Parks and Recreation and helped launch the equally acclaimed Brooklyn Nine Nine. The Good Place maintains the jovial, earnest comedy that Schur is known for, but with a decidedly more surreal bent. The series takes place in the afterlife, after decidedly bad person Eleanor Shellstrop (Bell) accidentally ends up in "The Good Place." Eager to avoid the hellish Bad Place as much as possible, she enlists the help of ethics professor Chidi (Harper) to reform herself and stay in the Good Place. Danson plays the celestial being and architect of the neighborhood in which they live. But a series of twists and turns takes the story in a crazy direction. I'll refrain from spoiling the jaw-dropping ending of season 1 for you. Yeah, it's just that good.
The Good Place is one of the few comedies that thrives on the internet forum boards — it practically invites fan theories about the characters' fates, and what it all means. Aside from posing surprisingly textbook-accurate ethical theories, just look to the ingenious Twitter account "No Context Good Place" for a peek at the kooky dialogue and storylines that The Good Place boasts. There are a lot of shows that have launched a "No Context" Twitter feed, but perhaps no series is better suited to it than The Good Place. It's a show that perfectly nails the absurd existential angst of living in 2017, and it does it all with a joke and wine glass in hand. And possibly a train filled to the brim with cocaine.