Harley Quinn Is Getting Her Own Animated Series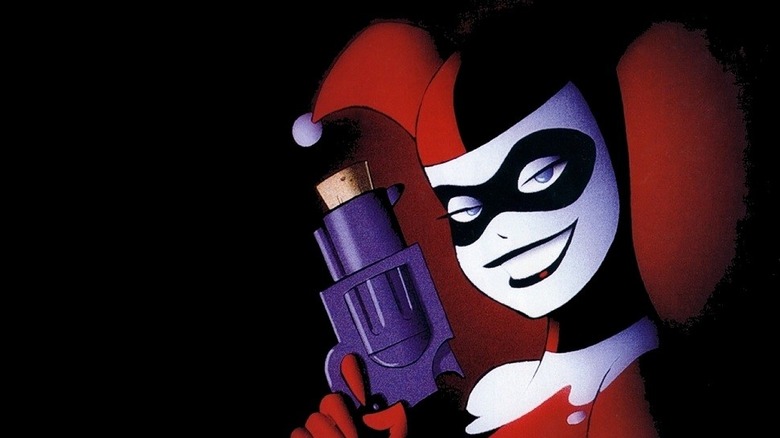 Harley Quinn is back, baby, and this time she's getting the spotlight all to herself.
The Batman villain and Hot Topic bestseller is getting an animated series to call her own, in the form of a half-hour action-comedy on DC Comics' untitled streaming service. The series, titled Harley Quinn, will follow the adorable psychopath after she's rightly severed ties with her abusive and equally iconic ex, the Joker. Because there can still be a Harley without her Mistah J.
Harley Quinn has received a 26-episode order from DC Comics, joining animated series like the revived Young Justice and the live-action Titans series on the streaming service, according to TV Line. Described as a "half-hour adult animated action-comedy series," Harley Quinn will follow Harley on her solo adventures after she leaves the Joker, making enemies and frenemies along the way. The series will be produced and written by Justin Halpern and Patrick Schumacker, who did the NBC show Powerless, and Warner Bros. Animation's Dean Lorey, while Margot Robbie (who brought Harley to the live-action realm in 2016's Suicide Squad) is being courted to voice the character.
No other information on Harley Quinn series has been released, except that it's expected to drop sometime in 2018.
First introduced in Batman: The Animated Series as a nameless Joker henchman, Harley Quinn has evolved into one of DC Comics' most popular female characters, thanks to her whimsical idiosyncrasies and distinctive Brooklyn accent popularized by original voice actress Arleen Sorkin — whose name and soap opera experience heavily influenced animator Paul Dini's creation of the character.
After Batman: The Animated Series' acclaimed episode "Mad Love" gave her and the Joker's relationship depth and Harley a soul (of an abuse victim), Harley soon made the jump from the TV to the comic book page, going on to headline her own series and be adapted to a plethora of other mediums.
Which brings us to today: Harley has gotten the silver screen treatment in the form of Suicide Squad's Margot Robbie — who stole the scenes in the movie and managed to capture the wacky whimsy that made Harley so beloved — and is now inseparable from her romantic and professional partner, the Joker. Unfortunately, the Joker and Harley's toxic relationship has become romanticized — just look at all the Bonnie and Clyde-style depictions of the pair in fan art and Hot Topic T-shirts — but at least DC is going out of their way to sort of acknowledge that. Harley's kicking it solo without the Joker, and better off than ever! If the series puts Harley and Poison Ivy in a room together again, then I would be content. Now, if only we can get that Gotham Sirens movie off the ground...