2018 Golden Globes Host Revealed To Be Seth Meyers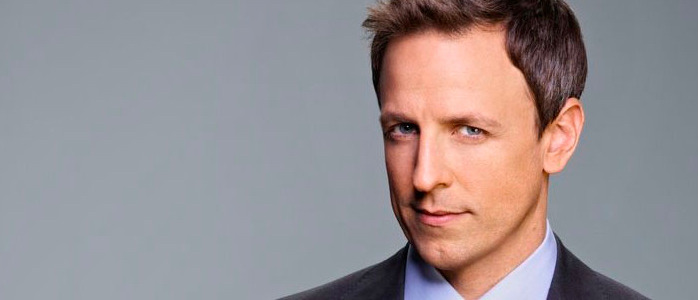 The Golden Globe Awards, the mostly laid-back award ceremony everyone half-watches while they wait impatiently fro the Oscars to eventually air, is about to land a new host. Comedian Seth Meyers is closing in on a deal to host The Golden Globe Awards telecast on January 7, 2018. How many jokes will he tell? All of them, probably. Learn more about the 2018 Golden Globes host below.
The end of the year is at hand, which means award season is approaching. Soon, the art of cinema will turn into a sporting event as films claw and scrape their way toward the glory of taking home an engraved trophy. What films, filmmakers, actors, actresses and more will land nominations? Who will walk home with coveted awards, and who will go home empty handed? These are questions we won't know the answers to for a while, but we do know who will be hosting one of the award shows. Variety reports that Seth Meyers, former Saturday Night Live cast member and current host of Late Night With Seth Meyers, will be the Golden Globes host.
Per Variety, Meyers had been approached to host the show a while ago, but didn't commit to the project until a few days ago. Had Meyers said no, Ellen DeGeneres and Tiffany Haddish were two other stars approached for the gig. Meyers is yet another late night talk show frontman to join the ranks of award show hosts. Last year's Golden Globes were hosted by "funnyman" Jimmy Fallon, while Jimmy Kimmel will return to host the Academy Awards yet again.
Meyers is a safe choice. The comedian has forged his own unique voice on Late Night With Seth Meyers, and will likely bring a sense of calm mixed with deadpan humor to what will no doubt be an exceedingly uncomfortable award season – arriving at a time when Hollywood finds itself immersed in ever-increasing sexual harassment scandals. While Meyers will  likely excel at the task at hand, you can't help but wish that the aforementioned Tiffany Haddish had landed the job. Haddish is a star on the rise, and to hire her to host would've been exciting. Alas, it was apparently not to be.
That said, Meyers will probably do fine – although it's worth noting the deal isn't finalized yet. But should Meyers sign on the dotted line and host the Globes, he probably won't be as great as 2013-2015 hosts Tina Fey and Amy Poehler, but he'll definitely be less annoying than 2016 host Ricky Gervais. The 75th annual Golden Globes Award ceremony will air on January 7, 2018.