'Gunpowder' Trailer: Kit Harington Leads The Guy Fawkes Drama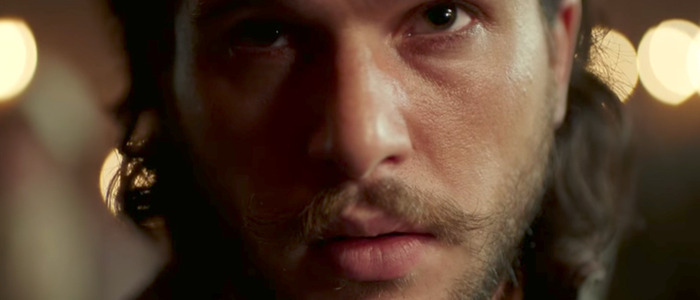 The story of Guy Fawkes is about to get the sexy melodrama treatment, folks. Kit Harington stars in Gunpowder, a gritty new drama based upon the famous Gunpowder plot of 1605, wherein Guy Fawkes and a group of English Catholics planned to blow up the House of Lords and kill King James I. The Gunpowder trailer give us a look at this new, dirt-caked drama in all its Game of Thrones-ish glory.
Kit Harington is jumping from Game of Thrones to Gunpowder, a new HBO three-part miniseries focused on the 1605 Gunpowder Plot. Harington leads a cast that includes Peter Mullan, Mark Gatiss, Derek Riddell and Liv Tyler, using the same whispery accent she used in the Lord of the Rings films. Let's take a look at the Gunpowder trailer, shall we?
Gunpowder Trailer
While Guy Fawkes has become the name synonymous with the Gunpowder plot, especially after V for Vendetta firmly brought the story into the pop culture lexicon, Fawkes himself was a minor player in the scheme. The real leader was Robert Catesby, which is who Harington is playing. Here's what noted historian Wikipedia has to say about the Gunpowder Plot:
The Gunpowder Plot of 1605, in earlier centuries often called the Gunpowder Treason Plot or the Jesuit Treason, was a failed assassination attempt against King James I of England and VI of Scotland by a group of provincial English Catholics led by Robert Catesby. Although anti-Catholic legislation was introduced soon after the plot's discovery, many important and loyal Catholics retained high office during King James I's reign. The thwarting of the Gunpowder Plot was commemorated for many years afterwards by special sermons and other public events such as the ringing of church bells, which have evolved into the Bonfire Night of today.
Gunpowder originally premiered on the BBC One in the U.K., but now its making the leap to HBO, perhaps to cash-in on Harington's Game of Thrones connection. Harington also serves as an executive producer on the series, so it's clearly a project close to his heart. "Three years ago, Daniel West and I began developing Gunpowder with Kudos and Ronan Bennett," Harington said of the project. "We are thrilled to share this unique story with the U.S. audience. I can't think of a better place to do that than my home at HBO."Gunpowder premieres on HBO December 18, 2017 at 10 PM on HBO. Here's the official synopsis:
British activist Guy Fawkes and a group of provincial English Catholics plan to blow up the House of Lords and kill King James I in the early 17th century.