Batman Will Appear In The 'Flashpoint' Movie, Geoff Johns Confirms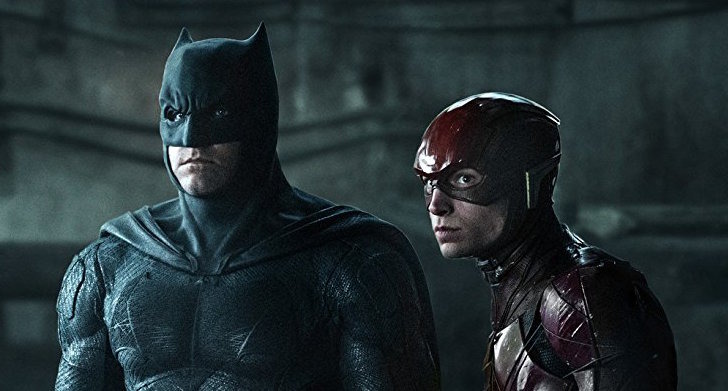 Call it Justice League 1.5: Flashpoint will now boast more than half of the members of the Justice League, with Batman joining Wonder Woman and Cyborg in a feature appearance in the reworked solo Flash film.
With the Dark Knight's inclusion in the adaptation of the massive crossover event that rebooted the DC Comics, it adds to chatter that Flashpoint could usher in a new era for the DC Extended Universe. That is, if Warner Bros. is still planning to move ahead with its potential universe-rebooting film after Justice League's disappointing opening weekend.
Fans were taken aback during Warner Bros.' San Diego Comic-Con panel earlier this summer when it was announced that The Flash solo movie would be retooled as Flashpoint, the story arc that — along with Crisis on Infinite Earths — is one of the most famous crossover arcs to leave lasting ripple effects throughout the DC Comics universe.
In the story, Barry Allen wakes up in an alternate universe to find his powers missing and the world at war. Aquaman and Wonder Woman are waging a deadly battle across continents, Batman is now Thomas Wayne, and Superman is a captive of the U.S. government. However, just because it shares a title doesn't mean it shares a story — Warner Bros.' current DC universe is still in its beginning stages, with the Justice League uniting only this year and two characters releasing solo films thus far. Warner Bros.' Flashpoint could feasibly be more isolated with fewer far-reaching implications, but with two thirds of the DC Comics Trinity joining, the film adaptation could be closer than we thought.
DC Chief Creative Officer Geoff Johns, and co-head of the DC Films alongside Jon Berg, spoke with Entertainment Weekly on the studio's plans for Flashpoint, which will be headlined by Ezra Miller:
"There's elements in it that we're going to be playing into that we couldn't do anywhere else. The scale of it, the Batman story of it all."
Thomas Wayne's Batman plays a major part in the Flashpoint arc, allying with Barry Allen early on in the arc after Barry reveals his identity and pleads with the grizzled vigilante to help him regain his powers. In Flashpoint, it is Bruce Wayne who dies at the hands of an armed mugger and it makes a huge impact on his parents: Martha is driven mad with grief and turns into the Flashpoint version of the Joker, while Thomas takes on the Batman mantle, albeit with a more murderous bent. In Batman v Superman: Dawn of Justice, director Zack Snyder seems to plant seeds for a more vigorous Thomas Wayne, as played by Jeffrey Dean Morgan. You can see Snyder's Thomas lunging forward before he is shot.
However, the disappointing box office numbers of Justice League on its opening weekend may put the fate of Flashpoint in jeopardy. We learned last month that Warner Bros. executives are carefully watching Justice League's critical and box office performance to determine whether to move ahead with Flashpoint. The reviews already looked concerning, but with Justice League falling short of its $110 million estimates with its $94 million opening weekend, it's possible that Warner Bros. could be rethinking its Flashpoint strategy.
Another factor to take into consideration: Henry Cavill reportedly has one DC Extended Universe movie left in his contract with Warner Bros., which makes me wonder if his Superman will complete the Trinity in Flashpoint. Storywise it's unlikely: the Superman we meet in Flashpoint is a decrepit, pitiful version of the Man of Steel, and unless Warner Bros. plans to Benjamin Button Henry Cavill down to size, it's unlikely that appearance would count to his contract. It's more likely he'll appear in Man of Steel 2 — the fate of which is also up in the air post-Justice League.
For now, Flashpoint still takes up a spot on Warner Bros.' sparse DCEU slate, with Ezra Miller set to star as Barry Allen, as well as Kiersey Clemons as Iris West, Billy Crudup as Barry's father Henry Allen, and Ray Fisher as Cyborg. It will arrive sometime in 2020. Maybe.