All 368 Songs From Disney Animated Films Ranked [Part One]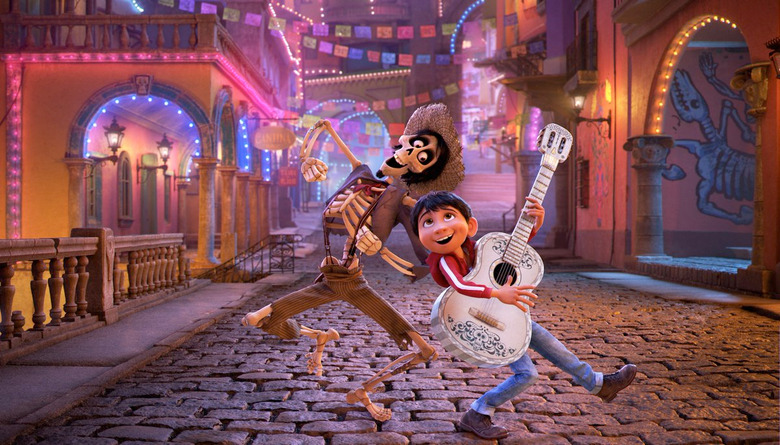 (Welcome to The Disney Discourse, a recurring feature where Josh Spiegel discusses the latest in Disney news. He goes deep on everything from the animated classics to the theme parks to live-action franchises. In this edition: the first in a series ranking all 368 songs featured in Disney animated films.)
Let's get the obvious out of the way: I am clearly insane. Why else would I feel compelled to rank every song from every animated feature from the Walt Disney Company? So yes, this list will feature songs from every Walt Disney Animation Studios film, from Snow White and the Seven Dwarfs to Moana; every Pixar Animation Studios film, from Toy Story to their latest release, Coco; and even films like The Nightmare Before Christmas as well as the company's live-action/animation hybrids, such as Mary Poppins and Enchanted. That makes up 368 songs. 368. Songs. Like I said: I'm insane.
And yet: this was a wonderful and exhausting list to compile. I have no doubt that you will disagree with my rankings. How could you not? We all share such unique likes and dislikes that there's no way we can all agree on the very best or very worst Disney song, let alone all of those in between. What I hope is that people read the list and don't tear out their hair too much. So now, please: read the list. You know you want to. Part 2 and Part 3 of this list will arrive over the next two days.
368. What Made The Red Man Red?
Ah yes, the racist question that no one should ever ask, or have ever asked.
367. The Siamese Cat Song
If this song wasn't a bit catchier, it might be in last place. Just as unnecessary and racist!
366. Savages
"Savages" isn't trying to be racist, but good intentions don't improve the song's wince-inducing lyrics.
365. Yodle-Adle-Eedle-Idle-Oo
In this song from the cloying Home on the Range, a Randy Quaid character yodels so...well (?) that he puts cows in a trance. This song really destroys the moo-vie's momentum. (#sorrynotsorry)
364. Bop Bop Bop Bop Bop (I Love You, Too)
Even the best child singer couldn't stop this from being cloying and obnoxious.
363. Bill of Sale
At least this Pete's Dragon song, about the backwoods hicks who want Pete for themselves, features pros like Helen Reddy and Shelley Winters. Unfortunately, it's unmemorable and silly.
362. Collision of Worlds
This Cars 2 duet between country singer Brad Paisley and British crooner Robbie Williams is the pits. The lyrics are a men-are-from-Mars-women-are-from-Venus thing, with America and the UK. Different countries have different traditions! Mind-blowing!
361. Every Little Piece
Jim Dale and Red Buttons, as two con artists trying to capture Elliott the dragon, are consummate pros, but this song is over-the-top, endless, and annoying.
360. Passamaquoddy
This Pete's Dragon song, also performed by Dale and Buttons, is a con artist's sales pitch. See, Passamaquoddy is a hard name to say, a joke repeated over and over in the song.
359. The Happiest Home in These Hills
Yes. Another song from Pete's Dragon. In this opening number, the Gogans, led by Shelley Winters, force young Pete to stay with them. Not quite so happy of a home.
358. Scales and Arpeggios
Rare is the actively obnoxious song in the Disney discography. "Scales and Arpeggios" takes the cake, gratingly mimicking the ascending and descending nature of musical scales being practiced by some precocious kittens.
357. Song of the Roustabouts
In this brief song from Dumbo, roustabouts (and elephants) set up circus tents amidst a driving rainstorm. The song is both forgettable and kinda racist! (The roustabouts have very dark skin and are literally faceless. Yeah.)
356. Wintry Winds
"Wintry Winds" is not only brief, but it's a choral number playing after Bambi's mom is shot. It's appropriately somber, but doesn't stand out.
355. Run That Race
"Run That Race," one of two originals from Cars 3, is a decent enough pop song by Dan Auerbach, but is a too-little-too-late attempt to revive the franchise's style of down-home music.
354. Nobody's Fool
This low-key country ballad from Brad Paisley is barely better than the film in which it appears, Cars 2. Just barely.
353. Something That I Want
This song, performed by Gracie Potter over Tangled's closing credits, is a fine pop number but doesn't even fit the modernized spin on the Rapunzel fairy tale.
352. Very Good Advice
While Alice needs to acknowledge the lessons she's learned in Alice in Wonderland, this song is fairly melodramatic without being cheeky.
351. Another Believer
While there's at least one solid number in Meet the Robinsons, "Another Believer" is too twee and manic for its own good, much like the film itself.
350. The Clown Song
"The Clown Song" can take comfort in the knowledge that it's not the worst song in Dumbo. But it's the most pointless.
349. Behind the Clouds
"Behind the Clouds" is yet another Brad Paisley song, a simple and forgettable piece from the first Cars.
348. Anytime You Need a Friend
This song, meant to emphasize the friendship in Home on the Range, is as forgettable as the film's other musical numbers. At least it's not grating.
347. Blue Oak Tree
This song barely makes an appearance in The Sword in the Stone. Like the title song, it's fitting with the film's time period without being enjoyable.
346. The Future Has Arrived
The pop songs in Meet the Robinsons fit the theme. But "The Future Has Arrived," while fitting the film's theme, is as manic as its other songs.
345. No Way Out
Brother Bear is largely a very dull film, and the majority of the Phil Collins songs on its soundtrack bear that out. (Again, #sorrynotsorry)
344. I Thought I Lost You
Miley Cyrus, still in her Hannah Montana period, acquits herself well in this duet, but John Travolta's singing drags the Bolt song down.
343. (You Ain't) Home on the Range
Nothing against this opener of Home on the Range from Alan Menken and Glenn Slater, but its jaunty presence doesn't remove the poor film in which it appears.
342. Always Know Where You Are
This is one of two John Rzeznik songs in Treasure Planet, a weak, forgettable attempt to make Disney soundtracks "hip.
341. Ride
In line with the other new song from Cars 3, "Ride" is a mix of country and rock from ZZ Ward. It's better than "Run That Race," but fairly unremarkable.
340. Find Yourself
"Find Yourself" speaks to Lightning McQueen's journey of self-actualization in Cars, and is slightly better than Brad Paisley's other song from the original. But not much better.
339. Good Company
Jenny, the kindly girl who rescues Oliver, gets this extremely sappy, overly simplistic number in Oliver & Company. Skip it.
338. Melody Time
Each 1940s Disney package film kicks off with music, typically a title song performed by a chorus to set the mood. Most of them, like this, are forgettable.
337. There's Room for Everyone
Helen Reddy's weak spot in Pete's Dragon is "There's Room for Everyone." Its melodies are pleasant, in a carnival-esque style, but the song's context in the truly annoying story is unavoidable.
336. Bug Hunt
Remember how Skrillex wrote a song for Wreck-It Ralph? "Bug Hunt" is...well, definitely a Skrillex song: loud, thumping, and repetitive.
335. Wherever The Trail May Lead
Before the Cars movies dove wheel-first into country music, Home on the Range featured maudlin numbers like this, performed by Tim McGraw.
334. A Huntin' Man
Jack Albertson was a wonderful performer, and he's not bad in The Fox and the Hound. But this song, literally 30 seconds long, is as dull as they get.
333. Say It With A Slap
This is just bad. It's got a fun tune, but the lyrics and message are ridiculously dumb.
332. I Saw a Dragon
Mickey Rooney was once the biggest star—in the world! Rooney sells this song as hard as he can, but a silly, lifeless song is silly and lifeless no matter how hard you try.
331. The Motion Waltz (Emotional Commotion)
This song, as the title suggests, is a commotion of rhythms and melodies. No thanks.
330. Welcome
Phil Collins can be a great musician, but his work in Brother Bear isn't solid proof. "Welcome" is easy-listening pablum, with groan-inducing lyrics to boot.
329. Goodbye May Seem Forever
This should be tender, as Widow Tweed thinks back to fond times with her adopted fox, but the speak-singing style along with the premise — it's...a fox — makes this rough.
328. Appreciate the Lady
Pearl Bailey takes center stage — the three genuine songs in The Fox and the Hound are all hers — but "Appreciate the Lady" is too slow to work.
327. Streets of Gold
Having a Pointer Sister sing this is fine, but Oliver and Company's '80s-pop sound does not hold up 30 years later.
326. Lack of Education
Pearl Bailey sings the best song in The Fox and the Hound. Unfortunately, "Lack of Education" isn't it.
325. I'm Still Here
"I'm Still Here," sung by John Rzeznik of The Goo Goo Dolls, feels like one of his band's songs, more so than a Disney ballad.
324. Where the Dream Takes You
Remember this song? Sure you do! It's at the end of Atlantis: The Lost Empire! Sung by Mya! It's...pretty bland!
323. Trashin' the Camp
"Trashin' the Camp" could've been raucous. Its percussive elements are conceptually clever — everything the animals break comprise the rhythms — but the song is annoying.
322. My Funny Friend and Me
You'd think Sting writing songs for a Disney animated film would be a good thing. This lackluster piece is vastly less engaging than it should be.
321. Tomorrow is Another Day
"Tomorrow is Another Day" is a little more hopeful than the other songs in The Rescuers. However, its backing horns emphasize the song's outdated style.
320. Make Mine Music
None of this package films' title songs are great, with "Make Mine Music" fitting the unremarkable mold appropriately.
319. Once Upon a Time in New York City
Here's the lowest entry for lyricist Howard Ashman. Yes, he co-wrote this surprisingly mushy opening song from Oliver & Company.
318. The Phony King of England
"The Phony King of England," meant as a rousing number, is too laid-back to work, even before you consider its unavoidably copied-over animation.
317. Barking at the Moon
Jenny Lewis has a lovely voice, which makes "Barking at the Moon" pleasant to listen to. But Bolt is mostly unremarkable, and this song doesn't break out of the pattern.
316. Will The Sun Ever Shine Again
It's hard to argue against a ballad sung by Bonnie Raitt, but considering the context of its appearance in the generally bad Home on the Range, it's hard to defend.
315. Roar
This is as close to an original song in Monsters University. It's a techno tune accompanying a party, and is...as techno-y as you'd think.
314. Mon Coeur Fait Vroum (My Heart Goes Vroom)
The songs in Cars 3 aren't particularly good, but "Mon Coeur Fait Vroum (My Heart Goes Vroom)" is the closest the film gets to enjoyable.
313. A Most Befuddling Thing
The strangest part of The Sword in the Stone is how rapidly this sequence, where a squirrel pursues a transformed Wart, switches from goofy to heartbreaking.
312. Someone's Waiting for You
The Rescuers is built on a depressing premise — a kidnapped child can only be saved by mice — and songs like the mopey "Someone's Waiting for You" match that tone.
311. Without You
Andy Russell's voice isn't the problem, but his performance only amplifies the melodramatic lyrics of this brief ballad from Make Mine Music.
310. Fun and Fancy Free
Like the other package films, Fun and Fancy Free opens with a title song sung by an offscreen chorus. Like those other songs, this is disposable.
309. Once Upon a Wintertime
This song accompanies a sequence featuring two young lovers, a near-tragedy, and an icy rescue. It's decently performed, but not the most remarkable song in Melody Time.
308. The Sword in the Stone
This song, opening the 1963 film, fits with the Middle Ages-centric story of King Arthur. In spite of being a Sherman Brothers tune, it's too stodgy for its own good.
307. God Help the Outcasts
While "God Help the Outcasts" has a version sung by the divine Bette Midler, it's a mawkish plea to the Lord that doesn't deepen the film or its characters.
306. Where Is Your Heart At?
The good news with "Where Is Your Heart At?" is that Jamie Cullum has a nice, jazzy voice, and the song follows suit. But this slick number doesn't last.
305. Wreck-It, Wreck-It Ralph
It's appropriate for Wreck-It Ralph to get his own theme song. But this is still a dud.
304. Noble Maiden Fair
Emma Thompson is quite good in Brave, but while "Noble Maiden Fair" fits the film's mother-daughter story, it isn't up to her talent.
303. Jack's Obsession
This song is all about...well, read the title. It's one of the weaker numbers in the overstuffed, operatic The Nightmare Before Christmas.
302. Let Me Be Good To You
Even aside from the baffling decision to have this song in The Great Mouse Detective — singer Melissa Manchester doesn't appear outside of this one scene — it's pretty dull.
301. Humiliation
In keeping with the film's religious tone, "Humiliation" is a forgettable choral number accompanying one of Quasimodo's darker moments after attendees of the Parade of Fools realize he's actually deformed.
300. Perfect Isn't Easy
How can you go wrong with a song co-written by Barry Manilow and performed by Bette Midler? Just listen. "Perfect Isn't Easy" proves that the title is correct.
299. Mad Madam Mim
The sequence where Merlin and Mad Madam Mim fight in The Sword in the Stone is the film's best, though her number is as unmemorable as its other songs.
298. Sugar Rush
Yes, the candy-colored game "Sugar Rush" gets its own song in Wreck-It Ralph. It's...fine, yet forgettable.
297. Sally's Song
Catherine O'Hara is a wonderful actress, and does her best with Sally in The Nightmare Before Christmas. But "Sally's Song" is a short, self-pitying dirge.
296. Your Mother and Mine
Wendy Darling is Peter Pan's most mature character, but "Your Mother and Mine" is an airless lullaby she sings to the Lost Boys and her brothers.
295. Transformation
The main reason why this is better than other Brother Bear songs? It sounds different than Phil Collins' other faux-pop numbers.
294. Song of Mor'du
Billy Connolly is a great comic mind, and hearing him in Brave is a welcome delight. "Song of Mor'du," though, is as unremarkable as his B-plot.
293. Kanine Krunchies
This literal ad jingle from 101 Dalmatians is super-short, and in its own way, super-annoying. So, it's a good ad jingle.
292. Poor Jack
By the end of "Poor Jack," Jack has picked himself back up from his Christmas failure, but the song is mostly plodding.
291. How Do You Do and Shake Hands?
Another very brief song from Alice in Wonderland, this one highlights Tweedledee and Tweedledum. It's...well, it exists.
290. Someday
There's nothing exactly wrong with the hopeful "Someday," which accompanies the closing credits of The Hunchback of Notre Dame. But there's a good reason why it's relegated to the end.
289. The Lord is Good To Me
Johnny Appleseed's story is immortalized in Melody Time, and this song is more overtly religious than most of Disney's animated fare. Dennis Day's voice is clear and direct, but this song is too plaintive.
288. In a World of My Own
Alice is, ironically, one of the least interesting characters in the film bearing her name. "In a World of My Own" dreamily establishes her wayward nature.
287. A Guy Like You
Jason Alexander, Mary Wickes, and Charles Kimbrough are all talented performers. Even they cannot save the misguided, tonally off "A Guy Like You."
286. Great Spirits
Tina Turner lending her voice to a Disney song is wild, so it's a shame that it's for the limp "Great Spirits." She's great, but this song is not.
285. Look Through My Eyes
The six songs in Brother Bear fit well with the film's theme of personal growth, but Phil Collins' songs, like "Look Through My Eyes," feel like retreads from Tarzan.
284. Listen With Your Heart
This brief song is suitably ominous, but it's too slight.
283. The Aristocats
Maurice Chevalier, plus the Sherman Brothers, should produce a good song. But "The Aristocats," like the 1970 film bearing its name, is an eye-rolling number. Naturellement.
282. Little Patch of Heaven
There's not much to write home about the songs in Home on the Range, but this one performed by k.d. Lang is the film's best.
281. Rescue Aid Society
The only song in The Rescuers performed by the characters is "Rescue Aid Society." It's got a nice theme, but it feels half-hearted.
280. Blame It On The Samba
Donald Duck, a lead of Saludos Amigos and The Three Caballeros, shows up in Melody Time with one of his cohorts, Jose Carioca, for this wild number.
279. The Elegant Captain Hook
Captain Hook is a great villain in the annals of Disney animation. Yet all he gets is this limp number, about which the less said, the better.
278. Who Wants To Live Like That?
This cheery song, performed by James Baskett's Uncle Remus, has a nice tune, but is still a wince-inducing case of the stereotyping in Song of the South.
277. The Caterpillar (AEIOU) Song
Richard Haydn is fun as the Caterpillar, but this is as slight as the smoke emanating from the Caterpillar's hookah.
276. The Journey (Who Will Rescue Me?)
The songs in The Rescuers are, with one exception, maudlin affairs. "The Journey (Who Will Rescue Me?)" isn't much different, but is the best of the sad bunch.
275. The Reluctant Dragon
This song, accompanying the short that appears in the latter half of this unjustly forgotten 1941 film, is witty, but not catchy.
274. Peace on Earth
Most songs in Lady and the Tramp are short, and the querulously sung "Peace on Earth," which appears after the opening credits, is no different.
273. Frozen Heart
You remember this song, right? It shows up early in Frozen, foregrounding the conflict to come. Unlike some of the film's later, not-great songs, this one's just forgettable.
272. Healing Incantation
Rapunzel heals her true love, Flynn Rider, through this solidly sung, but too brief number.
271. What is a Baby?
What indeed. This song, meant to voice Lady's confused thoughts as she encounters the interloper, is a deliberately simplistic poem.
270. Fee Fi Fo Fum
The Giant's sole song in "Mickey and the Beanstalk" fits the familiar phrase we associate with such large creatures. However, it's super-short and not tuneful.
269. We'll Smoke the Blighter Out
When Alice grows so large that she overtakes a house, it's up to two animals to remove her. How? Well...read the title!
268. Following the Leader
The casual racism of Peter Pan rears its head again in "Following the Leader," which has the mild benefit of being catchier than "What Makes The Red Man Red?"
267. Fixer Upper
This isn't the lowest-ranking Frozen song because "Frozen Heart" is as long as this sentence. But "Fixer Upper" is so superfluous that it won't be in the Broadway musical, which is longer than the movie.
266. Let's Sing a Gay Little Spring Song
This is as disposable as a Disney song gets.
265. Bluddle-Uddle-Um-Dum
Four minutes of Snow White and the Seven Dwarfs is devoted to the dwarves washing themselves before having dinner. Three minutes too many.
264. In Summer
Josh Gad's deliberately goofy singing voice aside, "In Summer" is an unnecessary time-waster in Frozen.
263. Alice in Wonderland
A sweet, pleasant title song plays over the credits of Alice in Wonderland. Lyrically, there's not as much playfulness as in Lewis Carroll's writing.
262. Katrina
Bing Crosby's dulcet tones make "Katrina" mildly charming, but this song, unlike others in The Adventures of Ichabod and Mr. Toad, is less enjoyable.
261. Dalmatian Plantation
There aren't many songs in 101 Dalmatians, and we all know which is best. But "Dalmatian Plantation" is a bouncy and catchy closer.
260. The Caucus Race
"The Caucus Race" is only a bit better than the other brief, manic songs here because it's got a sprightly melody.
259. A Pirate's Life
There's a steep drop-off between the two good songs in Peter Pan and others. Largely, "A Pirate's Life" fails because it's nowhere near Disney's best pirate-themed song.
258. I've Got a Dream
I'm a firm advocate for character actors lending their voices to Disney animated movies. But this squanders many talents.
257. A Girl Worth Fighting For 
A bunch of comic-relief soldiers, including one voiced by Harvey Fierstein, sings this hopeful number midway through Mulan. It's hard to grasp why anyone thought it was a good idea to give the scratchy-voiced Fierstein lines in this, or any, song.
256. Our Town
This should work: James Taylor sings an emotional Randy Newman number in a Pixar movie. But "Our Town" is based on an emotional idea that doesn't work in context.
255. Vuelie
Yes, the chanting that opens Frozen is an original song. "Vuelie" is a solid start, even if the other songs don't match its haunting quality.
254. One Song
What do you remember about the prince in Snow White and the Seven Dwarfs? He definitely kisses her. And he has this brief number. That's about it.
253. Song of the South
This overwrought opening number to the controversial 1946 film sets the stage for the melodrama to come. Some of Song of the South is worth discussing, but this song isn't.
252. My Name is James
This early song from James and the Giant Peach sets the tone for a series of largely unremarkable songs courtesy of Randy Newman. His Pixar work's better.
251. That's What Makes The World Go Round
This song is meant as an encouraging bit of advice from Merlin to Wart, but the lyrics are too basic ("For every high, there is a low") to stand out.
250. Thomas O'Malley Cat
Thomas O'Malley is very close to Baloo from The Jungle Book, also voiced by Phil Harris. "Thomas O'Malley Cat," thus, is a hollow retread of "The Bare Necessities."
249. That's the Life for Me
At least this song has actors like Susan Sarandon to Simon Callow. But the lyrics and melody are as limp as they are in the other numbers.
248. Too Good to be True
"Bongo" is a romance between two bears, and this dreamy ballad sung by Dinah Shore plays as they first fall in love at first sight.
247. The Winner Song
This song functions as a running gag, as various characters try to find Eeyore's tail and get feted with "The Winner Song," only to realize they've failed. It's cute, but slight.
246. One Little Slip
Chicken Little is Disney's worst animated film (meaning it's actually bad, not just "bad for Disney"). But the Barenaked Ladies' "One Little Slip" is fine, fitting the film's obnoxious tone without sounding obnoxious.
245. He Mele No Lilo
Lilo & Stitch isn't known for its songs, and though the 2002 film does have one solid number, it's not "He Mele No Lilo."
244. Eating the Peach
Characters eat a peach in James and the Giant Peach, and sing about it in this uninspired piece.
243. One Last Hope
While Danny DeVito tries hard in this song, where his trainer Phil makes it clear to Hercules how desperate he is for a hero, his singing is...as good (or bad) as you think.
242. Immortals
Big Hero 6 is mildly underrated Disney, but "Immortals," performed by Fall Out Boy in the end credits, isn't.
241. Lazy Countryside
Both halves of Fun and Fancy Free feature brief songs, most of which are as un-remembered as the film. The seductive "Lazy Countryside" is the best of these.
240. Logo te Pate
One of three songs in Moana written by Opetaia Foa'i, "Logo te Pate" is pleasant, but serves as the backing for a montage in the film.
239. Mexico
This song, an ode to the country bordering the States, is decent but plodding, especially compared to The Three Caballeros' other numbers.
238. Blue Shadows on the Trail
Roy Rogers and the Sons of the Pioneers have a better song on this list, but "Blue Shadows on the Trail" is a nice, laid-back ballad with echo-y, haunting sound effects.
237. Tulou Tagaloa
This sets the stage for Moana, playing over the opening credits. It's a fine place-setter.
236. It's Gonna Be Great
The pairing of Tigger and Eeyore seems fitting, but this song is repetitive and short.
235. Ev'rybody Wants To Be A Cat
The big setpiece in The Aristocats is "Ev'rybody Wants To Be A Cat," a psychedelically animated, if familiar and very long, song led by Phil Harris and Scatman Crothers.
***
Look for part two of this ranking tomorrow, with the third and final part arriving the day after that.