Those 'Star Wars: The Last Jedi' Crystal Foxes Have A Name; Learn How They Were Designed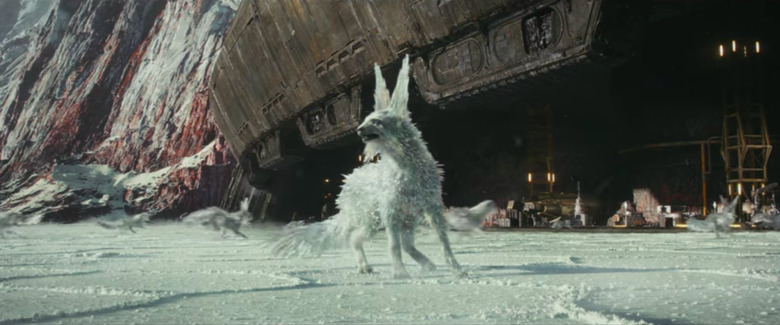 The Star Wars: The Last Jedi crystal foxes didn't grab out attention as much as the made-for-merchandising Porgs, but they were eye-catching all the same. Sharp, ethereal ears. Glowing, iridescent fur. And an eerie similarity to Pokemon designs.
The fox officially has a name, and it's called a vulptex. The plural, vulptices. Sound familiar? Well, it's only a few letters off from a very similar-looking Pokemon called Vulpix. Maybe Lucasfilm story group member Pablo Hidalgo, who created the name for the creature, is a Pokemon fan after all. Or maybe he's just pulling from the Latin word for "fox," vulpes. Whatever the case, we're slowly learning more about these secretive, shimmering beings.
Entertainment Weekly has the scoop on the vulptices, which dwell on the mineral-rich world of Crait. A former hideout of the Rebel Alliance, the planet now stands mostly barren except for the vulptices that roam the abandoned, inhospital structures.
Neal Scanlan, head of the Star Wars creature shop, spoke with EW about the crystalline creatures, which he said were inspired by "crystal glass chandeliers and the sort of luminosity and elements of refraction." Here's more:
"The idea is that these wonderful sort of feral creatures had lived on this planet and had consumed the planet's surface, and as such had become crystalline."
Made out of a combination of puppetry and animatronics, the Star Wars team constructed the vulptex by modeling it on a dog wearing a suit of drinking straws to see how the "little straws moved and flexed with the animal," Scanlan said. Unfortunately, there isn't video footage of an adorable dog running around covered in straws, but EW debuted a featurette and a new image of the vulptices and we'll take what we can get: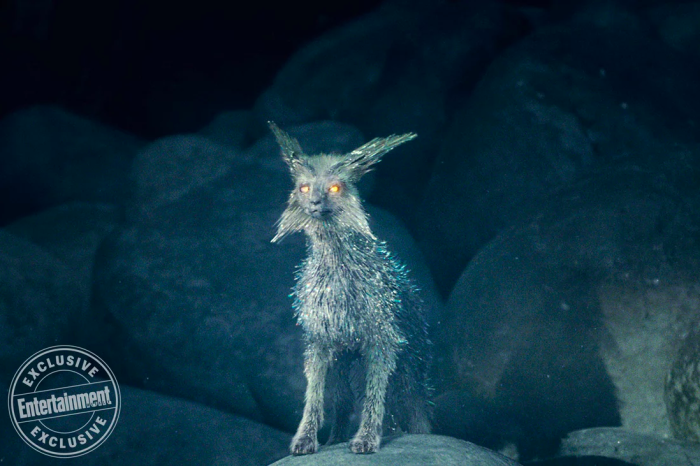 Scanlan added that they're not just pretty to look at — the vulptices will play a pivotal part in the story:
"They live within the burrows and within the tunnels beneath the planet. So there is a time where their ability to shine within the darkness, should provide a guiding light to our heroes."
Star Wars: The Last Jedi is directed by Rian Johnson and stars Mark Hamill, Carrie Fisher, Adam Driver, Daisy Ridley, John Boyega, Oscar Isaac, Andy Serkis, Lupita Nyong'o, Domhnall Gleeson, Anthony Daniels, Gwendoline Christie, Kelly Marie Tran, Laura Dern, and Benicio del Toro. The eighth film in the core Star Wars franchise hits theaters on December 17, 2017.
Rey develops her newly discovered abilities with the guidance of Luke Skywalker, who is unsettled by the strength of her powers. Meanwhile, the Resistance prepares to do battle with the First Order.