Videos Of The Day: J.J. Abrams And Paul Rudd Dish Out 'Star Wars,' 'Ant-Man' Details On HBO's 'Night Of Too Many Stars'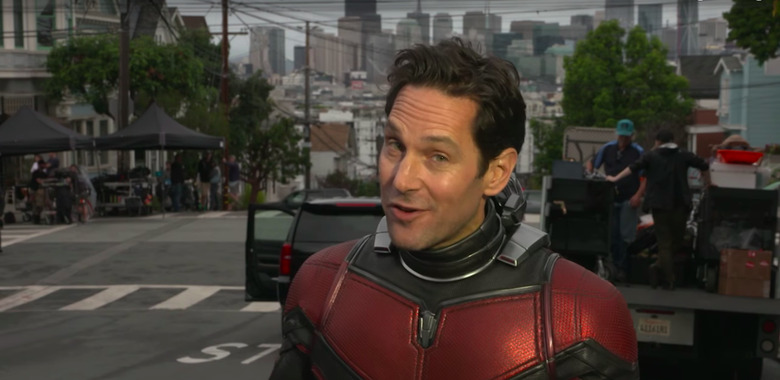 HBO's Night of Too Many Stars, a live benefit that supports programs that aid people with autism, lived up to its name, using its star-studded line-up to tease spoilers for the highly anticipated Star Wars: Episode IX and Ant-Man and the Wasp.
The first came in the form of an auction, in which Episode IX director J.J. Abrams — returning to the franchise after reviving it with Star Wars: The Force Awakens — sold details of the plot to the highest bidder, only to be drowned out by spoilers for Hot Tub Time Machine 3 and Sharknado 5. The second is as spoiler-y as you can get on the set of a Marvel movie, with Ant-Man and the Wasp star Paul Rudd answering questions about I Love You, Man before slipping in some details on the Ant-Man sequel.
"Has Disney okayed this?" "No, they have no idea. They're very upset."
Abrams' brief quip with host Jon Stewart ahead of his auction for the secrets of Star Wars was the gist of HBO's comedy benefit, which would've sent the company into panic mode to keep a tight lid on their many highly anticipated projects from their biggest franchises if the whole thing wasn't just a fun gag.
But thankfully, they were saved by the punchline. Abrams' auction of the secrets of Star Wars: Episode IX was interrupted by Rob Corddry jumping in to spoil Hot Tub Time Machine 3 (which may or may not still be happening), and Gilbert Gottfried describing the plot of Sharknado 5: Global Swarming — which yes, he was in. The three of them jumped to whisper in the ear of the auction winner — who only told Stewart to call him "Carlos Danger" — and the conversation immediately turns into undecipherable garbage.
However! The folks over at Slate were diligently able to pick apart the separate conversations, and determined that Abrams said this:
[inaudible] ... And then... [inaudible]
Sounds like we have another box office hit, everyone. Look forward to it on December 20, 2019.
In another bit, this time pre-taped, Paul Rudd read fan questions in costume while on the set of Ant-Man and the Wasp. But here's the gag: none of the questions were about Ant-Man. We weren't even given one about Avengers: Infinity War.
Though Rudd goes out of his way to show off his revamped Ant-Man costume and a glimpse of a guy unloading a truck on the set of Ant-Man and the Wasp, he solely gets questions related to I Love You, Man, his 2009 buddy-comedy with Jason Segel. But good news for I Love You, Man fans: you get to hear Paul Rudd say "slap da bass" a ton. Ant-Man and the Wasp, meanwhile, will hit theaters on July 6, 2018.
HBO's Night of Too Many Stars is an annual benefit that draws over 2,000 fans and A-list comedians who fundraise to raise money for the Next for Autism organization. The benefit made news recently for dropping Louis C.K. from the line-up following sexual misconduct allegations.