'A Wrinkle In Time' Trailer: Ava DuVernay's Fantasy Film Looks Truly Divine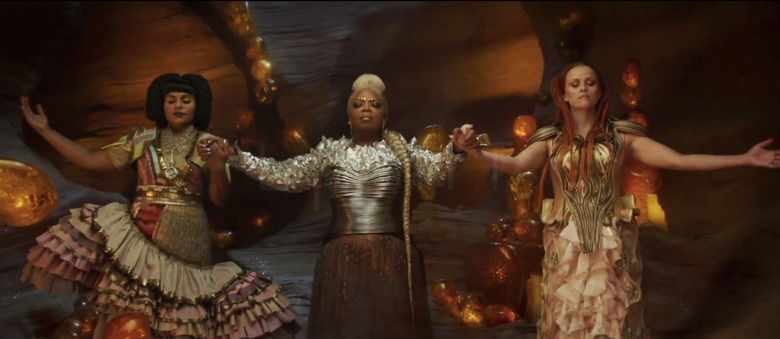 Traveling 91 billion light years has never looked so surreal and fantastic.
A new trailer for Ava DuVernay's adaptation of the Madeleine L'Engle fantasy classic A Wrinkle in Time has been released by Disney, and it continues the film's parade of lush visuals and trippy space-time travel.
Watch A Wrinkle in Time Trailer
The trailer follows young Meg Murray (Storm Reid) as she embarks on an unexpected quest to find her missing scientist father (Chris Pine), aided by the celestial beings Mrs. Who (Mindy Kaling), Mrs. Whatsit (Reese Witherspoon), and Mrs. Which (Oprah Winfrey) and accompanied by her genius younger brother Charles Wallace (Deric McCabe) and schoolmate Calvin (Levi Miller). They encounter everything from fifth-dimensional beings to wormholes, until they stumble upon the most disturbing thing of all: a seemingly utopian planet controlled by an unseen force.
Aside from the slow cover of "Sweet Dreams (Are Made Of This)' by the Eurythmics, this looks like quite the epic time traveling adventure. It feels like it's been forever since there has been a live-action, family friendly movie like this with so much potential. Not only is the cast outstanding, but the production design and art direction is vibrant and beautiful as well.
A Wrinkle in Time is the first theatrical adaptation of Madeleine L'Engle's 1961 children's novel, after the story was first adapted as a made-for-TV movie in 2003 starring Katie Stuart and Alfre Woodard (with all the charm and budget of a Disney TV movie). Both movies took a decidedly lavish approach to adapting the book, which despite its lofty concepts of wormholes and dystopic conformity, is actually quite simplistic in its imagery. The book leaves much room for imagination and thought, which Duvernay seems to have successfully tapped into, telling Entertainment Weekly:
 "I saw so much beauty in it, but also so much meaning. [L'Engle's] a very radical thinker and she embedded her sense of what society should and could be in this piece, and a lot of it I agree with. And through that, the story of this girl saving the world and being out there in the universe slaying the darkness, it also says a lot about slaying our own dragons."
A new poster for the film has also recently been released, depicting Mrs. Who, Mrs. Whatsit, Mrs. Which, Meg Murray, her genius younger brother Charles Wallace, and her schoolmate Calvin, as they stand in kaleidoscopic fashion around a vision of Meg's father.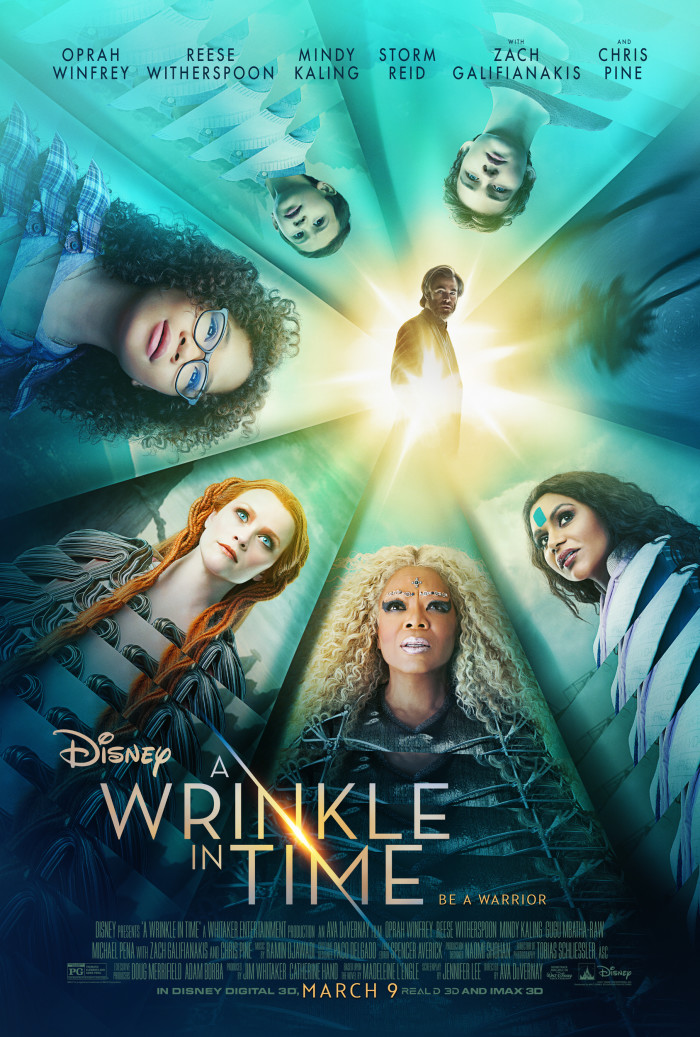 A Wrinkle in Time is set to hit theaters on March 9, 2018.
Meg Murry and her little brother, Charles Wallace, have been without their scientist father, Mr. Murry, for five years, ever since he discovered a new planet and used the concept known as a tesseract to travel there. Joined by Meg's classmate Calvin O'Keefe and guided by the three mysterious astral travelers known as Mrs. Whatsit, Mrs. Who and Mrs. Which, the children brave a dangerous journey to a planet that possesses all of the evil in the universe.