The Water Cooler: The Joyous 'Super Mario Odyssey,' A Trip To Thailand, And A Swanky Hollywood Premiere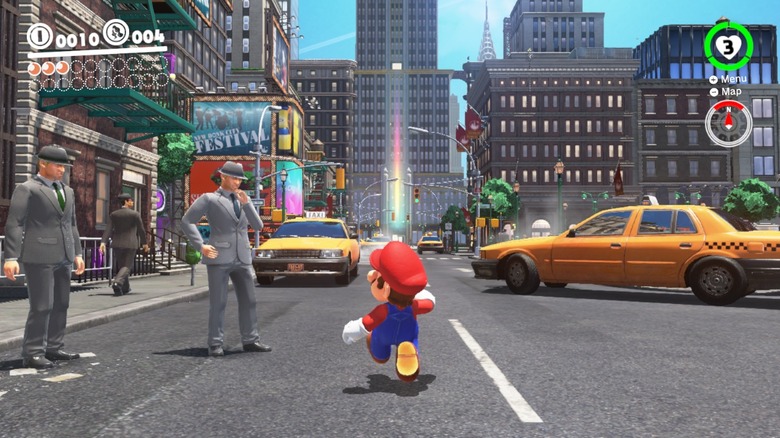 Welcome to The Water Cooler, a weekly feature where the /Film staff is free to go off-topic and talk about everything except the movies and TV shows they normally write about. In this edition: Jacob Hall plays Super Mario Odyssey, Hoai-Tran Bui visits Thailand, Chris revisits the Lord of the Rings movies, and been attends a swanky Hollywood premiere.
Jacob Hall Has Been Playing Super Mario Odyssey
Can we all agree that 2017 has been a rough year? I don't know about you guys, but I've maxed out my personal vices when it comes to dealing with everything that's been going on in the world: I've watched more movies, binged more television, played more board games, drank more alcohol, and perused more used book stores. But there has only been one thing that has truly transported me, truly delivered me to a place of total joy and allowed me to escape for a few hours: Super Mario Odyssey. It's a masterpiece. One of the best video games I've ever played. Hell, it may be my single favorite piece of pop culture anything released this year.
Mario is easily the most famous video game character of all time and needs no introduction. But Odyssey does something remarkable: it finds time to include everything we love about this character and his world while also reinventing much of the Mario experience. It hits those nostalgic beats while also giving you a fresh and wholly new experience. It's a throwback and an evolution. It's a new high watermark for Nintendo, a company whose (usually) high standards have led to some of the greatest games of all time.
In fact, the Nintendo Switch feels like the beginning of something special for the company – hardware that feels great, a new openness to working with third party developers, and new games for signature characters that prove that old workhorses like Mario and Link can age gracefully with the times.
Anyway, Super Mario Odyssey is amazing, a cocktail of tricky platforming, intriguing puzzles, and exploration, all delivered with charm and humor and class. And while I'm barreling through the main story, knowing that there are still hundreds of secrets to discover in places I have already been makes just plain happy. I'll be playing this one well into 2018.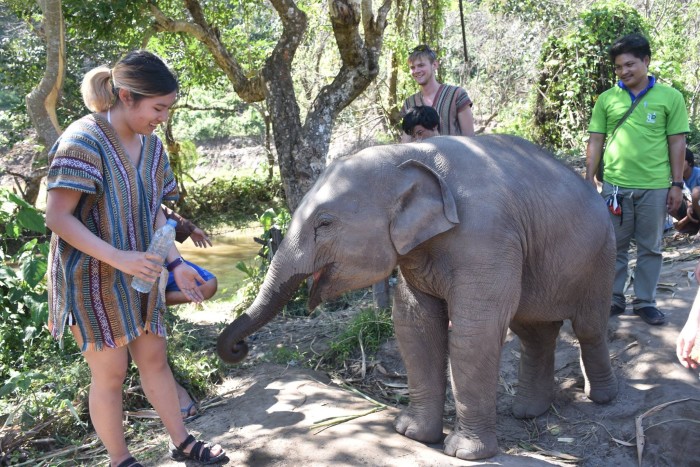 Hoai-Tran Bui Has Returned From a Whirlwind Trip to Thailand
You may have noticed that I was virtually MIA from social media and /Film for a good two weeks. That's because I was off in Thailand (and Hong Kong for three days) on a vacation planned around the country's annual floating lantern festival, Loy Krathong/Yi Peng.
Yes, I know it's pretty obtuse and touristy of me to plan a trip around the most Instagram-ready festival ever (imagine that lantern scene from Tangled, multiplied by a million and with a slightly higher possibility of catching on fire), but I used it as a chance to do some not-so-touristy traveling. That's code word for budget traveling. Which is code word for staying in tons of hostels. I've dabbled with hostels once before when I was in Japan, but I finally got the full experience of it in Thailand. And it was one of my favorite parts of the trip. Yes, I'm about to be that person who espouses the joys of meeting and living with a bunch of strangers for a few days despite being an introvert. My two traveling companions and I did the solo thing when were in Bangkok, but in Chiang Mai — where the lantern festival was to be held — we actually tried mingling and had a blast.
I ate tons of street food (and never got sick!), swam with elephants in a pond that was definitely filled with their poop, and got to see more of Southeast Asian culture, which is sorely lacking in our current cultural landscape. And no, I didn't re-enact scenes from The Hangover Part II because I am lame and had maybe one drop of alcohol the entire time I was there. (The food there may be astonishingly cheap, but the booze wasn't. I'm poor, guys. And easily dehydrated.)
It was an exhausting trip, but worth it — if just for the fact that I was forced to unplug for a majority of the trip. Which is why my pics are coming soon, I swear.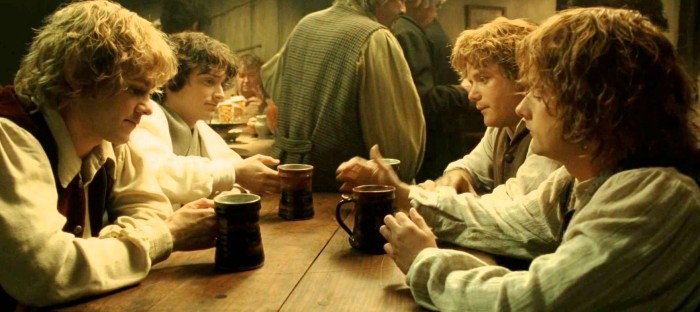 Chris Evangelista Has Been Rewatching the Lord of the Rings Trilogy Yet Again
Every year around this time – the generally vicinity of Thanksgiving – I dust off the Blu-ray box set of The Lord of the Rings: The Motion Picture Trilogy (Extended Editions) and fire it up. I must've seen the three films in the series – The Fellowship of the Ring, The Two Towers, The Return of the King – a dozen times already, maybe more. Yet I find myself, perhaps out of habit, wanting to revisit them around this time every year.Here's the thing: I'm not really a big fantasy fan. I gave up on Game of Thrones about three seasons ago. In high school, I read Tolkien's The Hobbit and was bored out of my mind ("Oh great, there's another song on this page," I'd groan inwardly as I flipped through it). Yet the rich, incredibly detailed world Peter Jackson created for his film trilogy is too delightful to resist. It's not really the plot I care about in these films; it's the world-building. It's the sense that everything we're seeing up on the screen seems real; lived-in, genuine. The buildings, and the landscapes, and the characters, all feel 100% true. There's nothing stagey here. It's a remarkable feat.It's even more remarkable when you contrast it against Jackson's Hobbit trilogy, which does everything the Lord of the Rings trilogy did, but poorly. The Hobbit films feel flimsy and false; the backgrounds look like cartoons, the characters are too broad to invest in. It's a slog to get through. I've seen all three Hobbit films, and never, ever want to watch any of them again. But Lord of the Rings is a different story. Every year, I look forward to getting lost in that trilogy again.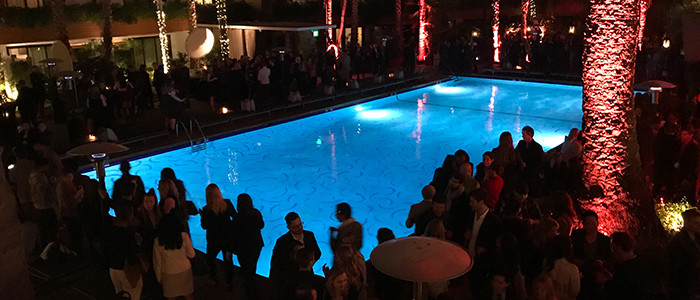 Ben Pearson Went to the Premiere of The Disaster Artist
This past weekend, my wife and I had the chance to attend the AFI Fest premiere of The Disaster Artist, one of my favorite movies of the year. I won't write more about the movie itself now (other than to reiterate that it's great), because in the spirit of the Water Cooler, we're supposed to write about things that we don't normally write about on the site. But after the screening, there was a swanky after party for the movie at the Hollywood Roosevelt hotel across the street from the gorgeous TCL Chinese Theater, and since I don't normally get to attend, let alone write about, swanky Hollywood parties, I figured I'd write a bit about that.
I've been lucky enough to have been invited to probably six or seven of these AFI Fest after parties in the years that I've been covering the festival, but after the audience from the theater is funneled into the entrance to a lounge on the first floor of the hotel, I've always thought that room marked the full boundary of the party. I've somehow never realized that there's an entirely different (and way better) section of the venue outside next to the pool, with a whole separate bar and lights hanging from palm trees. Now THIS is a freakin' Hollywood party.
Adding to the glamorous sheen were the stars of the movie, who were in attendance: director/star James Franco, Dave Franco, Alison Brie, Paul Scheer, Seth Rogen, Jacki Weaver, Jason Mantzoukas, Ari Graynor, etc., all milling around and chatting with people outside. But there were also two special guests: the real Tommy Wiseau and Greg Sestero, the stars of The Room and the people who serve as the inspiration and main protagonists for Franco's film. And even with mega-stars like Franco and Rogen on the premises, the real Tommy and Greg were the ones who were swamped and surrounded by fans the whole night.
We hung out for a couple hours, taking it all in and noting all sorts of strange things along the way: Josh Hutcherson is super short in person! Hey, there's Derek Waters from Drunk History! Haley Joel Osment is here! And so is Courtney Love, for some reason! So is Clifton Collins, Jr.! And the dude who played Hector in The Fast and The Furious! If I'm ever invited back, I finally know the secret: outside is where the action is.