'Dunkirk' Returning To Theaters Just In Time For Awards Season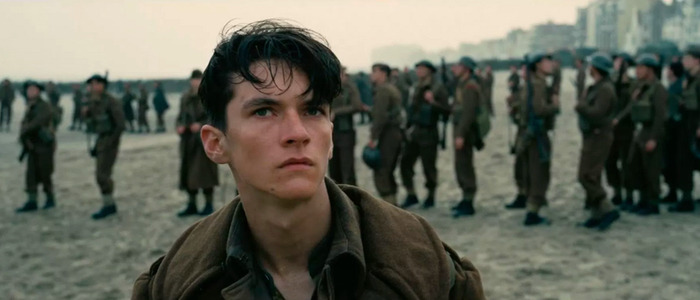 It's an odd year for award season contenders, and Christopher Nolan's Dunkirk is going to take advantage of that. Nolan's intense war epic is returning to theaters to launch its award season run this December in 34 domestic markets on both 70MM and IMAX screens. The Dunkirk re-release could certainly improve the film's award season chances. Could this be Nolan's year to take home Oscar gold?
While there have been several great films in 2017, there still doesn't seem to be a clear frontrunner for the inevitable Best Picture race. Enter Dunkirk: Christopher Nolan's heart-pounding look at the a the evacuation of Allied soldiers who found themselves stranded on the beaches Dunkirk, France during World War II, is going to make a last-dash effort for award season attention by returning to theaters. Deadline reports Nolan's film will be receiving a re-release in 50 Imax and 70mm locations, in 34 domestic markets, including New York, Los Angeles, Chicago, San Francisco, Boston, Philadelphia, Washington D.C., Dallas, Atlanta, Toronto and more, starting on December 1, 2017.
"As we head into the holiday season, we are excited to offer audiences another opportunity to be swept up in this truly immersive moviegoing experience...whether for the first time or again," said Sue Kroll, President of Warner Bros.' Worldwide Marketing and Distribution. While this move is clearly intended to help Dunkirk's award season chances, it's also a great opportunity to catch the film again on the biggest screen possible. I'm no movie theater purist – please, stream all movies directly to my house and save me the trouble – but even I have to admit that Dunkirk is a film made to be seen on the big screen. Nolan stages immersive, intense sequences on land, sea and air, capturing them all brilliantly along with cinematographer Hoyte Van Hoytema. If you have the chance, try to catch this thing in IMAX upon re-release. "I like to make films that justify the price of admission," Nolan told Time, regarding Dunkirk's IMAX format. "The type of film that is most vital right now is a cinema of experience—a film in which you really feel that you are being taken away someplace different."
Here's the official Dunkirk synopsis:
Dunkirk opens as hundreds of thousands of British and Allied troops are surrounded by enemy forces. Trapped on the beach with their backs to the sea, they face an impossible situation as the enemy closes in. The story unfolds on land, sea and air. RAF Spitfires engage the enemy in the skies above the Channel, trying to protect the defenseless men below. Meanwhile, hundreds of small boats manned by both military and civilians are mounting a desperate rescue effort, risking their lives in a race against time to save even a fraction of their army.