'Messiah' Is A New Netflix Show About A Modern-Day Jesus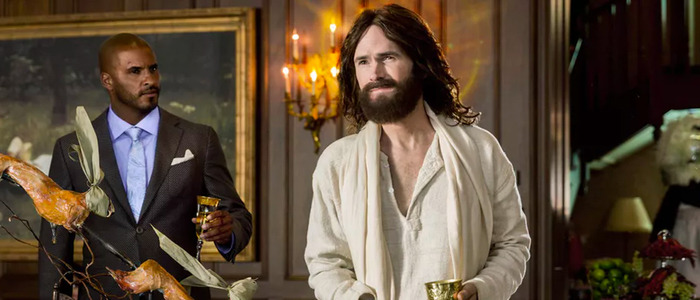 Say your prayers: Netflix is making a show about a modern-day Jesus. Messiah will ask the question: what if a Christ-like figure showed up in the modern day world? How would society as a whole react? Also, will this modern-day Jesus be hot? We can only hope. Bask in the glory of more Messiah TV series details below. Peace be with you.
In their never-ending quest to pump out as much original programming as possible, Netflix has just announced another new show: Messiah, billed as a "suspenseful drama exploring the lines among religion, faith and politics." The 10-episode series will follow events surrounding a mysterious man who appears in the Middle East, a claiming he is the Messiah. Normally, people who pop-up in modern times claiming to be the new Jesus get laughed-off as nuts, but the figure at the center of Messiah appears to be the real deal, and quickly amasses a following.
Messiah will tell this story through the perspective of several different characters, including a young CIA agent, an Israeli Shin Bet officer, a Latino preacher and his daughter, a Palestinian refugee and the media, and more. The series comes courtesy of creator Michael Petroni, who wrote The Chronicles of Narnia: the Voyage of the Dawn Treader and The Book Thief, and producer Mark Burnett. Burnett has produced multiple Biblical-themed pieces of entertainment, including the History Channel miniseries The Bible. He also produced the very un-Biblical The Apprentice, starring someone who shall remain nameless. Other producers on Messiah include Roma Downey, Andrew Deane, and V for Vendetta filmmaker James McTeigue, who will also direct the series.
Of the series, Petroni said, "Messiah will have every viewer asking the question 'is he or isn't he?' How you answer that question may reveal more about you than it does about the show. Messiah challenges us to examine what we believe and why." Burnett and Downey issued the following joint statement:
"Messiah is a series that will have the audience asking big questions. What if someone showed up in 2018 amid strange occurrences and was thought to be the Messiah? What would society do? How would the media cover him? Would millions simply quit work? Could governments collapse?...It's a series that could change everything."
Will this be the series that could change everything? I'm going to go out on a limb here and say "no." But a series about a modern-day Christ-like figure is intriguing, especially here in this hellscape will call the 21st century.Messiah will drop on Netflix in 2019.