'A Quiet Place' Trailer: John Krasinski Directs Emily Blunt In This Hushed Horror Movie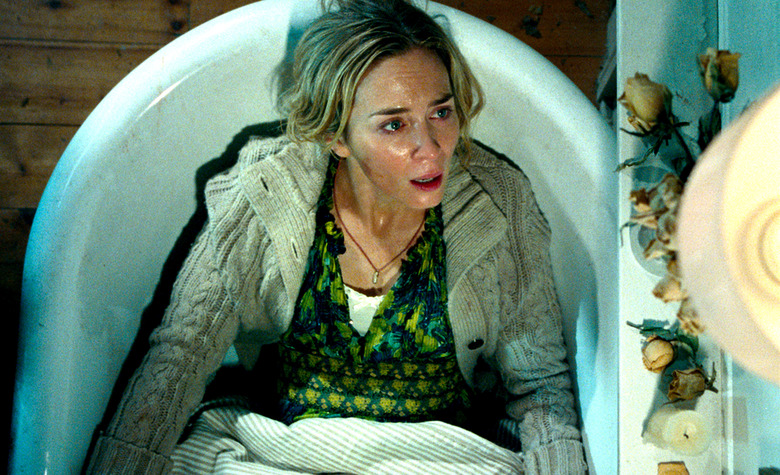 John Krasinski made his directorial debut with the little-seen 2009 comedy Brief Interviews With Hideous Men, but it looks like he's making the pivot to horror in the nearly silent upcoming film A Quiet Place.
Starring Krasinski himself, his wife Emily Blunt, and Wonderstruck breakout star Millicent Simmonds, A Quiet Place seems to follow the footsteps of fellow abstract horror film It Comes At Night, in which an unseen force terrorizes the inhabitants of an isolated house. The teaser trailer hints at a similar narrative but with a twist: the unseen monsters can only find you if you make a noise.
A Quiet Place Trailer
"If they can't hear you, they can't hunt you" the teaser trailer enigmatically warns as it flashes through shots of the horrified, silent Blunt and Krasinski. That tagline is also the only synopsis available for A Quiet Place, which seems intent on keeping an air of mystery about it for the time being.
In the trailer, Blunt and Krasinski are the parents of two children, and they have all adapted to their unusual circumstances by learning sign language and living in virtual silence — aided by toys made of soft fabric, bare feet, and lots of candles. However, things go horribly wrong one day when their youngest accidentally knocks over an oil lamp while playing with his sister, shattering their quiet existence. Immediately they're beset upon by ominous knocks and scuffles above them — and the game is afoot. We get flashes of the family in duress, with Blunt's character in a bathtub at one point looking like she's in child labor — but the camera cuts right before she screams.
A Quiet Place has an intriguing premise, and one that could potentially follow through with the popular trend of cerebral, slow-burn horror like It Comes At Night, It Follows, or The Witch. Emily Blunt is an always reliable star as well, and is justifiably spotlighted in the teaser trailer, even as Krasinski stars and directs. I'm not familiar with Krasinski's work as a director, but this teaser looks taut and well-directed, which suggests that horror may be a promising new direction for the guy still primarily known as Jim from The Office.A Quiet Place is set to hit theaters on April 6, 2018.