Now Stream This: A David Lynch Nightmare, A Guillermo Del Toro Masterpiece, And An Underrated John Carpenter Classic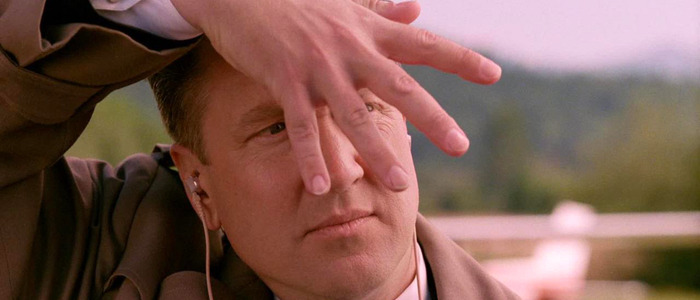 (Welcome to Now Stream This, a column dedicated to the best movies streaming on Netflix, Amazon, Hulu, and every other streaming service out there.) 
Break out the cranberry sauce: it's almost time for Thanksgiving. Soon you'll be forced to sit at a table with your family and have a conversation. How terrifying! My advice: skip all that and stream some movies. If your family complains, advise them to sit down and stream the movies along with you. It's win-win! Also, bring beer.
You don't have to force a conversation with movies; you just have to watch them. Isn't that glorious? Of course, with the ever-growing list of streaming services out there, it can be hard to pick a specific film to watch for your own specific needs. But since I'm such a nice guy, and it is the season of giving, I went ahead and assembled a cornucopia of great films for you to stream in the next few days. There's stuff(ing) here from David Lynch, Guillermo del Toro, Ryan Coogler, and more! We've got horror, family films, fantasy, romance, action – you name it! So get ready to binge on these films, but make sure you save room for leftovers. Here are the best movies streaming right now! So let's get streaming.
1. Twin Peaks: Fire Walk With Me
Now Streaming on FilmStruck
Before David Lynch returned to the town of Twin Peaks with the recent Showtime revival, he made the polarizing prequel film Twin Peaks: Fire Walk With Me. While the Twin Peaks series begins after the death of Laura Palmer (Sheryl Lee), Fire Walk With Me goes back and focuses on the traumatic events that lead to her untimely demise. Like most Lynch properties, Fire Walk With Me won't be for everyone. In fact, when the film premiered at the Cannes Film Festival, the audience greeted it with boos and jeers. Since then, however, a reassessment has caused many to soften on the film and focus on its strengths. Among those strengths is Lee, who gives a devastating, emotionally wrought performance as the doomed Laura Palmer. Overall, this film is meditation on trauma and abuse; one that will leave you shaken to the core. Bonus: David Bowie shows up for one scene. Word of warning, though: if you've never seen a single episode of Twin Peaks, you probably don't want to start here. For fans of: Mulholland Drive, Lost Highway, screaming.
Now Streaming on Amazon Prime Video
Before you see Guillermo del Toro's latest cinematic joy The Shape of Water next month (and please go see it), take the time to revisit one of his finest films, Pan's Labyrinth. Del Toro worked hard to get Pan's Labyrinth made, even giving up his own salary, as he told The Guardian: "I gave back my entire salary in order to get the film made the way I wanted it. I probably should have abandoned it the moment the funding fell through the first time, but I stuck with it for almost two-and-a-half years and refused to back down. It's the first time in the six movies I've directed where I've said: I'm doing this one my way, no matter what." Here, del Toro weaves a fairy tale scenario agains the backdrop of 1944 post-Civil War Spain. Ivana Baquero is Ofelia, a young girl who begins a new life with her violent stepfather, a sadistic military man committed to squashing an uprising. An ancient maze near her new home leads her to an mystical, mythical world full of fauns, fairies and far nastier things. Part parable, part dream, Pan's Labyrinth is both lovely and terrifying, full of breathtaking moments intermingled with bursts of disturbing brutality.
For fans of: The Devil's Backbone, The Orphanage, endings that are somehow both depressing and beautiful.
Now Streaming on Shudder
John Carpenter followed Halloween with this slow-burn ghost story about the sins of a town's past coming back to haunt them. An unearthly fog sweeps into the seaside town of Antonio Bay, bringing with it a horde of pirate ghosts hell-bent on vengeance. This isn't the flashiest of Carpenter's films, but it's one of the most enjoyable, with an old-school charm that was already out-of-date when Carpenter released it in 1980. And like most Carpenter films, it has a killer score by Carpenter himself. The Fog was cursed with a shitty remake in 2005, one void of all of Carpenter's charm and style. Avoid it at all costs, please. Of course, Carpenter had no real qualms about the remake. When IGN asked the filmmaker why anyone would remake The Fog, Carpenter replied: "Why not? If everybody else is making remakes and they want to pay me money to make a remake of an old movie of mine, why not?" Why not indeed.
For fans of: Prince of Darkness, Creepshow, ghost stories told by campfires.
4. Picnic At Hanging Rock
Now Streaming on FilmStruck
Peter Weir's weird, eerie 1975 film Picnic At Hanging Rock turns a lazy summer picnic into an event of subtle terror. During the picnic, a teacher and a handful of students from an all girls' school vanish, seemingly into thin air. There's no explanation, no clues, and no answer to the mystery to be found. Instead, the remaining students and faculty of the staff find themselves perplexed and haunted, unable to make sense of it all. This is a haunting film; one that lingers with you long after you've seen it. There's a TV miniseries remake on the horizon, and I am positive it won't even come close to capturing the atmosphere of this film. As a bonus, since this is part of the Criterion Channel on FilmStruck, it comes with the features included on the Criterion Collection release, including an interview with director Peter Weir and two different documentaries about the making of the film.
For fans of: The Blair Witch Project, The Virgin Suicides, The Blackcoat's Daughter, quiet disturbances.
Now Streaming on Amazon Prime Video
After Sylvester Stallone restored some dignity to the Rocky franchise with Rocky Balboa, we really didn't need any more Rocky films to muck it up. And thankfully, we didn't get one. Instead, we got Ryan Coogler's fantastic Creed, which uses the Rocky mythology and forges its own unique destiny. Michael B. Jordan is dynamite as the son of former Rocky nemesis-turned-friend Apollo Creed. Jordan tracks down his father's old buddy with the hopes of learning how to become a better boxer. What follows is a lightning-charged, emotional journey with Stallone giving pretty much the best performance of his career. But he's not alone: everyone is great here, from Jordan to Tessa Thompson, playing a Philly local who catches Jordan's eye. I distinctly remember seeing Creed in theaters Thanksgiving weekend of 2015, and I remember the rush I felt when the familiar Rocky theme finally kicked-in during a big climactic scene. It was the type of stand-up-and-cheer moment that makes movies special.
For fans of: Rocky, Fruitvale Station, Tessa Thompson saying "Jawn."
6. The Nightmare Before Christmas
Now Streaming on Netflix
Every year the same question arises: is The Nightmare Before Christmas a Halloween movie or a Christmas movie? While most people seem to think the film belongs to the Halloween season, they are incorrect. Even the film's director, Henry Selick (yes, contrary to popular opinion, Tim Burton didn't direct this film) declared this to be a Halloween movie. So you might be ready to tell me I'm wrong in thinking this is a Christmas film, but I don't want to hear it. Look, Christmas is literally in the damn title. And the film begins after Halloween has ended. This is a movie that is firmly rooted within the holiday season, which is where we happen to find ourselves now, believe it or not. Yes, I know, we have to go through Thanksgiving first. But we all know that here, in this capitalistic hellscape we call a society, it's already the "holiday season." So why not kick it off with this still-charming stop-motion farce about a skeleton who kidnaps Santa Claus? Even if you've seen this thing a dozen times (and you likely have), it still is a fun, ghoulish treat. The Hot Topic over-saturation of this film may have slightly diluted some of The Nightmare Before Christmas' charms, but it still holds up.
For fans of: James and the Giant Peach, Coraline, holiday abductions.
Now Streaming on Hulu
This is a sweet, melancholy, kind of forgotten film from 2005 that allows Steve Martin to show off his more dramatic chops. Adapted from Martin's novel of the same name, Shopgirl follows Saks Fifth Avenue glove saleswoman Claire Danes as she embarks on a whirlwind romantic affair with a sophisticated and much older man (played by Martin). She also catches the eye of younger, much more immature Jason Schwartzman. What follows is an interesting, quirky, ultimately sad saga anchored by Danes' strong central performance. This isn't the best romantic comedy in Martin's career – that would probably be a tie between L.A. Story and Roxanne – but it is a nice little film that I'm not sure many people even talk about anymore. Give it a chance. And then read the book, it's really short and well-written. That Steve Martin guy, he's going places, I tell you.
For fans of: L.A. Story, Roxanne, Steve Martin as a romantic lead.
Now Streaming on Netflix
Netflix produces some quality original content, but boy do they stink at promoting it. Case in point: I talked to several people who had expressed interest in seeing Wheelman, but had no idea it was already on Netflix. Because Netflix did nothing to promote its release. But it's there, nestled in between Stranger Things and 13 Reasons Why. Not only is Wheelman on Netflix, it's one of the most entertaining films of 2017. Think of Wheelman as the love child of the Tom Hardy drama Locke and Michael Mann's Collateral. Frank Grillo is a getaway driver who gets in way over his head during a job, and then spends the rest of the night trying to make things right while dodging bullets. This is a fast-paced thrill ride, and one of the most enjoyable things Netflix has released. Now if only they'd promote it. Well, if they won't, I will: watch Wheelman! It's fast and fun.
For fans of: Locke, Collateral, Drive, Frank Grillo cursing a lot.
Now Streaming on Shudder
If you ever wanted to see that werewolf movie with E.T.'s mom that gets name-dropped in Scream, now's your chance! This 1981 fright flick from Joe Dante stars Dee Wallace as a reporter who goes to a remote mountain resort to recover from a traumatic event. There's a problem, though: werewolves. Overall, The Howling is one of the weirdest werewolves ever made, which makes it all the more enjoyable. Also adding to the fun are some great practical werewolf effects, back when filmmakers actually hired make-up artists to create creatures instead of saying, "Eh, we'll use CGI." Fuck that, I say. Practical effects forever. Other Howling highlights include appearances from character actors John Carradine and Slim Pickens and an ending that will make your eyes pop out of your head (not literally; that would be weird).
For fans of: An American Werewolf in London, The Wolfman, lots and lots of wolf puns.
Now Streaming on Hulu
The JFK assassination is retold through the eyes of doctors, secret service agents, witnesses and more in this mostly ignored 2013 adaptation of Vincent Bugliosi's massive, extensive book Reclaiming History: The Assassination of President John F. Kennedy. Rather than being a work of sweaty, nerve-jangling paranoia like Oliver Stone's JFK, Parkland seeks to tell a more human story; a story set almost entirely in the immediate aftermath of the assassination. James Badge Dale, Zac Efron, Colin Hanks, Billy Bob Thornton, and Paul Giamatti all star in this ensemble piece that gives you an up-close-and-personal look at how an entire city reacted to the Kennedy assassination.
For fans of: JFK, Jackie, debunking conspiracy theories.