'Justice League' Rotten Tomatoes Score Leaked Early And It's Surprising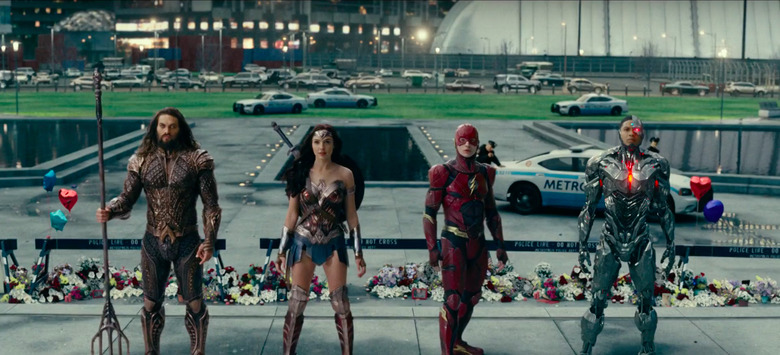 Rotten Tomatoes stirred up some uproar yesterday when the review aggregator website announced that it wouldn't be releasing the Tomatometer score for Justice League, the highly anticipated and embattled DC Comics superhero movie, until Thursday — until a full day after the review embargo lifted. The score would be revealed in conjunction with the website's new Facebook show See It/Skip It, and fans would have to be satisfied with combing through reviews without a final score. Of course, a few news outlets even did the legwork themselves and produced an unofficial Justice League score. You know, for science.
But a mistake may have been made and the Rotten Tomatoes score was leaked early. The leaked score is no longer available, but the evidence is strewn all across Twitter. Continue reading if you dare.
The reviews for Justice League dropped early Wednesday morning, with the Warner Bros.-mandated embargo lifting at 2:50 a.m. Eastern time. In the wee hours of the morning, no score appeared on the Rotten Tomatoes site, as was promised, but it seemed that fellow Fandango property Flixster was not informed. The ticket-buying app reportedly listed the Justice League Rotten Tomatoes score in its full glory, standing at a whopping 48%, and later 51%, certified Rotten rating. After checking the app later Wednesday morning, the Rotten Tomatoes score seemed to have been taken down, but the rating had already screenshotted and shared on Twitter.
Justice League #rottentomatoes score is 48% – it is unhidden on the Flixter app. Oops.#JusticeLeague #flop@Variety @VanityFair @wellshwood @THR @BuzzFeed @BuzzFeedNews @HPLifestyle @businessinsider @Techmeme @Gizmodo @DrewMcWeeny pic.twitter.com/rHVCZvZuxn

— Pursuitist (@Pursuitist) November 15, 2017
Looks like Rotten Tomatoes forgot to hide its score for #JusticeLeague on their Flixster app early this morning... pic.twitter.com/O2Cr2s9u3g

— Michael Schroeder (@TheSchroeder) November 15, 2017
As disheartening as a Rotten rating seems, Justice League actually lies in the upper spectrum of DC Extended Universe movies. Currently Wonder Woman holds the highest score at 92%, followed by Man of Steel at 55%. Batman v Superman: Dawn of Justice and Suicide Squad make up the bottom part of that rung at 27% and 26%, respectively. There's a good chance that Justice League's score may rise, judging by its 3-point jump over the course of two hours. But we won't know the final score until Thursday at 12:01 a.m. EST.
Unofficially Rated
But in lieu of an official Rotten Tomatoes score, websites like ScreenRant and Mashable created their own rating system. Mashable proceseds 39 reviews published Wednesday morning, calculating 22 rotten reviews and 17 fresh reviews, based on some of the below excerpts:
Vanity Fair's Richard Lawson:
The film is, plainly stated, terrible, and I'm sorry that everyone wasted their time and money making it—and that people are being asked to waste their time and money seeing it. I hate to be so blunt, but it simply must be said this time.
Entertainment Weekly's Chris Nashtaway:
Justice League is a collection of missed opportunities and flubbed ideas. ... Steppenwolf is maybe the worst villain in a superhero movie since the giant yellow cloud of evil in Green Lantern.
Variety's Owen Glieberman:
Justice League has some good moments and some bad ones, but it ultimately ekes out just enough entertainment value to warrant a look-see. ... ultimately just an adequate adventure flick.
Based on reviews like the ones above, Mashable calculated that Justice League's unofficial score was 44% — not too far off from the leaked one we saw earlier.
ScreenRant took the same route, but this time applying the "same simple positive/negative ratio Rotten Tomatoes uses" to track 58 reviews from what the site deemed credible outlets. Their unofficial rating was decidedly higher, coming in at 60.34%, which would make it just past the 60% cut-off for "Fresh." We'll have to wait til later tonight to find out if their rating is closer to the official mark.Justice League is set to fly into theaters on November 17, 2017.