'Unsane,' Steven Soderbergh's iPhone Horror Movie, Will Arrive In 2018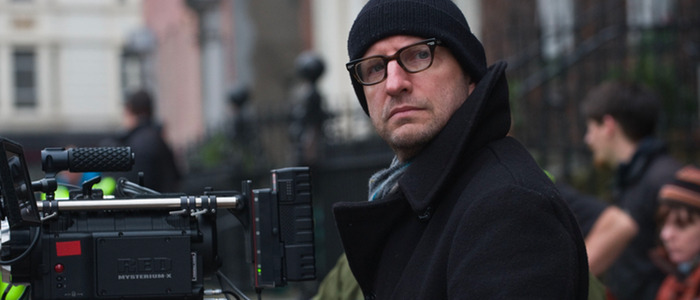 Steven Soderbergh already has his next film release lined-up. Always up for experimenting with the medium of film, Logan Lucky director recently shot the horror movie Unsane on an iPhone, and now the film is set for a 2018 release date. The film features Juno Temple, Claire Foy, Amy Irving, Aimee Mullins and Jay Pharoah.
After a brief sojourn into the land of retirement, director Steven Soderbergh is back in action. The filmmaker behind the Ocean's 11 franchise, Traffic and more, released his ensemble comedy Logan Lucky this year, and he has the experimental TV series Mosaic coming up. And now comes word that he already has a release date set for his next flick. Deadline reports Soderbergh's Unsane will open wide on March 23, 2018.
Soderbergh loves to experiment – his new show Mosaic, for instance, has an app that lets viewers explore the outcome of plot lines and characters from different perspectives. In keeping with that experimental tradition, Soderbergh shot Unsane entirely on an iPhone. Soderbergh isn't the first director to venture into iPhone cinematography, though. The Florida Project director Sean Baker shot his film Tangerine entirely on iPhones, to great success.
Very little is known about Unsane at the moment. In fact, until the Deadline story broke, no one was referring to the film as horror. But the prospect of Soderbergh making a horror film is intriguing. It's not a genre Soderbergh dabbles in that often. The closest he's come is his little-seen 1991 film Kakfa, a fictional biopic of Metamorphosis author Franz Kafka in which the author finds himself caught up in a storyline that could've been taken directly from his works.
Soderbergh has also dabbled in the thriller genre, creating the nightmarish pandemic film Contagion and the psychological drama Side Effects. Side Effects may, in fact, give us a hint as to what Unsane is about. In a Reddit AMA earlier this year, someone asked Soderbergh "Have you ever thought about making any films about mental health and the current state of psychiatry/medication? Given you've discussed pandemics, health, it seems like a topic you might be good at?" To which the filmmaker replied: "Yeah, we tried to delve into that with SIDE EFFECTS but it's a big enough subject I might have to return to it. Stay tuned..."
Perhaps Unsane will find Soderbergh returning to a story about mental health? The title would certainly suggest so. I'm sure we'll know more the closer we get to the March 23 release date.
In the meantime, keep an eye out for the home release of Soderbergh's Logan Lucky, which hits Blu-ray on November 28, 2017.