Netflix Won't Confirm A Theatrical Run For Martin Scorsese's 'The Irishman'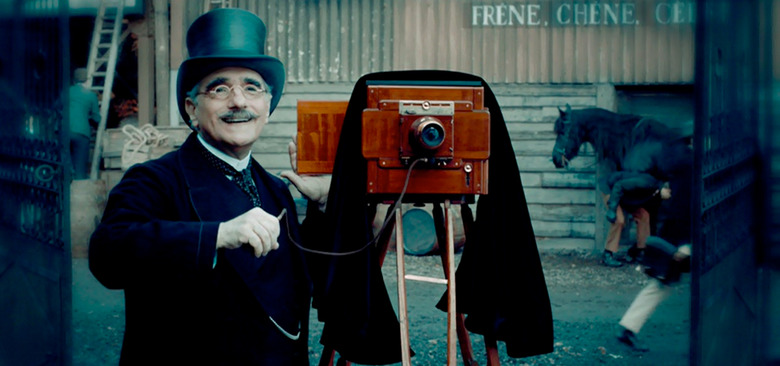 The long road to release for Martin Scorsese's The Irishman just became a little more rocky, with Netflix remaining silent on whether the legendary director's ambitious mob movie will get a theatrical run.
Scorsese's costly film has long bounced around Hollywood on account of its hefty price tag — the director wanted to use de-aging and aging technology to depict Robert de Niro and Al Pacino's characters at different stages of their lives — resulting in the project landing at Netflix. The streaming service promised to back the movie's ballooning budget, but apparently has made no promises about a theatrical release, which would qualify the movie for Oscar contention.
The Irishman officially began shooting two months ago, but Netflix head of film publicity Julie Fontaine told Variety that "it's premature to say anything at this point" about The Irishman's potential theatrical distribution.
According to Variety, Scorsese asked for a commitment from Netflix on the condition that The Irishman would receive a 2019 theatrical release. Sources told the outlet that Scott Stuber, Netflix's film division chief, assured Scorsese that the film would receive on minimum a two-week theatrical run, which would make it eligible for the Oscars. However, it now seems that a date hasn't yet been confirmed. If The Irishman does hit theaters for a qualifying awards season run, it could be day-and-date, also premiering on Netflix that same day.
The mob film based on Charles Brandt's 2004 book I Heard You Paint Houses, about Frank "The Irishman" Sheeran (De Niro), a hitman who was purported to kill Teamster leader Jimmy Hoffa, has had a troubled path to production because of Scorsese's insistence on using de-aging technologies for the majority of the film — techniques that have been used sparingly in movies like The Curious Case of Benjamin Button or Marvel films. The movie also boasts a star-studded cast of Robert De Niro, Al Pacino, Joe Pesci, Harvey Keitel, Ray Romano, and Bobby Cannavale.
The necessary technology hiked up the budget, which now sits at approximately $125 million according to producer Gaston Pavlovich, who told Variety that it could "go over that."
The movie's cast and crew are in agreement that the film couldn't have been made if it weren't for Netflix, which was willing to take on the costly production budget. Pavovlich added:
We quickly realized that that Marty and De Niro really thought that the aging process was going to be a very important aspect of this film. The traditional [business] model was not going to work with this new vision of the project, and that's when we entered conversations with Netflix."
Netflix has built a reputation for taking risks with audacious and boundary-pushing films, but the streaming service's aversion to theatrical releases have gained it enmity among the film festival and awards circuit. It's yet to be seen whether Netflix would make a compromise and release The Irishman in theaters to honor its reported agreements with Scorsese, who has yet to have a film not released in theaters.