'Are You Afraid Of The Dark?' Will Open In 2019 [Updated]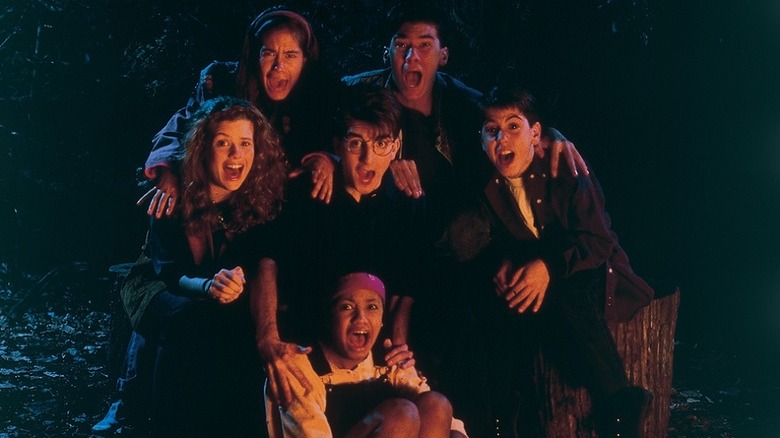 Update: Paramount has announced that Are You Afraid of the Dark? will open on October 11, 2019. Gary Dauberman is still writing the screenplay and producing alongside Matt Kaplan. Our original article follows below.
You're only a '90s kid if you remember being scared out of your mind by reruns of Are You Afraid of the Dark?, the Canadian anthology series that aired on Nickelodeon for seven seasons. Well, dust off your flashlights and your childhood trauma, because Are You Afraid of the Dark? is getting the big screen treatment — courtesy of horror nostalgia expert Gary Dauberman, the screenwriter of this fall's massive horror hit It.
Dauberman is penning the Are You Afraid of the Dark movie under Paramount Players, a new division of Paramount Pictures, according to The Tracking Board.
Are You Afraid of the Dark? was an anthology series created by D.J. MacHale and Ned Kandel that ran from 1992 to 1996 and followed a group of kids who called themselves the Midnight Society as they told each other scary stories around the campfire. The stories ranged from urban legends to fairytales, but with an additional modern twist. A Canadian production, it was aired on Nickelodeon and even rebooted by the network in 1999 for a single season.
Dauberman was one of three writers credited to It, which has gone on to becoming the highest grossing horror movie of all time. He also recently wrote Annabelle: Creation and is penning upcoming projects like The Nun, an extension of the Conjuring universe.
Hollywood has taken to mining '90s and '80s genre nostalgia for hit films and TV shows, to varying degrees of success. The most recent sensation is Netflix's Stranger Things, which just premiered its highly anticipated second season this year. But while Stranger Things and It have expertly tapped into the heart of '80s nostalgia, Hollywood seems to be struggling to capture the imaginations of '90s kids. Power Rangers and Goosebumps both received mixed reactions from critics and opened to modest box office.
Are You Afraid of the Dark? may just be obscure enough to make it work, though. I personally never watched it growing up (I didn't have cable, so sue me!), so its lack of exposure could work in its favor. To be fair, /Film managing editor Jacob Hall grew up loving this show and thinks it has the potential to be terrific kids' horror if done right. So this could be something to keep an eye on! The cult following it's amassed is enough to pique anyone's curiousity, so perhaps with a strong screenwriter at the helm, Are You Afraid of the Dark? has nothing to fear.