The New Blu-Ray Releases You Should Check Out This Week: Charlize Theron, Paul Naschy, And Some Cats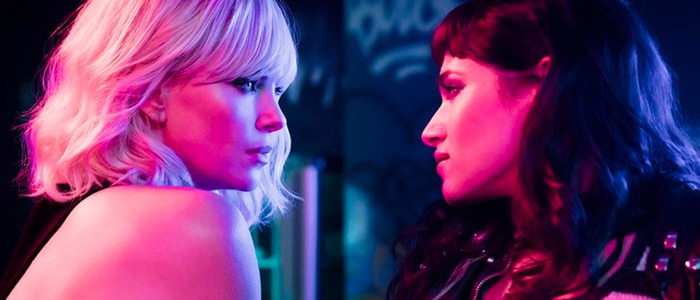 (Welcome to Not Dead Yet, a feature dedicated to what's new on Blu-ray and what special features you should be excited about. Because yes, some of us still like to own physical copies of our movies.)
It's time for another round-up of physical media. Are you like me – living in the past and unable to give up material possessions? If so, you prefer good old fashioned physical media like Blu-rays to just going digital. There's something more special (at least in my broken brain) about displaying your Blu-ray collection on a shelf than just purchasing something digitally and then forgetting all about it. With the actual physical disc, it's always there, in front of you. Or maybe I'm crazy!
This week's Blu-ray roundup features one of the coolest action movies of the year, a somber, snowy drama, a five-film box set, and a documentary about cats. What more do you need, folks? Here are the new Blu-ray releases you should check out this week.
Atomic Blonde
There's a part of me fully aware that Atomic Blonde doesn't really work. Its script is wonky, it goes for style over substance at every turn, and it pumps out more '80s tunes your worn-out "Now That's What I Call the '80s!" CD. But gosh darn it, this film is so entertaining. Whatever you think of Atomic Blonde as a work of art, it's hard to deny the sheer enjoyment it delivers by putting Charlize Theron on the screen and letting her beat the shit out of everyone.
Anytime Atomic Blonde seems like it might grow stale or tired, it throws another show-stopping action sequence at us, giving Theron a chance to pummel hordes of henchmen who get in her way. The tale is set at the peak of the Cold War, on the eve of the fall of the Berlin Wall. Theron is an icy MI-6 agent in Berlin, wrapped-up in a convoluted scheme involving a list of spy names. It's more or less the same plot as the first Mission: Impossible film. But none of that really matters. Plot is secondary here. What Atomic Blonde is is a showcase for Theron's particular set of skills. She struts through this film in cool clothes, punching and kicking her way out of any situation as tunes from the 1980s blast out from the soundtrack.
Theron is the main draw here, but the rest of the cast performs admirably as well, particularly James McAvoy as Theron's main contact in Berlin who may or may not be dirty. Sofia Boutella makes an impact as a photographer who falls into a romantic relationship with Theron, John Goodman growls his way through a brief appearance, and Pennywise the Clown himself, Bill Skarsgård, shows up to provide local color.
Director David Leitch (John Wick) presents it all in the most stylish way possible, with each scene bathed in cold blues and neon pinks. It might be too much for some people, and anyone expecting anything below the surface-level coolness is going to be disappointed. Beyond that, it's hard to deny how much fun it is to watch Theron battle her way through the film.
Special Features to Note:
Since Atomic Blonde is a very action-heavy film, most of the features included with the new Blu-ray release are devoted to fight choreography. We get to see a lot of behind-the-scenes footage of Theron training for the multiple fight scenes in the film. The best feature is "Anatomy of a Fight Scene," in which director Leitch walks us through the jaw-dropping stairwell fight that comes near the end of the film and seems to go on forever.
During this feature, we not only see the fight as it appears in the film, we also get a picture-in-picture look of rehearsals and training to create the sequence, which shows how much work went into making it all look seamless. There's also some neat reveals about how the walls and stairs may look as if they're made of wood and stone, but are in fact foam padding painted to resemble harder material. Movie magic!
Special Features Include:
Deleted and Extended Scenes
Welcome to Berlin

– The ultimate setting for a Cold War spy thriller, Berlin becomes a character of its own. Go behind the wall for this making-off.
Blondes Have More Gun

– Lorraine Broughton has one impressive set of skills. See what it took for Charlize Theron to fully transform herself into this tenacious character.
Spymaster

– David Leitch spins the spy genre on its head through exemplary action sequences and complex characters. Hear from cast and crew what it was like to work with this cutting edge director.
Anatomy of a Fight Scene

– Director David Leitch breaks down the incredibly detailed long-take stairwell shot in this anatomy of a fight scene.
Story in Motion:

Agent Broughton – See Agent Broughton as you never have before in these motion storyboards.
Story in Motion:

The Chase – Gascoigne is on the run. Find out who's after him in this motion storyboard.
Feature Commentary with Director David Leitch and Editor Elisabet Ronaldsdottir
Wind River
Hey, are you in the mood for misery? If so, look no further than the new film from Hell or High Water's Taylor Sheridan – the bleak, snowy drama Wind River. This film is wall-to-wall grief, and while I'm not saying that's a bad thing, you might want to prepare yourself before going in. This is not a fun time at the movies, folks. And that's fine!
What Wind River is is a sorrowful drama about loss, and exploitation, and regret. Fellow Avengers Jeremy Renner and Elizabeth Olsen are reunited for this murder mystery set in Wyoming. Renner is a  U.S. Fish and Wildlife Service agent who finds the dead body of an 18-year-old girl at the Wind River Indian Reservation. Enter FBI Agent Elizabeth Olsen, who teams with Renner and the local police to get to the bottom of the mystery.
Here's the thing: Wind River isn't really interested in the mystery itself. In fact, it spends almost no time going into clues or details, and gives us a lengthy flashback sequence that shows us exactly what happened. Instead, the film is more of a meditation on grief. Renner's character is a bit of a cypher: a quiet loner always with his gun at the ready. The thing is, while the film is set on an Indian Reservation, it doesn't focus enough on its Native characters. In fact, the film would've been improved greatly if Renner's character had been changed to a Native American (and played by a Native American actor, of course), Still, there's something about Wind River that works its way into your mind. Perhaps it's the haunting score from Nick Cave and Warren Ellis. Or perhaps it's just that cold, wintry landscape, burning itself into your eyes.
Special Features to Note:
Wind River seems destined to get an Award Season push, but the Blu-ray release is surprisingly scant when it comes to special features. There are three distinct segments devoted to Renner, Olsen and Sheridan, where each talks about how they approached the film. There are also deleted scenes which are quick and forgettable.
The reason for the unceremonious Blu-ray release might have to do with the fact that Wind River was originally a Weinstein Company film, and the sexual abuse scandals associated with Harvey Weinstein have put the film in a sort of precarious place. Weinstein's name has been stripped from the film entirely, and in a recent interview with Deadline, Sheridan revealed how he worked to wrestle control of the film from Weinstein's hands. "I called TWC president David Glasser and said, 'I'm going to demand something of you and you are going to get absolutely nothing in return,' " Sheridan said in the interview. " 'And you're going to do it, because it's the right thing to do. To David's credits, he agreed...[Weinstein] did terrible things, and they affected a lot of people, and they affected our film. And now, the profits he would have made are going to benefit people that endured exactly the abuse that he doled out."
Special Features Include:
Behind-the-Scenes Video Gallery
The Paul Naschy Collection II
Paul Naschy was known as the "Spanish Lon Chaney." In his long, eclectic career, Naschy excelled playing monsters, murderers and other freaks, sometimes buried under make-up, sometimes just sporting a glorious mustache.
The good folks at Shout! Factory/Scream Factory have put together a brand-new collection of some of Naschy's films, following their initial Paul Naschy Collection. The Paul Naschy Collection II assembles five glorious, gory films from Naschy's career, all of them memorable, all of them kind of odd.
Hunchback of the Morgue is sort of like a retelling of Frankenstein from the point of view of the infamous hunchback assistant Igor (who, of course, never appeared in the original Frankenstein novel, but was rather an invention of Universal Studios). Naschy plays the hunchback Gotho, who lusts for a sickly young woman who is kind to him. When the woman dies, Gotho goes off the deep-end, murdering a pair of thieving morgue attendants and stealing the dead woman's body in the process. From there, he hooks up with a mad scientist who just happens to have a big pit of acid in the floor of his secret laboratory. The pit of acid ends up being featured so much it might as well have received top-billing alongside Naschy.
The Devil's Possessed recalls some of Roger Corman's Edgar Allan Poe films, particularly Masque of the Red Death. Naschy plays a corrupt barron who uses witchcraft to keep his subjects in line. Eventually, some of those oppressed subjects band together to stop him. Along the way, the film turns into Robin Hood with witchcraft. It's wild, and lurid, and very entertaining. And you better believe Naschy ends up with an eye-patch at one point.
A Dragonfly for Each Corpse is inspired by the giallo films of Italy – think Deep Red or Four Flies on Grey Velvet. An unseen killer stalks the streets, leaving gold ornamental dragonflies on each of his victims. The only person who can stop him is Naschy, playing a cigar-chomping cop. Sadly, this is the dullest film of the set, but it's still worth seeing for its time-capsule-like presentation of the era it was made.
Exorcism was heavily-inspired by the hugely-popular The Exorcist, and while this film borrows the same premise – a young girl begins spewing foul language when possessed – it goes off in its own direction. It's not as cerebral or visceral as The Exorcist, but it still packs a punch, particularly in the makeup the girl begins to wear when she becomes more and more possessed. The makeup in question was likely a low-budget affair, yet still manages to be effective.
The Werewolf and the Yeti wastes no time: its opening scene involves mountain climbers ruthlessly attacked by a yeti. From there, things get even more ridiculous, as Naschy finds himself turned into a werewolf. Do the Werewolf and the Yeti end up having a big, furry showdown? You'll have to see for yourself.
Overall, this is a wonderful set, charming in its idiosyncrasies. From the cheap-yet-memorable looking monsters, to the bright-red blood, the films of The Paul Naschy Collection II make for great viewing.
Special Features to Note:
Sadly, there are not many special features included with this group of films, save for trailers and still galleries. But perhaps the argument could be made that the films themselves are enough. We're talking five movies here – do you really need more than that?
Still, there are a few gems, particularly the special feature on Exorcism that includes "Alternate 'Clothed' Versions Of The Nude Scenes For The Original Spanish Release." While four of the five films are subtitled, The Werewolf and the Yeti gives you the option of a dubbed-version, in case you're one of those folks who doesn't enjoy subtitles.
Special Features Include:
HUNCHBACK OF THE MORGUE (EL JOROBADO DE LA MORGUE)
In Castilian With English Subtitles And English Dub
NEW Audio Commentary By Rod Barnett And Troy Guinn Of The Podcast,  NaschyCast
Theatrical Trailers (Spanish And English)
THE DEVIL'S POSSESSED (EL MARISCAL DEL INFIERNO)
In Castilian With English Subtitles And English Dub
Theatrical Trailers (Spanish And English)
THE WEREWOLF AND THE YETI (LA MALDICIÓN DE LA BESTIA)
In Castilian With English Subtitles And English Dub
EXORCISM (EXORCISMO)
In Castilian With English Subtitles And English Dub
NEW Audio Commentary By Author Troy Howarth
Alternate "Clothed" Versions Of The Nude Scenes For The Original Spanish Release
Theatrical Trailers (Spanish And English)
A DRAGONFLY FOR EACH CORPSE (UNA LIBÉLULA PARA CADA MUERTO)
In Castilian With English Subtitles And English Dub
NEW Audio Commentary By Author Troy Howarth
Kedi
Oh, how I love this movie. At first glance, Ceyda Torun's Kedi looks like a feature-length version of cute cat videos you might watch on YouTube. But it's so much more than that. It's a unique, lovely little movie that contains multitudes, overflowing with empathy and compassion. Kedi follows several stray cats that wander freely through the streets of Istanbul, and the compassionate humans who care for them. There's a social pact between the cats and humans – they accept one another freely, and they each come and go as they please.
I don't want to get into a long rant about how miserable the last year has seemed overall, but let's just say 2017 hasn't been the best it can be. Kedi certainly won't change that – the world is going to be the same after you get done watching it. But it will soften the blow. Even if you're not a cat person – as I'm definitely not – it's impossible to not be charmed by this film. And that's not to say it's harmless fluff, either. There's a melancholy lurking beneath it all, mingled with a hopefulness. One individual talks about how he had suffered a nervous breakdown, but spending time seeking out and feeding stray cats has helped nurse him back to some semblance of sanity. "They make you fall in love again," he says, It may sound silly, but it's not. It's achingly lovely. I don't want to sound like I'm over-selling Kedi here, but if you find yourself having a particularly miserable day, I advise you to pop this film into your Blu-ray player and let it soothe you, for just a little while. You won't regret it.
Special Features of Note: 
We get deleted scenes, we get a fairly interesting Making Of feature that highlights how Ceyda Torun got up close and personal with the cats, we even get a few deleted or extended scenes. But the best feature of all, hands down, is a commentary track featuring the cats in the film. "How the hell can cats do a commentary?" you may ask, as you frown and cross your arms and remain skeptical to this whole endeavor. Trust me, it works, and it's wonderful. I can't recommend this movie enough – one of the best of the year, hands-down. You're going to want to own this.
Special Features Include:
Audio Commentary with the Director/Producer Ceyda Torun, Cinematographer/Producer Charlie Wuppermann, and Editor Mo Stoebe
Audio Commentary with the cats
Extended & outtake scenes