'Comeback' Movie Coming From 'Colossal' Director Nacho Vigalondo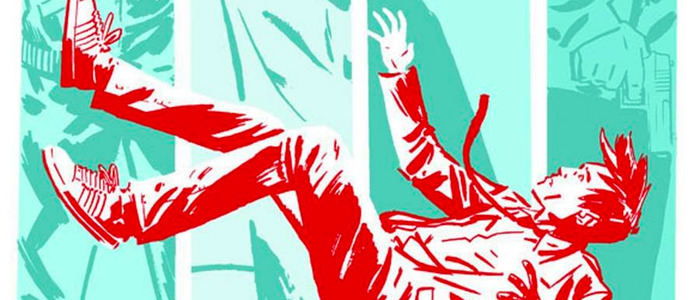 Nacho Vigalondo, the talented director behind the weird and wild Anne Hathaway dark comedy Colossal, will team with The Walking Dead creator Robert Kirkman to adapt the Image Comics series Comeback into a feature film. The story focuses on two time travelers who save people's lives, for a fee. After the time travelers get stranded in the past, they have to fight to survive and return to their own time. The Comeback movie details are below.The Hollywood Reporter confirms that Nacho Vigalondo and Robert Kirkman are working together to bring Comeback to the big screen. In the Ed Brisson and Michael Walsh comic, two characters named Mark and Seth work as "Reconnect Agents." Their job: traveling back in time to save people from untimely deaths...for a price. There's another catch: time travel is an illegal venture, which means if they caught doing it, they're in trouble. When one of their missions backfires and strands them in the past, the two time travelers have to go on the run from both the FBI, who want to arrest them for breaking those pesky time travel laws, and their own company, who want to kill them to keep the whole time travel business a secret.
Vigalondo will write and direct the film for Sony Pictures while Kirkman will produce under his Skybound Entertainment company.  Here's an official synopsis of the comic:
Reconnect is more than a company – it's an opportunity for good. Reconnect can reverse tragedy by sending agents into the past to rescue your mother, your wife, your brother or father or child moments before their untimely death. Mark is one of these agents. He brings the rescued from the past to the present, to a blessed reunion with their loved ones. He saves lives...or does he?
This sounds like it has a lot of potential – sort of like an amalgamation of the goofy Jean-Claude Van Damme action flick Timecop, Steven Spielberg's Minority Report and Rian Johnson's Looper.
Vigalondo is an interesting filmmaker who has already dabbled in time travel storytelling before. His 2007 film Timecrimes follows a man who travels back in time one hour and tracks all the complications that arise as a result of his journey. He also directed the excellent Colossal, starring Anne Hathaway as a woman who discovers a strange connection with a Godzilla-like monster. Both Timecrimes and Colossal show a filmmaker who excels at inventive, untraditional stories. He'll likely bring that same inventiveness to Comeback.