Steven Spielberg Gave Advice To Christopher Nolan For 'Dunkirk'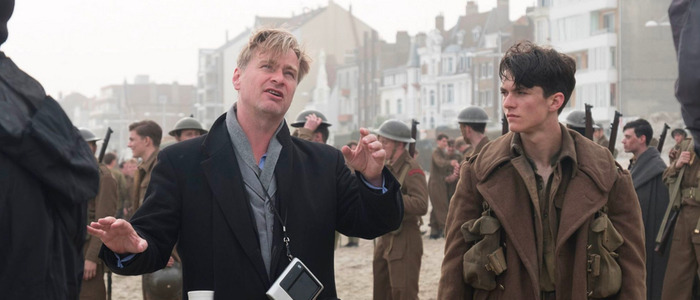 Christopher Nolan's recent Dunkirk is not your typical war epic. It's not so much obsessed with focusing on battles as it is avoiding them. Yet Nolan wasn't above looking to past war films for inspiration, particularly one of the most famous war films ever made: Steven Spielberg's Saving Private Ryan. In a new interview, it's revealed that Steven Spielberg gave advice to Christopher Nolan during the making of Dunkirk.
When it came time for Christopher Nolan to make Dunkirk, the filmmaker wasn't above turning to others for help. Particularly Steven Spielberg, director of a wealth of incredible films. When it came time to prepare his crew for the arduous Dunkirk shoot, Nolan reached out to Spielberg and asked if he could screen Spielberg's pristine print of the film. In a new interview with Variety, Nolan reveals that Spielberg offered some valuable advice when he made his print request.
"The film has lost none of its power," Nolan says of Saving Private Ryan. "It's a truly horrific opening, and there are later sequences that are horrible to sit through. We didn't want to compete with that because it is such an achievement. I realized I was looking for a different type of tension." After Nolan requested the print, Spielberg offered the following advice:
"Knowing and respecting that Chris is one of the world's most imaginative filmmakers, my advice to him was to leave his imagination, as I did on 'Ryan,' in second position to the research he was doing to authentically acquit this historical drama."
Nolan adds that watching the opening Omaha Beach sequence in Saving Private Ryan, which is filled with gory, realistic violence, convinced him he'd never be able to top what Spielberg did, so instead he took the opposite approach, and made the film almost bloodless. "The language of horror is one where you hide your eyes," the director says. "You're looking away. It's a different form of tension. We constructed our set-pieces not around violence, not around blood, but around physical jeopardy."
Saving Private Ryan and Dunkirk are very different World War II movies – Ryan is more of a traditional behind-enemy-lines story, while Dunkirk is something more cerebral, and Spielberg and Nolan are very different in their filmmaking style, but it's nice to know the two are willing to take the time to consult with one another.Dunkirk arrives on 4K Ultra HD, and Blu-ray combo pack and DVD on December 19, 2017, and Digital HD on December 12, 2017.