'Stranger Things' Bits: The Duffers' Ending Plan, Hopper's Love Life, And More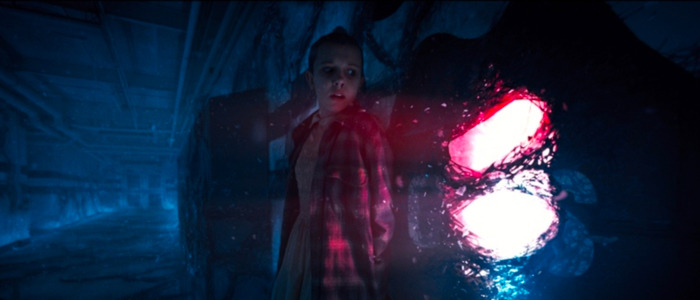 In this edition of Stranger Things Bits:
Creators/showrunners The Duffer Brothers talk about their plans for the ending of the series
The Duffers share a surprising inspiration for Stranger Things
Is there more to Dacre Montgomery's bad boy bully Billy than we saw in season 2?
The possible future of Sheriff Jim Hopper's love life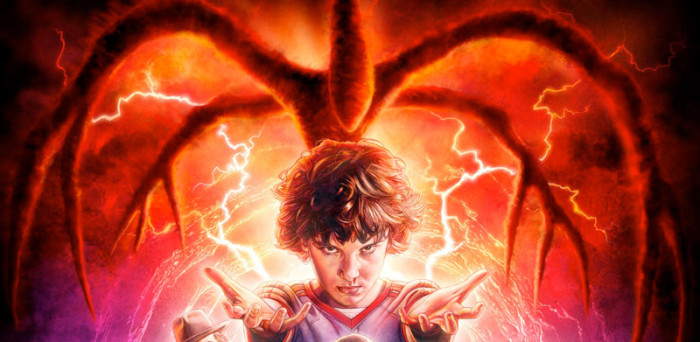 Let's take some inspiration from the Upside Down and kick things off in the most topsy-turvy manner possible: by starting with the ending. Speaking with Yahoo, Ross Duffer explained a bit more about their plans to eventually wrap up the series:
"We have an end goal; we know where we want to go. We're not quite sure how long it will take to get there, but we do have a plan. And some of it, it's just because Season 2, we just came into it with so many ideas, and so many of them have been kicked further down the road. So we're gonna use some of those. In [our Season 2 brainstorm], we figured out what that ending is, but it'll take more than one year to get there."
Congrats to the crew of @Stranger_Things ya'll did an amazing job. Here's my homage to my favorite motley crew of misfits. #25centwonders pic.twitter.com/imEkNrUIoE

— Patrick Ballesteros 🇵🇭 DCON Booth 323 (@PatrickBallest) November 6, 2017
Artist Patrick Ballesteros seems like one of the few people who liked the seventh episode of the new season, "The Lost Sister" – his homage is one of the best things to result from that episode.
From Bald to Bitchin' pic.twitter.com/C3zCZ7uUpi

— Stranger Things (@Stranger_Things) November 8, 2017
And speaking of fan art, here's an Eleven-centric piece posted by the show's official Twitter feed.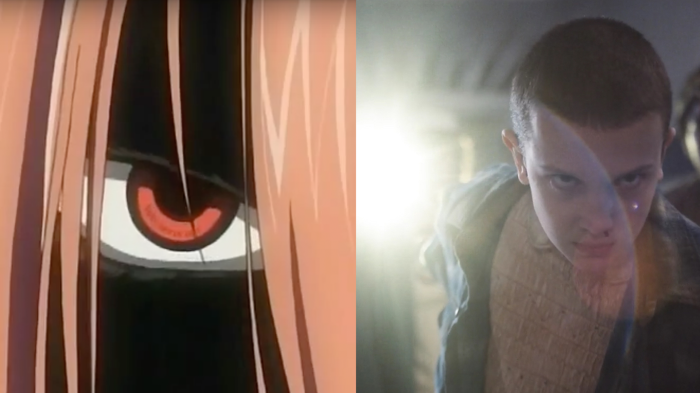 While Steven Spielberg and Stephen King are two huge and obvious influences on the Duffers' Netflix series, SyfyWire has a breakdown of the similarities between Stranger Things and an "obscure manga later turned into an anime" called Elfen Lied. The Duffers have cited this as an inspiration before, and once you find out about what Elfen Lied is about, the parallels are extremely obvious.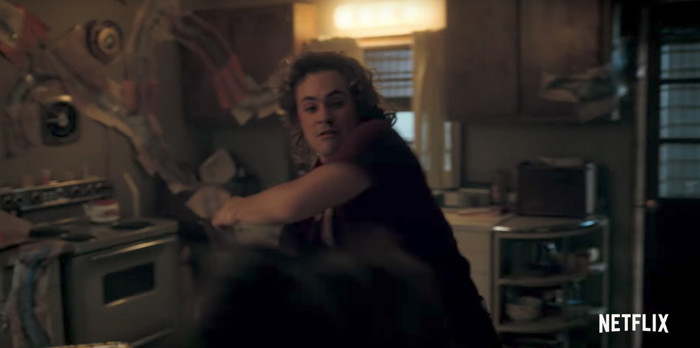 Mashable directly asked actor Dacre Montgomery (Billy) something I'd been wondering about since I finished Stranger Things 2: is Billy attracted to Steve Harrington?
"We were talking about this idea of Billy being threatened by Steve or emasculated in some way. He gets uprooted and taken to this town. I definitely agree with the element of that question, that's an interesting... I hadn't heard that one. I think he feels threatened by Steve, but we hadn't really gone into that. It's interesting."
Joe Keery (Steve) seemed far open to that interpretation in a recent interview with Vulture, saying, "I think maybe we'll touch upon that next year." So we may find out the real canonical answer soon enough.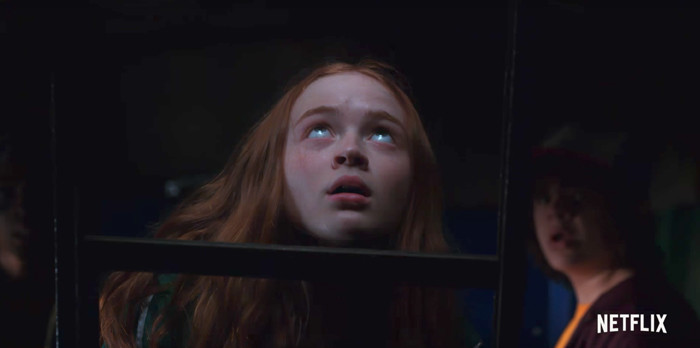 As we covered in a recent Stranger Things Bits, the kiss between Max (Sadie Sink) and Lucas (Caleb McLaughlin) at the end of season 2 wasn't in the original script and was added by the Duffers after they realized Sink was "stressed out" by the idea. Speaking with The Wrap, Sink clarified her reaction to being asked to do the scene:
"I mean, of course I was nervous because it's a first kiss, right? But I never objected to [it] or felt pushed into anything...I always felt comfortable and the Duffer Brothers, they do the best job. And always create a comfortable space. And if I felt uncomfortable with anything, I wouldn't have done it."
We've taped Stranger Things spoilers all over the walls of our jail this week. Some extra motivation for you to not end up there. pic.twitter.com/SEbRlXx4BJ

— East Lansing Police (@EastLansingPD) November 5, 2017
ScreenRant points us to this tweet from the East Lansing Police department in Lansing, Michigan, in which they jokingly threaten to unleash Stranger Things 2 spoilers on potential criminals.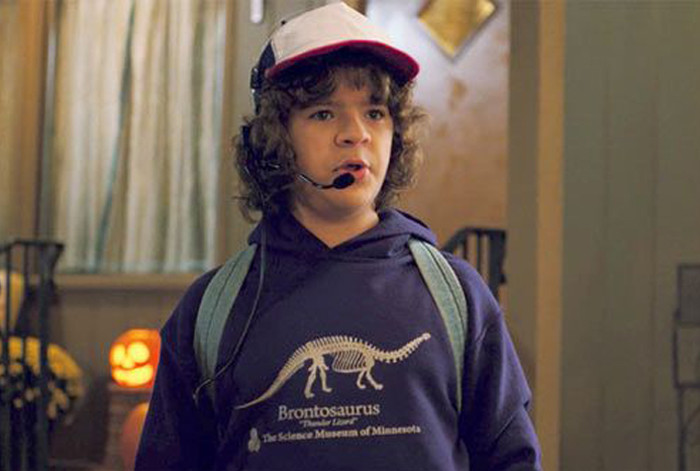 InsideTheMagic points out that the purple sweatshirt that Dustin (Gaten Matarazzo) wears in season 2 promoting the Science Museum of Minnesota has become something of a hot item on social media, with the museum bringing back the vintage design and adding them to their store. You can order one here, but beware: the digital lines might be pretty long.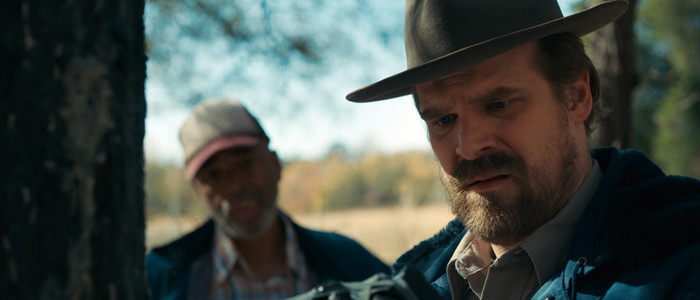 And finally, actor David Harbour (Jim Hopper) spoke with Variety about whether or not he thinks his character will ultimately end up with Joyce Byers (Winona Ryder):
"Look, ever since I read the pilot I loved the relationship with Hopper and Joyce. I consider it a little bit like "Chinatown," with Faye Dunaway and Jack Nicholson. These are two lost, broken people who need each other but are so prideful and messed up that they'll never admit it. It's great to allow that to play out over several seasons...
I think that we'll have to see where that goes in the future. I don't know that ultimately they're quite right for each other. Talk about problems! If Eleven is difficult, imagine him and Joyce. There would be nightmare fights! Him being prideful and emotionally shut down and unavailable. But I do think he feels something for her, because she knew him in high school, too. Those friends who knew you back in high school when the world was an open book, when we had all this potential — she can still see that in him. He can see that in her. It's a special connection. I think that's something that's very deep between them. We'll have to see where that goes in future seasons. But I root for some happiness for Joyce and Hopper. If they can find that together, that would be great. But we'll see."