'The Boys' Picked Up For Eight Episode Season At Amazon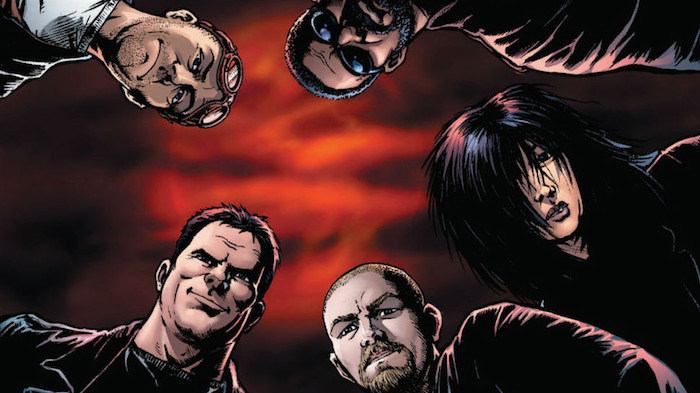 The Boys, an adaptation of Garth Ennis and Darick Robertson's anti-hero comic series, has moved around in Hollywood so frequently that I'm surprised I haven't seen a moving truck driving across town with its comic covers plastered on the side. But after years of circling the city, that truck has finally found a permanent parking spot: Amazon Studios has just picked up the series for an eight episode first season.
Sony Pictures TV and Neal Moritz's Original Films are co-producing with Amazon, and this marks the first series pick-up since the company parted ways with Amazon Studios president Roy Price following a sexual harassment controversy. Deadline reports that the company is now looking to "shift toward more straight-to-series orders and fewer pilots," and this eight episode pick up is a beneficiary of that strategy.
Back in September, we wrote about how the TV adaptation – which hails from producers Seth Rogen and Evan Goldberg and Supernatural creator Eric Kripke – had moved to Amazon for development, and that was after it supposedly found a home over at Cinemax the year before. Even earlier, Anchorman and Step Brothers director Adam McKay had his eye on turning the comics into a live-action movie, but he couldn't get a studio to bite on his pitch for it:
"I was trying to do Garth Ennis' The Boys at one point, and I took it to every studio, every production financing place in town. And they were always like, 'No.' I had this crazy pre-viz reel that I'd done, and it was insane, like superheroes doing cocaine. And they all said, lazily, 'So it's like Watchmen?' And then eventually I started realizing that no one was going to do it, and I started pitching the craziest aspects of it, embracing the fact that they hated it."
It certainly sounds like McKay's version would have retained the dirty, crazier elements of the comic series, and considering what Rogen and Goldberg have done with AMC's Preacher and that The Boys will be on Amazon and not limited by a mainstream broadcast network, I'm not expecting their version to hold much back, either.
Here's the official synopsis of The Boys comic:
This is going to hurt! In a world where costumed heroes soar through the sky and masked vigilantes prowl the night, someone's got to make sure the "supes" don't get out of line. And someone will! Billy Butcher, Wee Hughie, Mother's Milk, The Frenchman, and The Female are The Boys: A CIA-backed team of very dangerous people, each one dedicated to the struggle against the most dangerous force on Earth – superpower! Some superheroes have to be watched. Some have to be controlled. And some of them, sometimes, need to be taken out of the picture. That's when you call in The Boys!