This New 'Coco' Clip Is Jaw-Dropping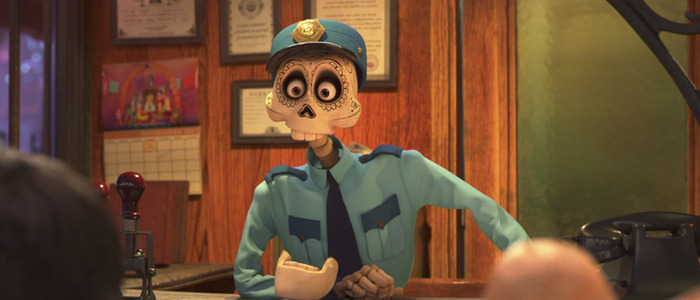 Disney and Pixar's Coco is already generating buzz due to its early release in Mexico and many critics and audiences have praised the film as another winner for animation giants. Rather than sit back and wait for the film's late November release, Disney and Pixar have released yet another clip to give audiences a taste of the film's stunning animation. Watch the new Coco clip below.
In Coco, young Miguel (Anthony Gonzalez) seeks to defy his family's generations-old ban on music and dreams of becoming an musician like his idol, Ernesto de la Cruz (Benjamin Bratt). Miguel's quest to prove his talent ends up taking him to the Land of the Dead, where he teams up with the skeletal Hector (Gael García Bernal).
In a new Coco clip, we learn that maddening bureaucracy continues on even in the afterlife. Hector is desperate to leave the Land of the Dead and visit his family, but since his family in the world of the living does not have a photo of Hector, he's unable to cross over. If you thought you'd be able to escape rules and regulations in death, it looks like you were mistaken.
Coco Clip
Every bit of footage released for Coco so far looks wonderful, hinting at a colorful, imaginative world that viewers will be eager to find themselves lost in. Also, there are lots and lots of skeletons, which is always fun. We all like skeletons, right? Or is that just me?
Speaking of those skeletons, Coco director Lee Unkrich recently told EW that one specific change to the film's skeletons had to be made to make the characters less scary to younger audiences: they had to have eyes. "You don't typically see skeletons with eyes, but it was important because without them they're just blank slates," Unkrich said to EW. "It's clichéd, but the eyes are the window to the soul, and I knew if I was going to have tender, soulful moments with these characters, I needed the audience to be able to look right into them."
In addition to Gonzalez, Bernal and Bratt, Coco also features the voices of Renée Victor, Ana Ofelia Murguia, Edward James Olmos, Jaime Camil, Sofía Espinosa and Cheech Marin. Here's the official synopsis:
Despite his family's baffling generations-old ban on music, Miguel (voice of newcomer Anthony Gonzalez) dreams of becoming an accomplished musician like his idol, Ernesto de la Cruz (voice of Benjamin Bratt). Desperate to prove his talent, Miguel finds himself in the stunning and colorful Land of the Dead following a mysterious chain of events. Along the way, he meets charming trickster Hector (voice of Gael García Bernal), and together, they set off on an extraordinary journey to unlock the real story behind Miguel's family history.
Coco opens November 22, 2017.