Cool Stuff: Cinemaps And Down Time Art From Gallery1988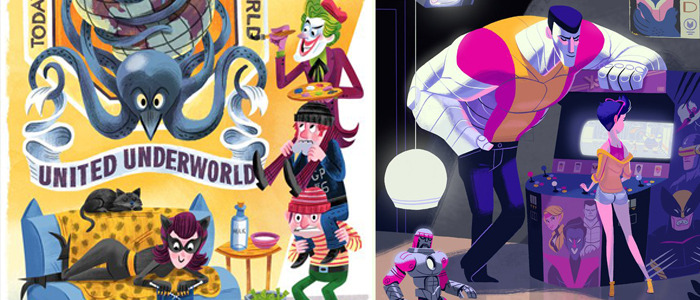 We showed you a few pieces from artist Andrew DeGraff's forthcoming Cinemaps book just a few days ago, but more of his unique cinematic maps that trace the journeys of pop culture characters have been unveiled. Plus, artists Glen Brogan and Luke Flowers have teamed for a collection called Down Time that imagines what some of your favorite film, TV, and comics characters do when they're kicking back and relaxing, and the results are delightful.
Join us below and take a look at a few of our favorite pieces from these new Gallery1988 art shows.
On the heels of our piece spotlighting DeGraff's work on Guardians of the Galaxy and Terminator 2: Judgment Day, some more of his Cinemaps collection has hit the internet. You can check out the whole show online here, but I wanted to share a few of my favorite pieces with you. Some are older (Paths of Dorothy from The Wizard of Oz), while some are brand new (the variants of Paths of Hope inspired by the original Star Wars and Paths of Crusade inspired by Indiana Jones and the Last Crusade):
If you're in Los Angeles, you should definitely head over to Gallery1988, located at 7308 Melrose Avenue, to get a closer look at these pieces in person. There are prints on sale as well as the original paintings, and those are obviously a bit pricier than a standard print. They'll all be on display from now until November 11, 2017, and trust me – we've written a lot about DeGraff's work in the past, but photos can't do justice to all of the intricate details he factors into his work.
Another show currently on display at the same gallery is Down Time, which encompasses a larger scope of pop culture properties. Here are a few of my favorite pieces from that collection:
Of all the pieces across both of these shows, my personal favorite is Down Time in the Underworld, Luke Flowers' tribute to the original 1966 Batman movie starring Adam West and Burt Ward. That film isn't often the subject of pop culture art like this, and when it is, West and Ward are normally front and center as the Dynamic Duo. But this piece showcases the gleefully cartoonish villains portrayed by actors like Burgess Meredith, Caesar Romero, Frank Gorshin, and Lee Meriwether.
Down Time will be on display at Gallery1988 from now until November 18, 2017.