'The Shape Of Water' Red Band Trailer: Guillermo Del Toro's Latest Adult Fairytale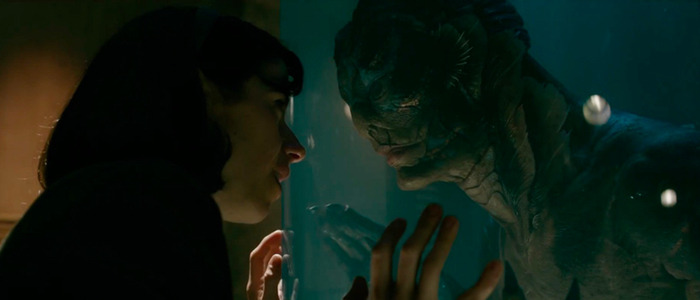 The Shape of Water, one of the best films of the year, has revealed a new red band trailer for your enjoyment. Guillermo del Toro's beautiful, romantic adult fairytale focuses on the unlikely romance that blossoms between a mute janitor and a Creature From the Black Lagoon-like Fish Man. The Shape of Water red band trailer awaits you below.
I had the pleasure of seeing Guillermo del Toro's latest film The Shape of Water at TIFF, and it did not disappoint. As I said in my review:
The Shape of Water unfolds with a dreamy grace, full of moments that will have you uttering blissful sighs of content. Alexandre Desplat's score is lush and romantic, perfectly underscoring the film's tone, and the cinematography courtesy of Dan Laustsen recalls the look of films from Michael Powell and Emeric Pressburger. Del Toro creates one gorgeous moment after the next, including a show-stopping scene that turns into something out of a classic musical. It's the type of thing only del Toro could create.
As The Shape of Water nears its release date, a new red band trailer for the film has surfaced, giving us another look at the beautiful, hypnotic world del Toro has created. Watch it below.
The Shape of Water Red Band Trailer
I don't want to discourage you from watching this trailer, but I have to say: it gives a lot away. Almost too much, particularly in regards to the actions of several characters. That said, as much as this trailer gives away, there's still a wealth of material that isn't revealed, and worth discovering when the film hits theaters. In some respects, this is the inverse of the problem del Toro's Crimson Peak had: there, the trailer gave very little away, and made audiences think it was a standard horror movie, which it wasn't. Here, the trailer is holding nothing back.
The Shape of Water focuses on Elisa (Sally Hawkins), a mute janitor at a top secret government facility who falls in love with an amphibious Fish Man (Doug Jones) being studied within. As their romance blossoms, they face danger in the form of Michael Shannon, playing the violent government agent overseeing the project. Richard Jenkins, Octavia Spencer and Michael Stuhlbarg round out the cast. This is a truly lovely film, and I beg you to go see it. Don't let this film face the same fate as del Toro's previous adult fairytale, Crimson Peak, which was mostly forgotten at the box office. The Shape of Water deserves better. It deserves to be embraced by audiences who pine for original stories that aren't just the same old Hollywood blockbusters or superhero films. I promise you if you give this film a chance, you won't be disappointed.
Best of all, The Shape of Water has a wonderful message at its heart; a message of acceptance. As del Toro said at a TIFF Q&A about the film:
"I think when we wake up in the morning, we can choose between fear and love. Every morning...And every morning, if you choose one, that doesn't define you until the end...The way you end your story is important. It's important that we choose love over fear, because love is the answer. Silly as it may sound, it is the fucking answer to everything."
The Shape of Water opens on December 1, 2017.