Warner Bros. Made Sure 'Justice League' Runtime Was Under Two Hours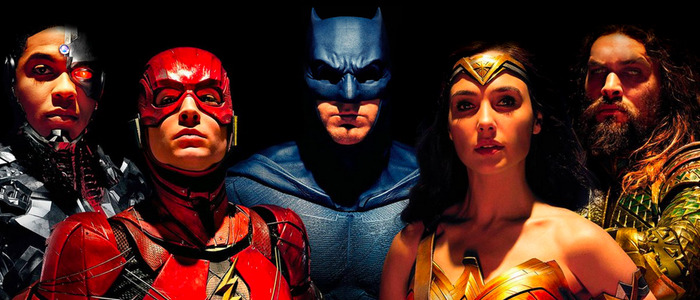 Wonder Woman has become the highest-grossing superhero origin movie of all time, and even though that movie has become a cultural touchstone for a generation of women, Warner Bros. and DC Films still have lots of work to do if they want audiences to forget the bad taste that Batman v Superman: Dawn of Justice and Suicide Squad left in their mouths. One of the ways that might happen is to cut down on bloated runtimes, which was reportedly a priority with the next film under the DC banner, Justice League.
A new report from the Wall Street Journal indicates that WB's CEO Kevin Tsujihara "made clear he wanted Justice League to be under two hours," shorter than the excessive 151 minutes of Dawn of Justice.
Justice League's production has been tumultuous, including "significant" reshoots that kicked the movie's budget near $300 million. (At San Diego Comic-Con, Cyborg actor Ray Fisher referred to the reshoots as "brief, if anything," but we've heard otherwise, and this report corroborates our sources.) The WSJ report details how Warner Bros. executives brought Geoff Johns and Jon Berg in to overhaul the DC cinematic universe and make it lighter in tone, and how that resulted in a "last-minute rewrite" of Justice League under director Zack Snyder and writer Chris Terrio:
When director Zack Snyder delivered his cut early this year, studio executives felt he had made progress with the lighter elements but that more work was needed.
That's when Joss Whedon (The Avengers) was hired to rewrite the script; he ultimately stepped in to finish directing the movie after Snyder left due to a family tragedy. The WSJ article says fans will likely "be able to pick out the clever, dialogue-heavy scenes shot by Mr. Whedon and the more stylish action scenes shot by Mr. Snyder, but the creative team has endeavored to meld the two.
The report goes on to say that multiple cuts of the film were necessary in order to bring it to a place where they felt their goal had been achieved, but it seems slightly reductive to assign anything funny to Whedon and anything action-heavy to Snyder; both have their strengths, to be sure, but I'm sure after the film is released we'll be hearing stories of each of them directing portions that wouldn't seem obvious.
Also worth noting: Warner Bros. views Ezra Miller's The Flash as the movie's breakout character, and they're making The Flash solo film a priority at the studio. Maybe that means a director announcement is finally imminent.
I'll leave you with this joking tweet from film critic Jordan Hoffman, which I found hilarious:
Justice League arrives in theaters on November 17, 2017.