'The Post' Trailer: Steven Spielberg Goes To Bat For A Free Press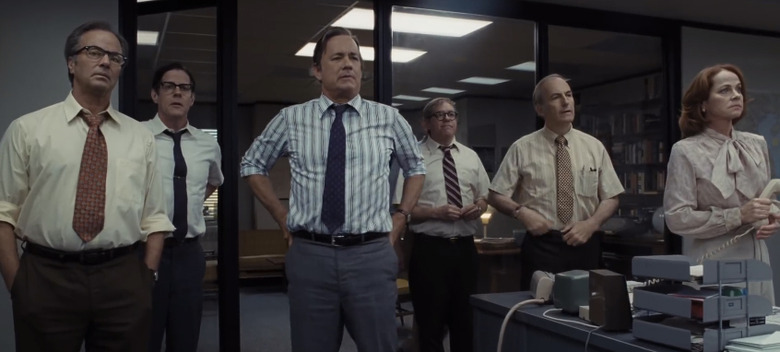 There aren't many filmmakers who could attach themselves to a movie in March, lock down a cast headlined by the likes of Meryl Streep and Tom Hanks, start shooting in May, and have the film locked and ready for awards season that very same year. But Steven Spielberg isn't your average director, and that's exactly what he did with The Post, his new film about the controversial publication of the Pentagon Papers back in the 1970s. Hot on the heels of the first images from the movie, the first trailer has arrived and you can check it out below.
The Post Trailer
In addition to power players like Streep and Hanks, The Post has a jaw-dropping cast comprised of excellent actors like Sarah Paulson, Bob Odenkirk, Zach Woods, Alison Brie, David Cross, Carrie Coon, Bruce Greenwood, Jesse Plemons, Michael Stuhlbarg, Bradley Whitford, and Tracy Letts. The film tells the story of a group of journalists from The Washington Post and The New York Times who published The Pentagon Papers in the 1970s, which had a huge effect on the national perception of the Vietnam War. Liz Hannah wrote the screenplay, which marks her feature writing debut. (What a collection of talent to work with right out the gate!)
It's no accident that Spielberg made this movie this year. Susan Lacy, the director of the recent HBO documentary Spielberg, explained to Metro:
"[The film] is absolutely Steven's statement about the importance of vigorous and free press in America. Because we have a President that keeps attacking the press...it's the reason he is making [the film], I mean it is a true story and a historic story, but the reason he chose to make it now is because he feels like it is a message that needs to be out there. I don't want to speak for him, but I think that's why he is clearly making this film now."
And though the president is one of the worst offenders, this isn't limited to him: Disney banned the Los Angeles Times from covering its films or interviewing talent from its movies because they didn't like a story the Times published about the company's business dealings in Anaheim (though they finally pulled back on that ban yesterday). The press in this country is still under siege right now, and they need all the help they can get. Expect this to be a heavy hitter during awards season.
The Post arrives in theaters on December 22, 2017.