'It 2' Cast: Jessica Chastain Is Interested In Playing Adult Bev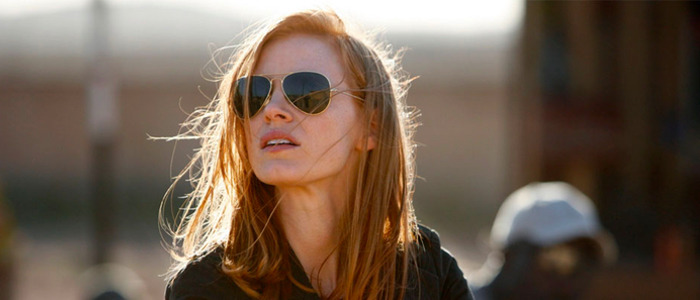 After It cleaned-up at the box office and a sequel was guaranteed, fans had one pressing question: who would play the adult versions of the Losers' Club? There's been plenty of fan casting, and while nothing is confirmed yet, Jessica Chastain just threw her hat into the ring. The actress expressed interest in playing the adult Bev in the It 2 cast. Make it happen, powers-that-be!
It, the tale of terror about a a group of kids who call themselves The Losers' Club banding together to stop an evil, demonic clown known as Pennywise, was one of the year's biggest surprises. While there was always a chance the film would do well at the box office, no one seemed to anticipate what a huge hit it would become. Soon after the film hit theaters, an official sequel was confirmed for a 2019 release date. But this sequel wouldn't be a cheap cash-grab – it would be an actual continuation of the original material.
In adapting It for the big screen, director Andy Muschietti and screenwriters Chase Palmer & Cary Fukunaga and Gary Dauberman broke Stephen King's massive tome of terror in half: while the book follows the main characters during both their childhoods and adulthoods, 2017's It only focused on the characters as kids. It 2 will concentrate on The Losers' Club as adults, which means every single main role (except Pennywise) needs to be recast. There have been dozens of fan suggestions to play the adult Losers (/Film even has a few of their own right here!), but one name that seems to end up on almost everyone's list is Jessica Chastain, with hopes that the actress will play the adult version of Bev, played in the 2017 film by Sophia Lillis.
Well, it looks like that fan casting is very close to becoming a reality. Chastain and It director Muschietti have worked together before – Muschetti directed Chastain in his feature debut Mama. In a recent interview with Screen Rant promoting her new film Molly's Game, Chastain was asked if she'd be up for starring in It 2, and the actress didn't hesitate to say she'd be interested:
"Well, I love Andy and [producer] Barbara [Muschietti]. I worked with them on Andy's directorial debut, you know, his film, Mama. His first film. And you know, Barbara is one of my best friends so...We'll see...Listen, of course, I want to work... they're my friends. They're like my family. Anything that they're doing I want to be a part of, so I hope we can make it happen."
In the past, Andy Muschietti has also expressed interest in Chastain joining the sequel's cast as the adult Bev, telling Variety, "Jessi is an amazing actress and very good friend and I would love her to play Beverly." Muschietti isn't the only person involved with It who wants Chastain to join the cast.  Sophia Lillis, who plays the young version of Beverly, also said she'd been keen for Chastain to play the adult version of her character in a video interview:
In the book, Bev grows up to be a highly successful fashion designer trapped in abusive marriage. When word comes that Pennywise has resurfaced in her childhood home town of Derry, Maine, Bev leaves her abusive husband and reunites with her childhood friends to kill Pennywise once and for all. Chastain is one of the best actresses working today, and it this point it would be silly not to cast her in the film, especially if she's ready and willing to commit to the part. Of course, Chastain is also in high demand, so here's hoping her schedule will allow her to join the cast.
It 2, possibly starring Jessica Chastain, will hit theaters on September 6, 2019.