'Coco' Trailer: Journey To The Land Of The Dead With One More Preview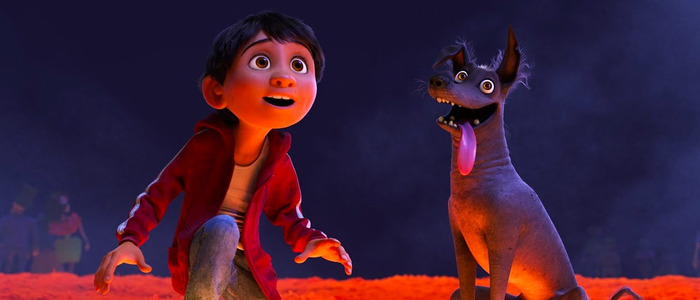 Disney and Pixar's latest animated adventure Coco will hit U.S. theaters near the end of the month, and a new trailer has arrived to make sure you know this. Coco is already a hit in Mexico, where it opened two weeks ago. Soon, American audiences will see what all the excitement is about.
Disney released Coco in Mexico on October 27, 2017, and the film has already doubled its box office in its second week there. Per Forbes, Coco took in $10.4 million in Mexico over its second weekend, a 12% increase over its opening, bringing its total to $27.6 million. Coco has become the fastest ten-day box office earner ever for an animated feature in Mexico. Now, American audiences will have a chance to experience the latest effort from Pixar as it gets ready to open Thanksgiving weekend. Here's the new trailer:
Coco Trailer
Looks great, right? Skeletons and a cute dog? This movie has everything! Here's the official Coco synopsis.
Despite his family's baffling generations-old ban on music, Miguel (voice of newcomer Anthony Gonzalez) dreams of becoming an accomplished musician like his idol, Ernesto de la Cruz (voice of Benjamin Bratt). Desperate to prove his talent, Miguel finds himself in the stunning and colorful Land of the Dead following a mysterious chain of events. Along the way, he meets charming trickster Hector (voice of Gael García Bernal), and together, they set off on an extraordinary journey to unlock the real story behind Miguel's family history.
Dia De Los Muertos, the Day of the Dead holiday celebrated in Mexico, plays a big part in Coco, and the holiday was the key to inspiring Coco director Lee Unkrich (Toy Story 2, Toy Story 3, Finding Nemo). "I'd seen it portrayed in folk art. It was something about the juxtaposition of skeletons with bright, festive colors that captured my imagination," Unkrich said (via Oh My Disney). "It has led me down a winding path of discovery. And the more I learn about Dia De Los Muertos, the more it affects me deeply."
In addition to newcomer Anthony Gonzalez, the voice cast includes Gael García Bernal, Benjamin Bratt, Renée Victor, Ana Ofelia Murguia, Edward James Olmos, Jaime Camil, Sofía Espinosa and Cheech Marin. Expect John Ratzenberger to be somewhere in there too, since this is a Pixar film, and the Cheers actor has had his voice featured in all of their output so far.
Coco opens November 22, 2017.