'Thor: Ragnarok' Box Office: Yet Another Smash Hit For Marvel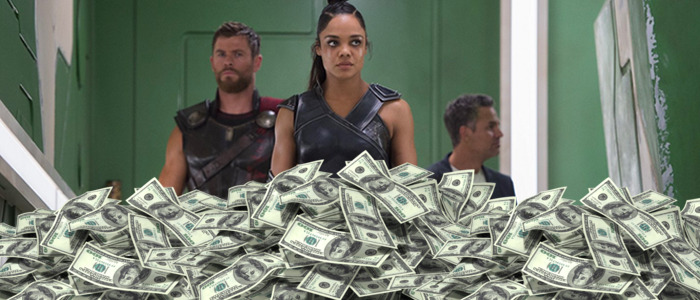 Have you heard of this little indie movie company called Marvel Studios? I think they're going places. Case in point: their latest small, art-house film Thor: Ragnarok just cleaned up at the box office. The successful Thor: Ragnarok box office intake is good news for Marvel and even better news for the film's director, Taika Waititi, who should probably have free rein to make whatever film he wants now.
Another month, another opportunity for Marvel to realize their dream of creating Scrooge McDuck's vault full of gold coins to swim around in. Thor: Ragnarok, the third entry in the lopsided Thor franchise, took in boffo box office bucks over the weekend. Per Variety, the film raked in $121 million at 4,080 North American locations, making it the fourth best opening weekend for a film in 2017. And that's just here in the U.S. of A. Internationally, Thor: Ragnarok earned $306 million, for a grand worldwide total of $427 million. This means the Marvel Cinematic Universe has earned $13.085 billion globally, which means Marvel has a lot of extra change lying around to pay off critics for those positive reviews (NOTE: THIS IS A JOKE, THIS DOESN'T REALLY HAPPEN).
I was one of the only critics in the land only marginally entertained by Thor: Ragnarok – I loved the cast, and found the film pretty funny, but the script was wobbly and too much of the runtime felt like set-up for future Marvel endeavors. Still, I'm very happy Ragnarok took in this much scratch because I want only the best for director Taika Waititi, a very talented, handsome man who deserves to make bigger and better things. Marvel has a good track record for recruiting talented directors who then seem to take a long hiatus from making non-Marvel films, but I have a feeling Waititi will be different and keep making more and more exciting projects.
For his part, Waititi, who previously directed indie comedies like What We Do in the Shadows and Hunt for the Wilderpeople, has been having a lot of fun with the fact that he's now a blockbuster filmmaker. In a recent panel interview (via Deadline), the director said the reason he jumped from indie films to big superhero blockbusters was "Money, straight up," adding that he has children who "cost shit loads of money."
"Full disclose, I've never made a superhero movie before," he added. "So I thought Marvel didn't care anymore...My strengths were tone and that's it." Waititi said his primarily focus was on character and comedy: "I said 'you guys can take care of the explosion, I'll focus on what I've done before...and I didn't get fired because I'm a G."
Next up for Marvel in 2018: Black Panther, Avengers: Infinity War and Ant-Man and the Wasp. I'm no psychic, but I'm pretty sure they'll make a lot of money, too. Thor: Ragnarok, starring Chris Hemsworth, Tom Hiddleston, Cate Blanchett, Tessa Thompson, Mark Ruffalo and Jeff Goldblum, is now playing in theaters everywhere.