Will 'House Of Cards' Kill Kevin Spacey's Character?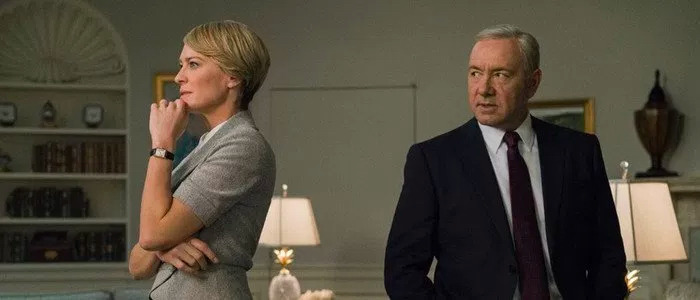 As the fallout from multiple sexual assault allegations against actor Kevin Spacey continues, the future of the Spacey-led Netflix series House of Cards hangs in the balance. After announcing the upcoming sixth season would be the last, Netflix then put the series on hold altogether. Rumors of possible spin-offs came after that. And now comes word that producers are considering killing off Spacey's Frank Underwood entirely for the possible final season. Will House of Cards kill Kevin Spacey's character? It seems like it's definitely an option now.
When news recently broke involving sexual assault allegations against Kevin Spacey, Netflix released a statement saying that the upcoming sixth season of House of Cards would be the show's final. Producers were quick to say the decision to end House of Cards had been made long before allegations against Spacey broke, but the timing is admittedly convenient. Within 24 hours of this announcement came news that the series was going to be put on hold completely and a statement was released: "MRC and Netflix have decided to suspend production on House of Cards season six, until further notice, to give us time to review the current situation and to address any concerns of our cast and crew." CNN reported that Spacey had possibly engaged in harassment on the House of Cards set, creating a "toxic environment."
Soon after this, rumors broke involving possible House of Cards spinoffs that would not involve Spacey in any capacity. Today, Variety reports that producers are now considering killing off Spacey's character Frank Underwood completely, and having Robin Wright, who plays Spacey's wife Claire Underwood, take over the show for its final season. Variety says the producers are exploring Spacey's contract to see if they can simply move forward without him, or if they're legally obligated to include him in the final season.
While some might think it makes more sense to kill House of Cards entirely at this point and be done with it, the show employs at least 300 cast and crew members beyond the actor, and to fire them all because of the horrible actions of one person might be extreme. Spacey has always been front and center on House of Cards and the previous season ended with his character, President Frank Underwood, resigning the presidency, thus elevating his wife/Vice President Claire (Robin Wright) to the highest office of the land. With this plot-point in mind, it would be very easy for the writers to kill Frank Underwood off between seasons and let Wright's Claire take on the final season alone.
Audiences would clearly support the idea. Earlier today, actress Jessica Chastain tweeted, "Can #RobinWright just be the lead of @HouseofCards now? We're ready for it." The tweet quickly went viral, proving that the idea of handing the show over entirely to Wright would be welcomed.
Can #RobinWright just be the lead of @HouseofCards now? We're ready for it.

— Jessica Chastain (@jes_chastain) November 3, 2017
Wright has had issues with House of Cards behind-the-scenes. The actress revealed her understandable frustration at learning she was not receiving equal pay to Spacey on the show. "I was told that I was getting equal pay [to Kevin] and I believed them, and I found out recently that it's not true... so that's something to investigate," she said. Wright went to the producers and informed them that they would need to start paying her equally, or she'd go public with the discrepancy. Per The New York Times, the plan worked, and the producers agreed to give Wright equal pay. Wright's work on the show is continually stellar, and to close the series focused solely on her (if she's interested) would be both the sensible and most audience-beneficial choice.