'Trollhunters Part 2' Trailer: The Hunters Become The Hunted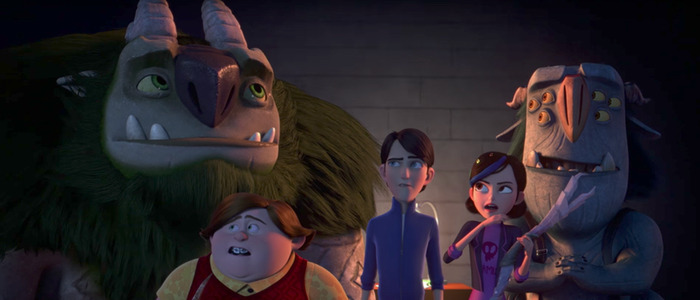 Trollhunters, the Netflix animated series from Guillermo del Toro, is gearing up for a second season, and now there's a trailer to get fans excited. The series is a tale of two worlds colliding – the normal world as we know it, and a secret underground world of trolls. And we're talking the mythical monstrous trolls here, not the angry people who haunt message boards and comment sections. The Trollhunters Part 2 trailer is waiting below.
Master of fantasy Guillermo del Toro brings his filmmaking sensibilities to the animated world of Netflix's Trollhunters, a colorful, whimsical show that's been warmly embraced by audiences. Featuring the voices of the late Anton Yelchin, along with and frequent del Toro collaborator Ron Perlman, Trollhunters Part 2 recently added Mark Hamill, Lena Headey and David Bradley to the mix. The new trailer for season 2 gives us an exciting look at what's to come.
Trollhunters Part 2 trailer
Regarding using the remaining work of the late Anton Yelchin, del Toro told Entertainment Weekly, "The reality and the beauty of this is that we can continue not only the storyline and the characters, but we have a huge swath of work from Anton that allows us to continue Anton through more than half the season." The filmmaker added: "From the get-go, even in the first season, we knew we wanted to preserve as much of the performance of Anton as possible, both from an artistic and a human point of view...coincidentally, we have an event in the last episode Anton did which allows us to sort of change his voice slightly, so the character stays — but we didn't plan this. It was pure serendipity that we had that in the works. The beats of the second season have been set for years, and as of now, we have not altered or needed to alter a single beat."
Trollhunters Part 2 will debut on Netflix December 15, 2017. Here's the official synopsis:
From the limitless imagination of master storyteller Guillermo del Toro comes a tale of two worlds set to collide in the epic saga DreamWorks Trollhunters. When ordinary teenager Jim Lake Jr. stumbles upon a mystical amulet on his way to school one morning, he inadvertently discovers an extraordinary secret civilization of mighty trolls beneath his small town of Arcadia. Strong-willed and seeking adventure but wholly unprepared for the responsibilities thrust upon him, Jim is forced to take on the exalted mantle of Trollhunter, sworn to protect the good trolls from powerful enemies bent on revenge. The first human ever to hold the honor, Jim abruptly goes from fighting his way through the daily mayhem of high school to joining a war that has raged for centuries, a conflict that now threatens all of mankind and troll-kind alike. Accompanied by his closest human friends and a few key troll allies, the courageous fifteen-year-old must plunge headlong into a fantastical world of astonishing creatures, glorious cities, and fierce enemies desperate to destroy him. Suddenly destined to play a crucial role in an ancient battle of good and evil with stakes that couldn't be higher, Jim is determined to save the world — right after gym class. DreamWorks Trollhunters is a heroic tale that uncoils with ambitious, complex storytelling and stunning visuals that raise the bar for animated series, creating an event series that will thrill the entire family.