'The Goonies 2' Will Still "Likely" Happen, But In What Form?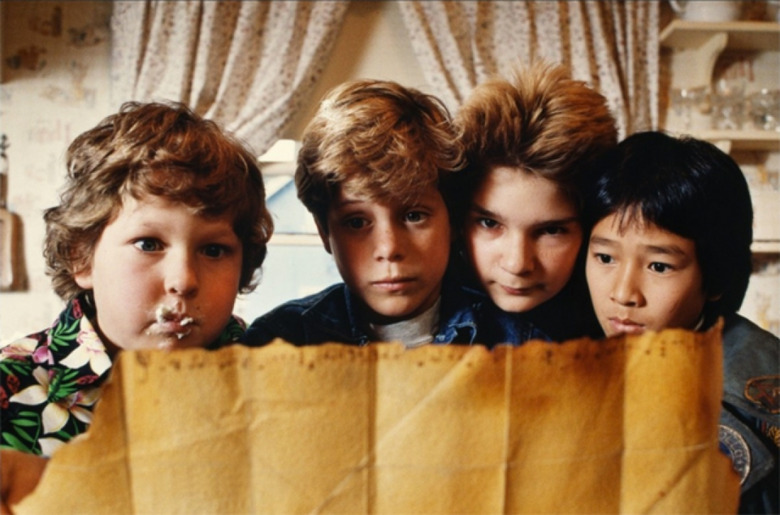 The Goonies actor Sean Astin is back in the public eye with his turn as the delightfully normcore Bob Newby in Stranger Things 2, and while he was making the press rounds to promote the show, the inevitable happened: someone asked him about the possibility of The Goonies 2. But instead of shrugging it off, Astin seemed hopeful about the odds of the long-discussed sequel coming to fruition. But would it happen as a live-action movie, or something else entirely?
Speaking with The Huffington Post, Astin, who played Mikey in the 1985 adventure movie, was asked about the likelihood of a sequel, and he responded:
"It's always possible. I will say that it's likely that it will happen. I don't know when, but I have always had confidence that that sequel will happen mostly because Steven Spielberg, from the time when I was a kid, told me he wanted it to happen and has never changed his opinion."
Spielberg produced the first movie and came up with the story for the sequel. If there's anyone in Hollywood with the cache to get a project like this made, it's him.
But Astin isn't convinced the sequel would take the form of a live-action movie. He told HuffPost:
"What I would love to see is a Goonies animated series, and I would love to play Mikey. I do a lot of voiceover characters, and I play younger characters with my voice, and that would be meta."
Here's my controversial #hottake for the day: The Goonies sucks. The kids are all impossibly annoying, the story is weak, and the movie feels totally inert. I like Spielberg's Hook a million times better. Don't @ me. Keep in mind, though, that I didn't see this movie as a kid; I watched it for the first time a few years ago after hearing people in my generation rave about it for my entire life, and came away shocked at how much I despised it. (If you loved it as a kid, I'd highly suggest avoiding a rewatch, because it'll likely ruin the magic for you.) For me, an animated sequel seems more appropriate than bringing all of the surviving original cast back for another adventure.
Anyway, I always thought original director Richard Donner was a necessary part of the equation for a Goonies sequel, but even though he announced a sequel was in the works back in 2014, he hasn't directed a film in years. Just a few days ago, though, rumors spread about him considering making Lethal Weapon 5, so maybe there's a chance he could be talked into coming back to direct The Goonies 2. It's a long shot, but if Spielberg is truly serious about it, I wouldn't count the film down and out quite yet.