New 'Goosebumps 2' Writer Hired, Jack Black May Not Return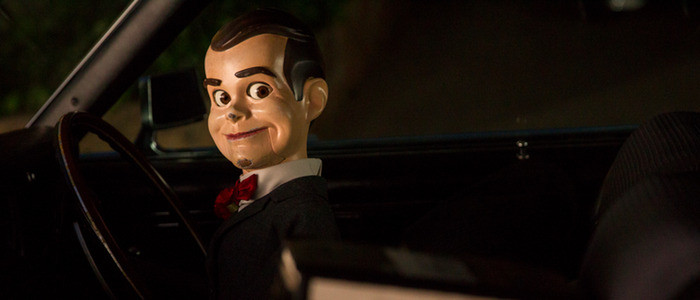 Goosebumps may not have been the best family horror film, but it was surprisingly fun, and apparently a big enough hit to warrant a sequel. Sony has just hired a new writer to pen the latest adventure set in the wild world of R.L. Stine, but the new script comes with a caveat: Jack Black, star of the first Goosebumps, may not be returning for Goosebumps 2. The latest treatment from the new Goosebumps 2 writer does not include a part for Black's take on R.L. Stine.
Variety reports that Rob Lieber, a writer on The Goldbergs, has been tapped to pen Goosebumps 2. Variety also reports that Leiber's script is actually one of several that Sony is considering using, because that's how movies get made now, folks. One interesting tidbit bout Lieber's script treatment: it doesn't feature Jack Black's R.L. Stine. Sony has no deal in place to bring Black back, which means this sequel is definitely going in a much different direction than the first. Honestly, that's fine. As surprisingly fun as the first Goosebumps film may have been, Black's work in it wasn't exactly memorable.
R.L. Stine has written approximately ten gazillion Goosebumps books. I know because I read them all when I was growing up. They were quick reads that you could burn through in an hour, forcing your parents to then buy you another one, and another, and another. It was a brilliant marketing scheme, and you can turn up your nose at Stine's pulpy horror books all you want, but you have to give them this: they got kids to read. These books were prevelant in the days before Harry Potter made reading funadmental again. At the time, at least as I remember it, kids my age loved to utter nightmarish phrases like, "Reading sucks!" R.L. Stine's books changed that, at least a little.
Despite Goosebump's popularity, it took a long time to bring the books to the screen. The Goosebumps movie finally hit theaters in 2015, starring Jack Black as a fictional version of R.L. Stine. In the film, Stine's books have the power to come to life; it's sort of like Last Action Hero featuring an evil ventriloquist dummy. The film wasn't what I'd call great, but it was surprisingly entertaining, and kind of funny.
Goosebumps 2 isn't the only R.L. Stine adaptation currently in the works. Fox is currently developing a trilogy based on the author's Fear Street series, with scripts by Honeymoon director Leigh Janiak. The Fear Street books were like Goosebumps for slightly older kids, so you probably shouldn't expect Jack Black's R.L. Stine to show up and bumble through those movies. Meanwhile, look for Goosebumps 2 to hit theaters on September 21, 2018.